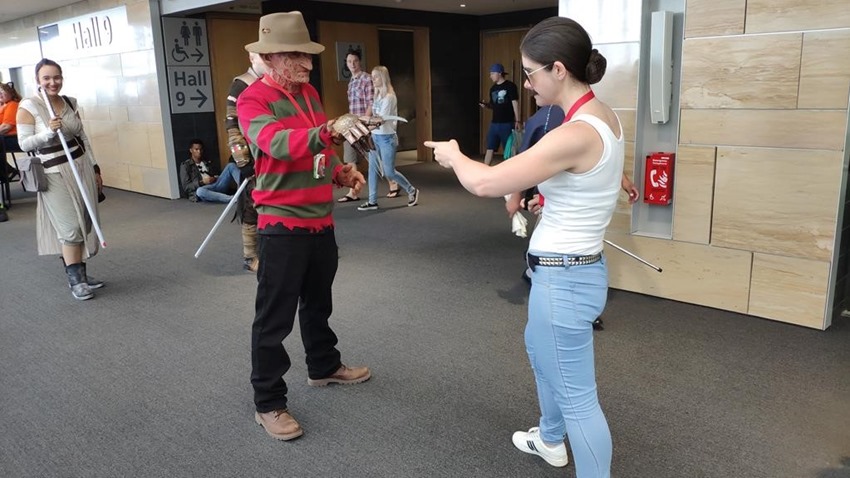 FanCon may just be the perfect cocktail for cosplay. You've got a fantastic location in the Cape Town International Convention Center, the actual autumn climate makes wearing any costume feel comfortable thanks to moderate conditions and you're bound to receive a few hugs from fans. FanCon 2019 was no exception to the rule, as Cape Town's premier expo for all things comic book related brought out the best that the Mother City had to offer.
From Tracy and Noelle rocking their She-Ra and Catra costumes to the delights of many a young fan to Sam being a dapper Joker, the scene was buzzing, lively and energetic. Don't just take our word for it though! Here's a gallery of awesomeness, for you to click through as cosplayers from all across the skill spectrum strutted their stuff and did the local scene proud:
You know what I love about a good cosplay weekend? The motivation juice that it pours into my creativity gears. From the feel, the experience to seeing what my friends have clobbered together, I'm motivated to try my hand at something else. Heck, the one thing I'm definitely doing next year with my projects, is an attempt at wearing costumes which won't make me want to violently vomit thanks to the effect of all-encompassing silicone smothering me.
Is doing several hundred sit-ups a day preferable to three hours of misery just so that I can do a good job in a Johnny Cage cosplay? You bet yer buns it is. Either that or I'm finally going to do my Black Knight costume from Monty Python and the Holy Grail. Heck, Kervyn has even offered to help me make that costume extra-authentic. I wonder what he plans to do with that chainsaw?
Side note from Sam
This was my second FanCon following the previous year. The event will forever hold significance for me as it was where I first got to meet Kervyn and Nick and get to know the bizarre gathering of people on this site.
One does not need to be in costume to appreciate the level of sincerity felt in a space such as this. Cosplay comes from a place of love. The culture is the embodiment of many, many warm feelings for the fandoms that it encompasses. There may be some bad apples, but nothing that the collective can't stand up against.
I mean, where else do you get to witness Rey and Ash Ketchum taking selfies with each other? It's just plain awesome.
It was a fun weekend. Let's do it again next year.
Side note from Noelle
FanCon is always a pleasure to cosplay at. It's spacious, at a comfortable temperature and well lit for photo opportunities. Also, the Cape Town cosplay community is really warm, cheerful and welcoming, encouraging everyone to participate in the masquerade, regardless of their level. Also, the con offers an enjoyable mix of western and eastern pop culture cosplay, so if you're anime-ignorant like me, there is still loads to identify and appreciate.
Last Updated: May 6, 2019