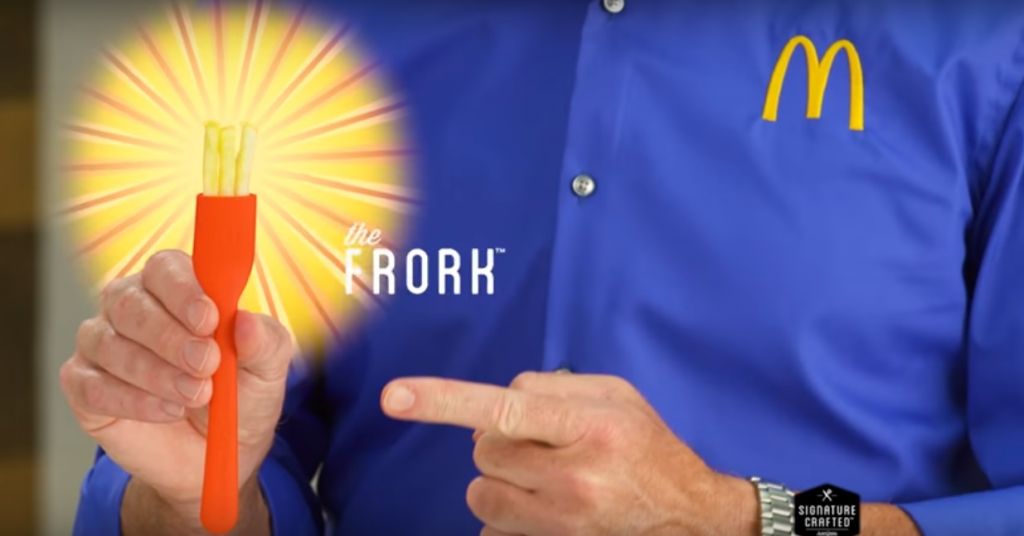 Is the The Frork™ the next big thing?
In a world where every major chain has to constantly innovate to stand out for consumers some players are winners while others are losers. Winners can turn around a bad advertising campaign and come out on top, like Pepsi. Others spin a bad situation so poorly they are now used as a benchmark example for bad PR, like United Airlines. Then there is McDonald's. I am not quite sure what their new promotional The Frork™ is going to do in the way sales for their new Signature Crafted Recipes but it has to be one of their funniest adverts to date.
The Bic Mac, Quarter Pounder and Double Cheese Burger have been around for years. Some find them tasty when sober, others will only eat them at 3am after a night out. I assume McDonlad's realises this and that is why they now offer the Pico Guacamole, Sweet BBQ Bacon and Maple Bacon Dijon burgers. Apparently these are so fancy and boast so many toppings you need a The Frork™ to adequately eat them! Don't know quite what I am on about? Have a watch now!
Firstly, that is one awesome advert! Well done to McDonald's for not taking this too seriously. The very Verimark-like ad is actually rather fun. Anthony Sullivan, who is a well-known personality in the info-mercial world, does a great job of 'promoting' the useless Frork™ (don't forget that important ™!) I particularly like the music and big cheesy (double, hold the gherkins) grin from the chef.
It gets better when it goes into the much-used grey scene that explains the danger of the 'topping dropping' and that it is a problem! Or is it? Probably not! When I first heard about this I dismissed McDonald's as missing the mark here. As being idiots offering a Frork™ that really isn't needed. However, I actually think it's a rather clever advert. It pokes fun at itself and does little harm to their brand. In fact it comes across as rather hip and self-referential.
Sadly the Frork™ will only be available until the 5th of May at selected McDonald's stores in the US. Strangely enough, I REALLY want one now…
Last Updated: May 2, 2017