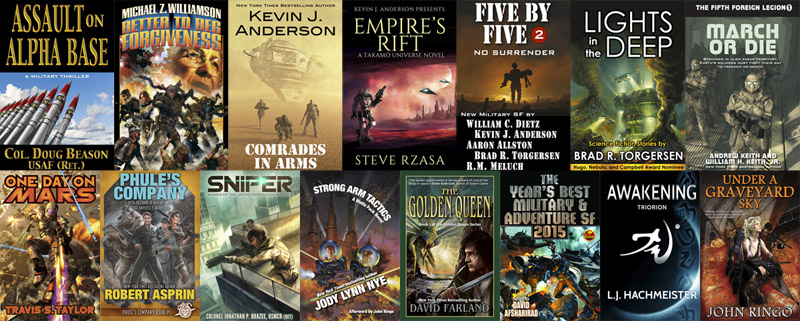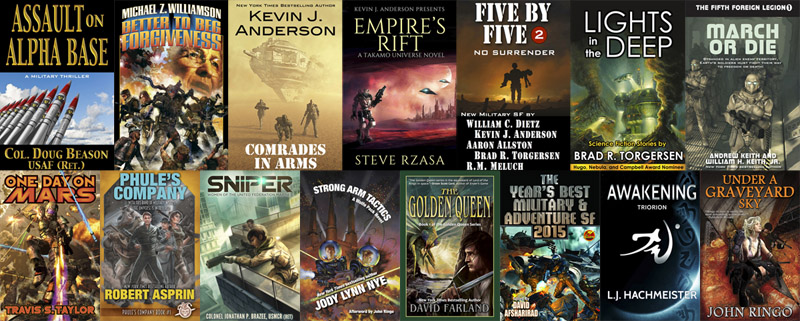 This isn't a confession and I don't feel the slightest bit guilty – I love reading cheesy military sci-fi. You can't go wrong with super soldiers, aliens, space battles, and tons of testosterone because it's the perfect palate cleanser between weightier tomes.
With that said the latest offering from StoryBundle is right up my, and hopefully your, alley. The Military SF Megabundle, curated by best-selling author Kevin J. Anderson (The Saga of the Seven Suns, Star Wars EU novels, Dune prequels, and more), has a whole whack of bullets, lasers and explosions for your reading pleasure from some of the genre's more prolific authors; including the likes of Anderson, Robert Asprin, Michael Z. Williamson and John Ringo. Oh, John Ringo.
As usual for StoryBundle the bundle has two tiers, and all novels come in both .epub and .mobi formats. The first tier will set you back $5 and includes the following six titles:
Empire's Rift by Steven Rzasa
Five by Five 2: No Surrender edited by Kevin J. Anderson
Comrades in Arms by Kevin J. Anderson
Assault on Alpha Base by Doug Beason
Lights in the Deep by Brad R. Torgersen
Better to Beg Forgiveness by Michael Z. Williamson
Chip in a further $10, making a grand total of $15, you'll receive the following nine titles in addition to those above:
Phule's Company by Robert Asprin
Strong Arm Tactics by Jody Lynn Nye
The Golden Queen by David Farland
March or Die by Andrew Keith and William H. Keith, Jr.
Triorion: Awakening (Book One) by L.J. Hachmeister
Sniper by Jonathan P. Brazee
Under a Graveyard Sky by John Ringo
The Year's Best Military & Adventure SF 2015 by David Afsharirad
One Day on Mars by Travis S. Taylor
There we have it. While I've read works by some of these authors before (namely Anderson, Williamson, Keith and Ringo – whose female characters are amazing for all the wrong reasons), I've never read any of these novels so I'm quite keen to pick this up.
How about you?
Last Updated: May 22, 2017