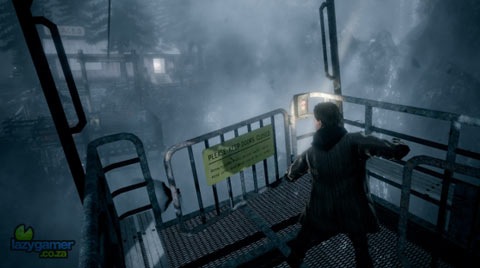 Alan Wake, above all other things, is about providing the player with a sense of atmosphere, and it accomplishes this goal with flying colours.
From a technical standpoint, Alan Wake really delivers the goods visually, handling lighting, particle and especially weather effects in a way that has never been seen in gaming before. This is due to the nature of the games theme, but it is very impressive none the less and will have you in awe at certain points. While the daytime may not look as great and character models and animations can be a little clunky, the overall effect is impressive to say the least.
The sounds also plays a huge roll in maintaining the overall atmosphere of the game, and is top notch through and through, with an accompanying soundtrack that is so well chosen, it will make you wonder why people haven't made use of licensed music like this in past.
The end result is a game that has an atmosphere so thick and immersive, that you will lose yourself in it completely if you give yourself half the chance.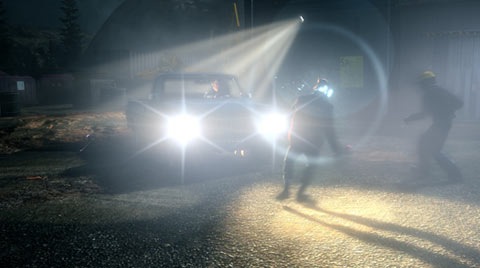 Alan Wake on its normal setting is not the most difficult game I have ever played by any stretch. The game will run you a very respectable 9 hours, and once all was said and done, it felt like the perfect length for the experience that Remedy set out to provide.
Even at 9 hours, Alan Wake still manages to remain interesting throughout, thanks to some perfect pacing and the intriguing story that unravels itself over the course of the game. You will always feel like you are going somewhere and know that everything you are doing is important.
There isn't a whole lot of replay value to the game, although to get the full story of what happens you have got to play the game on its nightmare difficulty to unlock pages that reveal the whole story. That combined with the action that was fun to play, it may very well warrant a second play-through.
Conclusion:
Alan Wake may not be the massively over-impressive mind blowing experience that everyone was hoping it would be, but it has accomplished what it set out to do, and well. It may have some elements similar to other games, but in its entirety it offers a type of game that I can't really say I have played before. I enjoyed the experience for being what it was, and if anything, it was unique.
For fans of: Silent Hill, Resident Evil, Dead Space
---
Scoring (not an average)

Gameplay: 8.5
Gameplay is solidly fun, but a little clunky at times.
Presentation: 9.4
From the massive mountain views, to the eerie forest nights, cutscenes and interface, it's a great looking game overall. Would have been even better with some model polishing and better animations.
Sound: 9.5
Great voice acting, atmospheric sound and a hauntingly beautiful soundtrack comprised of a lot of 70's folk rock with some real gems from artists such as Nick Cave and the Bad Seeds.
Value: 8.5
This is definitely a case of quality over quantity, but the odd 9 hours you spend playing Alan Wake the first time through are definitely worth it.

---
Overall: 9.2
Before writing this, I was well aware of the mixed reviews coming out of the press, and in my opinion the nitpickers missed something crucial along the way. Alan Wake is a magnificent story, told in a great setting and highly recommended for any Xbox 360 owner looking for an engaging and atmospheric story-driven experience.
[Reviewed on Xbox 360]
Last Updated: May 20, 2010