Last year I was let in on a few secrets regarding preference for peripherals. A well versed gamer sat me down and explained to me the "impact" a mouse could have on your gaming, a world which exists outside what many of us understand about the object we hold in our hands daily. Gaming mice, specifically, can make or break a gamer at the highest level and this is something often overlooked. I was let in on a top secret graph showing the response times of certain mice, and one thing stood out – price. Yes, it's true, gaming mice can set you back a pretty penny, but for ASUS their decision to create an affordable range of gaming mice touched a sensitive area in assuring a decent price while not backing out on comfort and design.
The Strix Impact features Aura Sync, ASUS's RGB lighting design which syncs up all your products for a bit of bragging rights. There's also a Mayan grip design which gives a surprisingly firm handle on the mouse.
Initial Thoughts
My initial impression of the Strix Impact was the size may be an issue. I have rather large hands and use a full palm grip when playing games. For this exact reason I've never used a smaller mouse and have been using the Steelseries Rival range since their launch in 2013.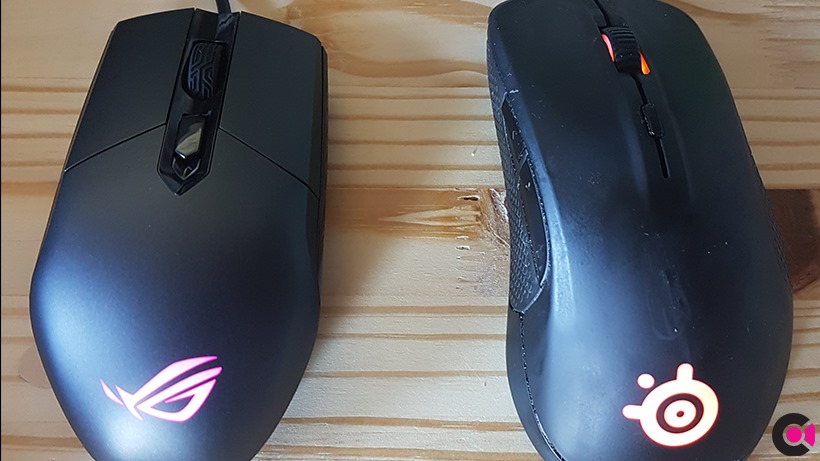 Shying away from smaller mice, I must say I was rather impressed by the comfortable fit of the Impact and upon getting used to it, enjoyed my short time with the mouse. The light weight was something which required a bit more adaptation, but we'll get to that in a bit.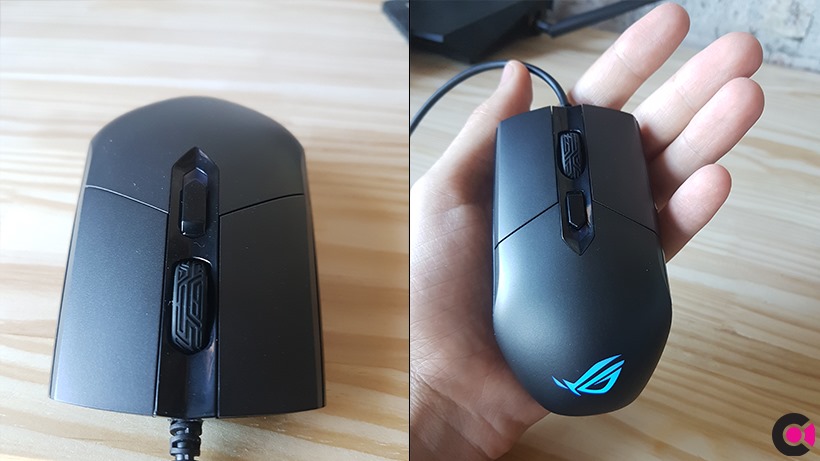 Simple Design
If you haven't caught it yet, the Impact is a very simple mouse. It's nothing flashy, but for roughly R700 it's actually more than you'd expect. The Mayan grip design is something which ASUS have stuck with through most of their gaming products. It's the same design seen on the ROG Claymore, and other signature products in their range. The ever glooming eye (which changes colours) reminds you that you're part of the Republic of Gamers and comes in an almost infinite (at least as far as human perception goes) range of colours.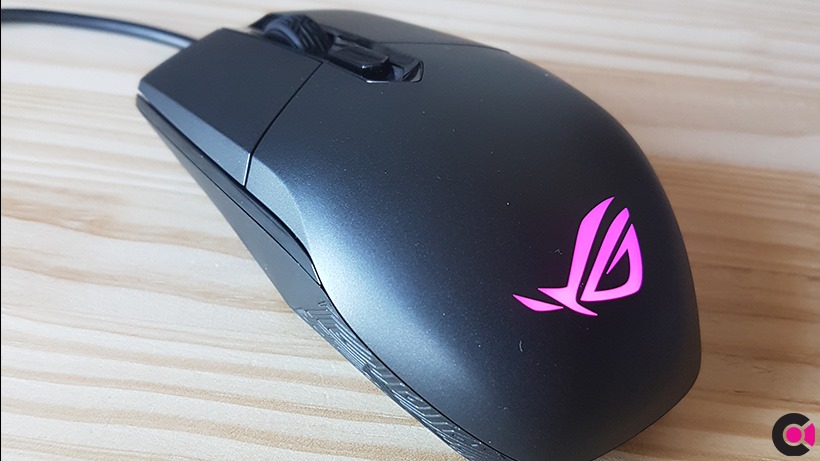 The Impact features two buttons, a clickable scroll wheel, and DPI setting with no extra buttons of numpad on the side of the mouse. It's not a fancy mouse, but rather aims to cater for a gamer looking for an affordable, comfortable gaming mouse. The ROG logo eye can have lighting effects, but the DPI light is static and only has two options (like most mice I've used). The DPI setting is an almost must-have these days. For me, specifically, I switch DPI for games running 400 DPI for gaming and 800 DPI for browsing.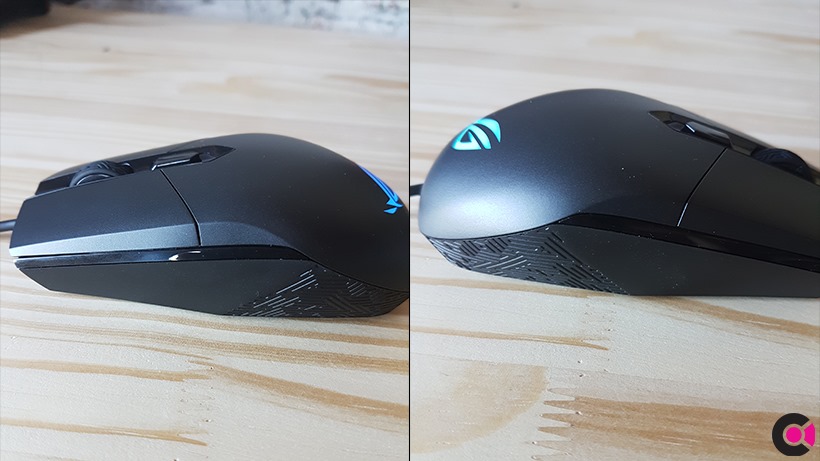 Its simplicity doesn't take away from the fact that this is a gaming mouse, and it's built for long-term gaming marathons. The Strix Impact is equipped with Ormon switches offering a 50 million click lifespan, and while it may feel quite feeble at times, this is one tough cookie. Recently we've seen an influx of material mesh cables, but the Impact has a rather sturdy long rubber cable with USB 2.0 connection. Lastly, it's a rather lightweight mouse and after some time I got used to the palm grip again, although I can imagine claw grip gamers would find this a lot easier to manage.
The features within
What I personally love about ASUS ROG products is what's inside. The ASUS Armoury offers a feature packed product which extends ordinary use. If you're like me, and use an entirely built ASUS rig, the Strix Impact can extend the display of all your products. The Armoury, and this is what I loved to use it for, can change the lighting of your mouse to "sync" it up with all your products (hence the Aura Sync name).
In the Armoury you're able to monitor your performance, add profiles for different colours, and adjust the DPI of your mouse and the two interchangeable settings for the your desired DPI. The Strix Impact has a 5000 DPI Optical Sensor, and comes with a default setting of 400 DPI when switched off and 1600 DPI when switched on. The Armoury is where you customize your DPI.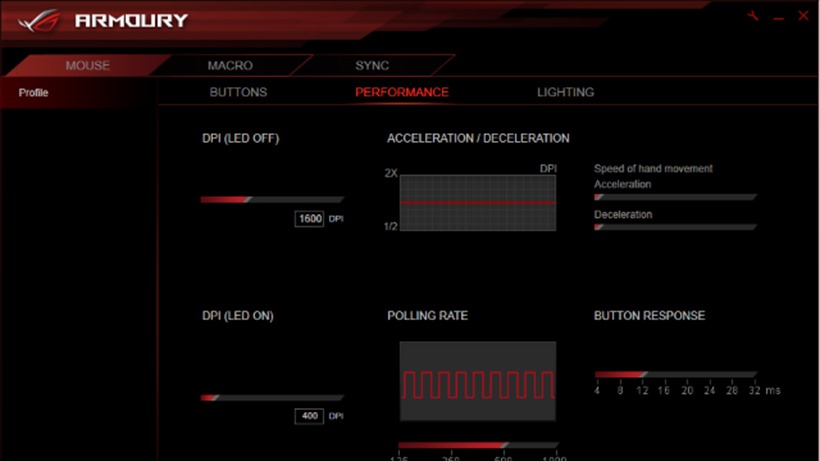 The Armoury is where you see the true power of Impact as it moves away from a simple design to a highly customizable piece of equipment, something which ASUS pride themselves in. This is how you're able to spend something as low as R700 on a gaming mouse, and still have all the features available through some great technology. The step ahead, for me, was the feature which allows you to set the pointer acceleration and polling rate which reports the mouse's position to the computer affecting how responsive the buttons are (which is great for your MOBA and FPS games) as well as the placement of the pointer of the screen. Digging a bit deeper into this, as it was something new I learnt about the Impact, led me to believe that the Impact could be a great bridge between a casual mouse and the step to being more competitive as the gear you use at a lower level can have an impact on your competitive gaming.
My games of choice when playing around with the Impact were of course World of Warcraft and Counter-Strike: Global Offensive which led me to my biggest peeve about the mouse – no extra buttons. If you've played WoW you'll know that every reachable button is bound to something. I make use of my extra mouse buttons in every game, Counter-Strike included, and this is where it became a bit annoying not having those extra buttons. For day-to-day browsing too, the extra buttons are used for forward and back between pages. In fact, the first thing I do when I install many games is bind the extra mouse buttons to something. However, some gamers don't make use of the buttons for gaming and I'd say if you're looking for an affordable, comfortable and simple mouse the Impact is a great choice.
Last Updated: April 5, 2017
ASUS ROG Strix Impact Gaming Mouse

For a R700 mouse the Impact offers a bit more than what's seen on the outside. The high customizability through the Armoury application is the turning point for me, and made it my bang-for-buck pick when looking at affordable mice. It's simple design is attractive and tied in nicely with the rest of my ASUS gear. At the moment I'm loving a blue lighting theme across my desk. The AURA Sync stamp of approval on ASUS products is becoming the norm, but the indication that this option talks about lighting is a bit misleading as what it truly unlocks is a highly customizable application for all ASUS products.