If you've been watching Nvidia over the past couple of years and wondering if AMD lost an invitation to the party, you're not alone. The red team stood in the wings as Nvidia pummelled the enthusiast market with both Maxwell and now Pascal, betting on their Vega architecture as a return to the big leagues. And with both the Vega 56 and 64, they do just that – taking aim at last year's GTX 1070 and 1080 respectively. It's still late on the block, but the Vega 56 alone proves that there's something still special here. And ASUS' Strix version is just making it better.
The Vega 56 is a complicated card when you look at a glance. Gone is the regular GDDR5 (or GDDR5X) memory you might be accustomed to, instead replace with something new. High-Bandwidth Memory (or HBM2 here) still needs to really show its worth in more mainstream use, but AMD bet big with its inclusion in the Vega line. There's 8GB here, which is blisteringly fast and future-proofed to your heart's content. Its core and boost clocks, sitting at the slightly bumped 1298MHz and 1590MHz respectively, are a bit more common, and stand at around 40Hz higher than the reference model.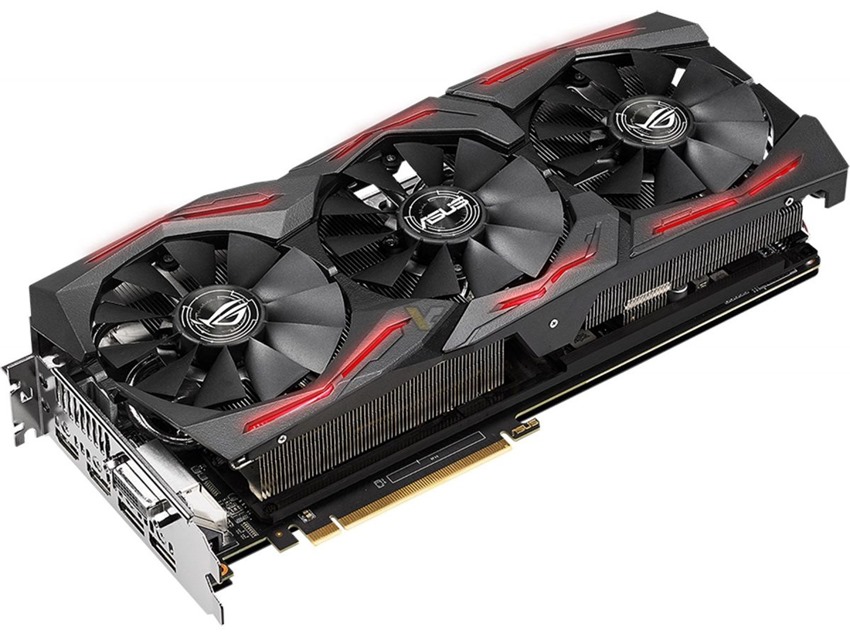 The ASUS Strix brings its toys to other parts of the card. It features a three fan cooling design, which does a great job of taking the heat away from the large heatsinks and pumping it into your chassis. The fans are extremely quiet too; a feature of Strix design. They only start spinning up when a temperature threshold is met, making idle using silent. When they do ramp up, they remain whisper silent still, and are generally just the best on the market. The new IPX5 rating is neat too, which should mean they last much longer than usual (and fight off dust a lot better).
Inputs are also a treat here. The Strix version features the same two HDMI 2.0 ports, two 1.4 DisplayPorts and a new single DVI-D port, which you won't find on the reference model. That's neat for older monitors, if not a little unnecessary in this day and age. Still, you'll be all geared for VR and the like, which this card is certainly suited for.
If you're looking to stick to a single theme with your PC, the Strix has you covered on that front too. The card ships with a series of LED strips along the front of the card, and certain light-up sections on the backplate. They're (obviously) not static colours either. The card can be made to vomit out a rainbow of 16.8 million RGB shades, letting you tweak and tinker to your heart's content. It's par for the course for high-end gaming hardware, so it's really there if you need it.
Those colours might be pretty to look at, but you know what's better? Framerates! And The Vega 56 lives up to its billing, as long as you're not expecting anything too astronomically revolutionary. These sorts of figures might have made you wide-eyed when the GTX 1070 launched, and they might still now. But it's certainly evident that AMD is just arriving at the party, and not really crashing it with something of their own just yet.
Metro: Last Light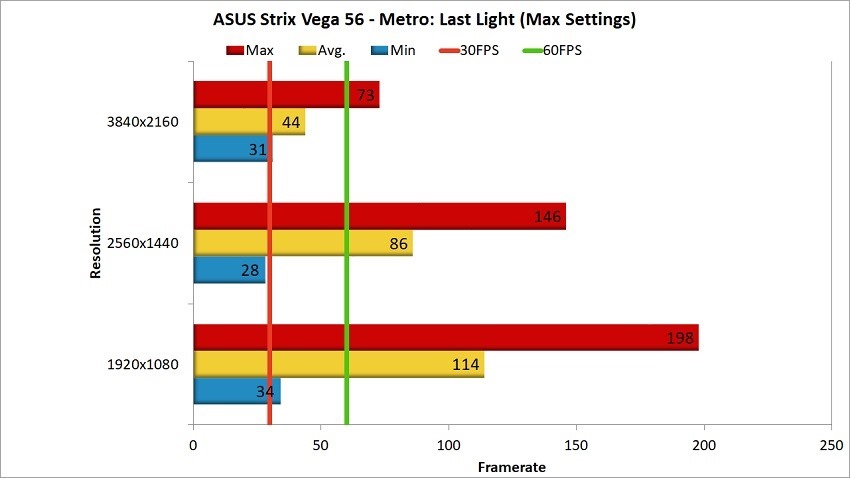 The Vega 56 got off to a great start, with a strong showing in Metro: Last Light. Standard HD performance is as high as it should be, while things taper off slightly less than Nvidia cards as 4K is approached. Attributed to the HBM2 memory for sure, but still just on par with the GTX 1070 (and definitely behind the more recent Ti version).
Grand Theft Auto V
The trend continues with GTA V. The long draw distances and high-resolution textures push this card just below a 30FPS average at 4K, which is around where the GTX 1070 started to buckle. But it's starting to show issues, with a near 10 FPS deficient to the GTX 1070 Ti at HD.
DOOM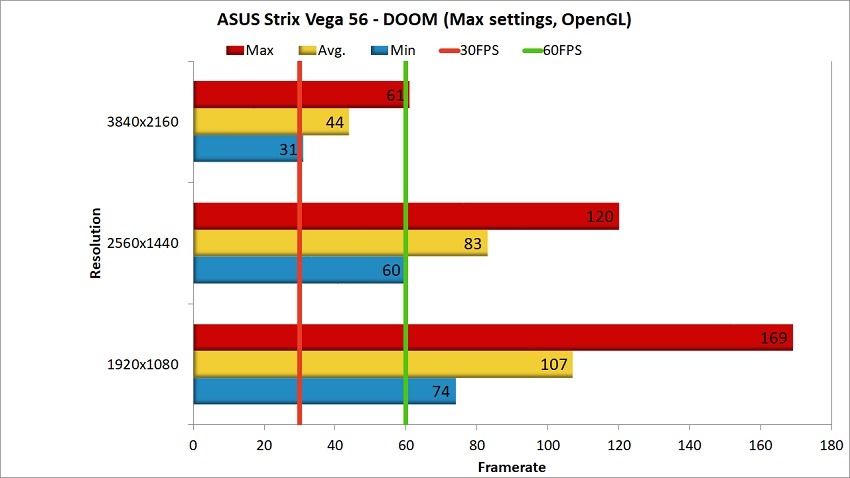 DOOM was somewhat disappointing. Even at HD the Vega 56 isn't able to hit a 120 FPS, which might be ideal if you're rocking on of those high refresh rate monitors. It also doesn't manage a solid 60 FPS at 4K, something which the GTX 1070 Ti in particular managed to do.
The Witcher 3: Wild Hunt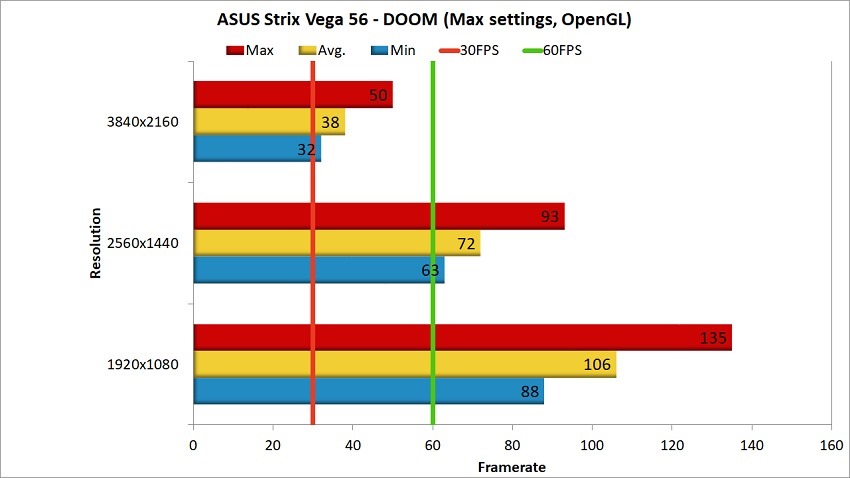 The Witcher 3: Wild Hunt got things back on track a little, again showing how well the new memory can deal with the scaling of resolution. It's higher than 30FPS at a native 4K, which is just behind the GTX 1070 Ti and slightly better than the GTX 1070. It's also got some respectable figures for HD, which is good if you want all the bells and whistles on.
3DMark
Running through all three FireStrike Tests and the demo of Time Spy, the AMD Vega 56 came in strong again thanks to its newer memory and great clock speeds.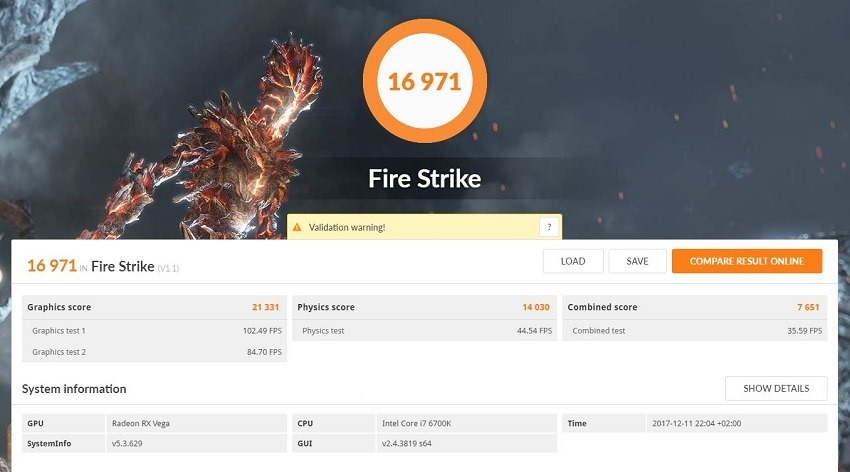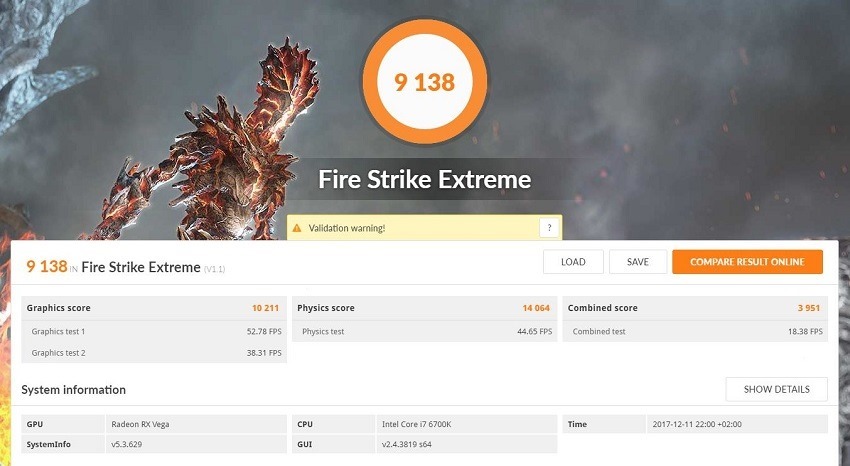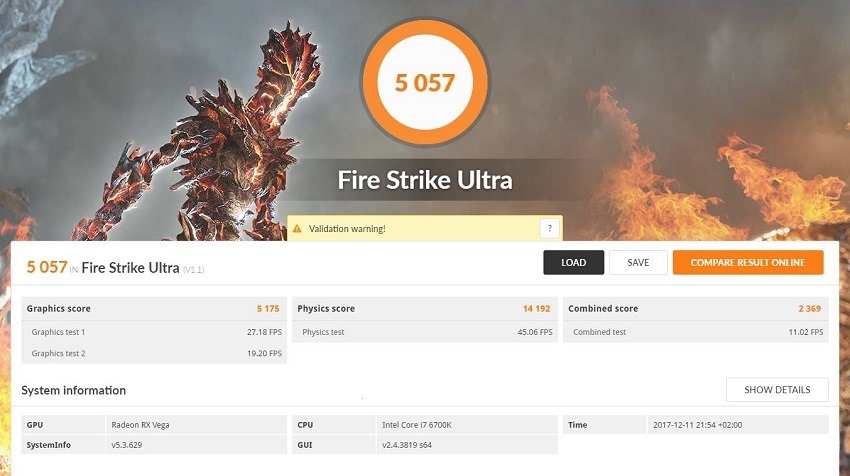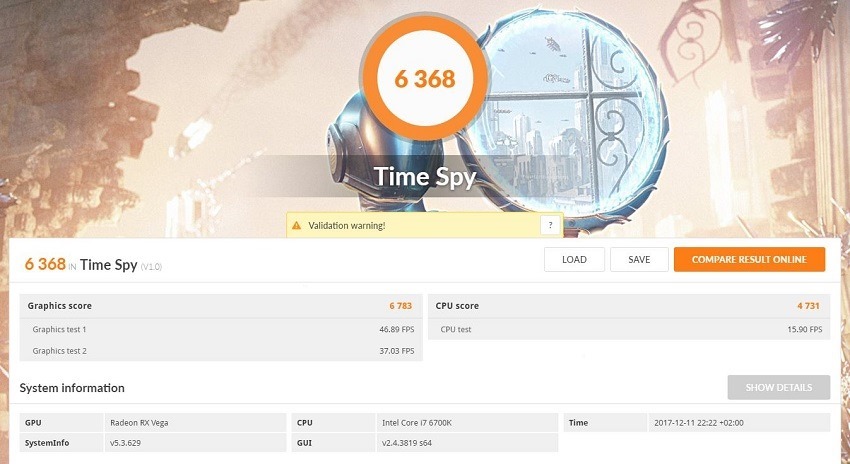 Completely respectable, and worthy of a look when you're now having to choose between red and green again. Or is it that simple? Nvidia touted performance with efficiency with their Pascal line, and it's something the Vega range can't do. The GTX 1070, for example, operates below a TDP of 200W. The Strix Vega 56 needs nothing short of 450W. That's more than double the power draw for around the same performance, which is ridiculous. Not only that, but the card gets hot. Peaking at over 85 degrees when running full tilt, even the Strix cooling can't really help keep AMD's tendency to fry an egg on your rig at bay. It'll be great for winter though.
Those are two caveats that may or may not concern you based on your setup, but it certainly does make your PSU decisions matter a lot more. While you could easily get away with something closer to 500W with an Nvidia card, the Vega 56 requires something in the range of 650W. And in an age where GPUs are being used for a lot more than just gaming (miners, here's looking at you), those things matter. But that requires a deep dive into mining algorithms, profitability and more, and we're not going to do that here.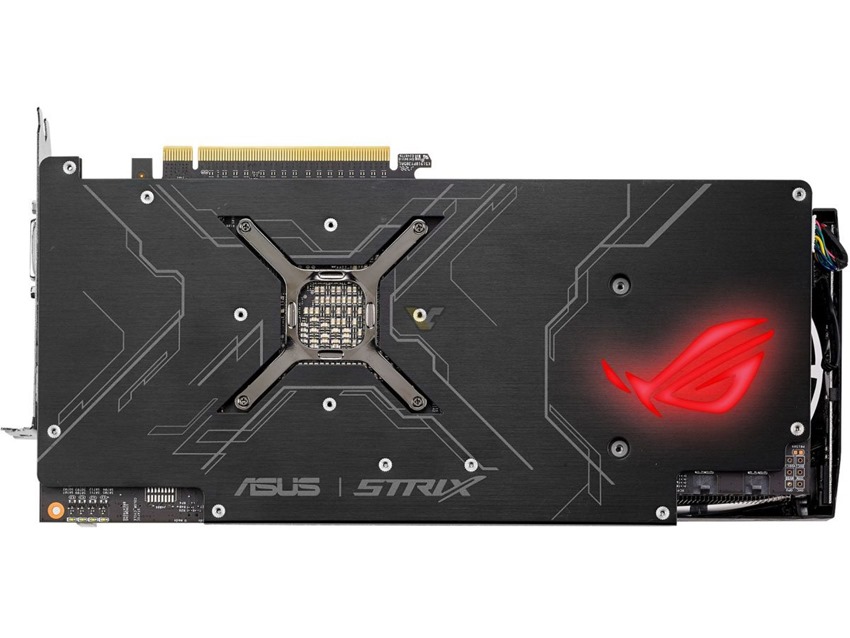 Cost is also a discerning factor. The Strix models of both the GTX 1070 and Vega 56 are on the pricier end of each respective range, but there's a large gap between the two. While you could pick up the 1070 for around R9,500, the Vega 56 will set you back on average a grand more, usually sitting at R10,500. There's different tech at work here, but if you're looking for raw gaming performance today it's a difficult argument to swing in AMD's favour. And that only gets worse when you see how much lower the GTX 1070 price range goes, while most Vega 56 models stay around the same.
That's to say the Vega 56 isn't a terrible card. AMD set out to match the performance of the GTX 1070, and they've done that (and even surpassed it in some cases). But it's a year too late, and at a price that's just too high. AMD is back in the fight, but this isn't the best way for them to come swinging out of the gates.
Last Updated: December 14, 2017
Asus Strix AMD Vega 56

The AMD Vega 56 is just a little too late for this current swath of GPUs, settling for matching the performance of a year old card that is more efficient and cheaper. The ASUS Strix model does a good job of managing temperatures and boosting reference performance, but it's an additional cost on a GPU that is already too much for what you end up getting.