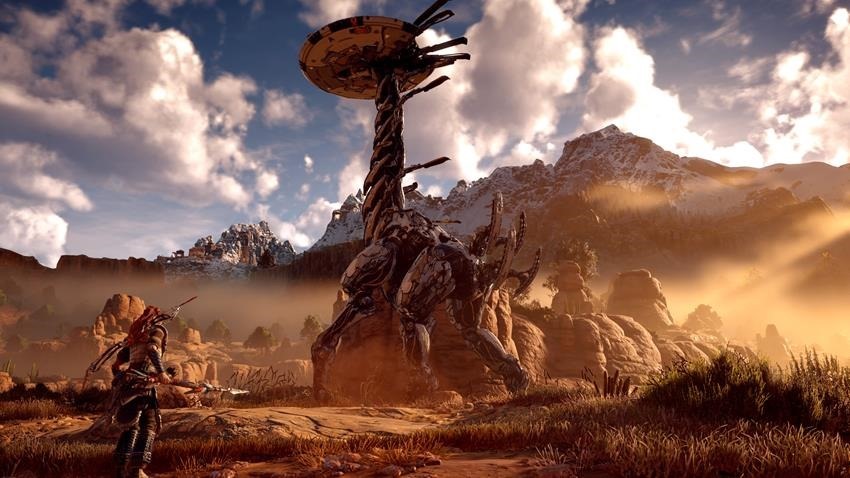 Horizon Zero Dawn is many things, and in being that borrows a lot of inspiration from other open-world titles. The familiar tropes that have paraded around the genre are all there to see, but it's the surprising show of restraint that developers Guerrilla Games show to them that lifts them well above the games they're drawing from. And surprise is really the operative word here, with Horizon's twisting, deeply engrossing world holding pockets of wonder around every turn. Even if it stumbles in getting out of the gate, it's a refreshing experience that shows just how important attention to finer details really is.
Horizon Zero Dawn follows Aloy – an outcast from a tribe called the Nora who inhabit a very sparsely populated, heavily overgrown Earth. Humanity has returned to tribalism, spurred on by cataclysmic events that the game takes a while to start addressing. It's pockets of humans have all segregated themselves, each with varying degrees of civilization and religious beliefs. Aloy, through actions early in the game, is given the unique chance of being able to travel freely around these small cities, which quickly opens the game up beyond its slow, tribal beginnings.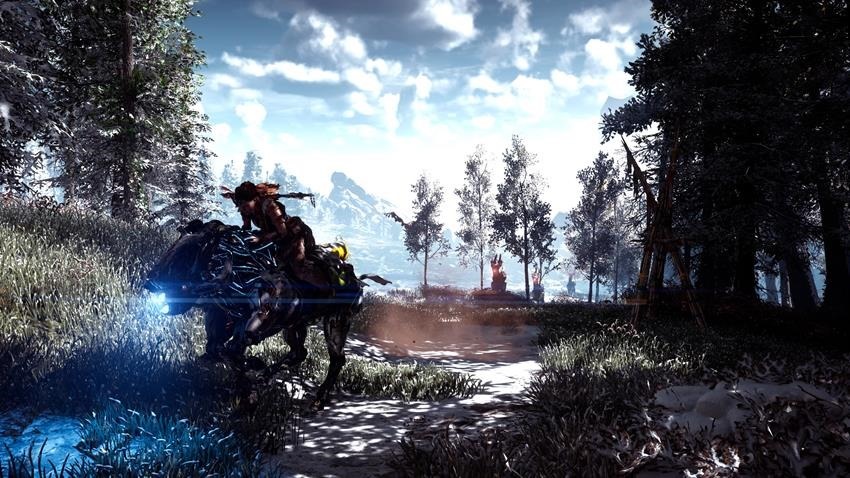 Some of Horizon's least compelling storytelling features the fighting between these tribes, and specifically how Aloy chooses to intervene but rarely take interest in them. She harbours a love for a tribe that ridiculed her as an outcast for most of her life, and puzzlingly is set on ensuring their survival. Despite throwing up some well written characters along with the (the main city of Meridian is pivotal in this), tribes just don't feel compelling. Even if it's fascinating to see how they've interpreted old technology into their folklore and religions.
The meat of Horizon's narrative tasks itself with the big "why" the game asks with its premise alone. What happened to the mega cities of modern civilization, and just how long ago did things go awry? Horizon answers these questions in clever ways, with a thread that feels so wrapped up by the end it's entirely possible a sequel isn't needed. It's the journey in this case that matters most, with Aloy's search to find the truth ultimately not just changing who she is, but the entirety of civilization around her.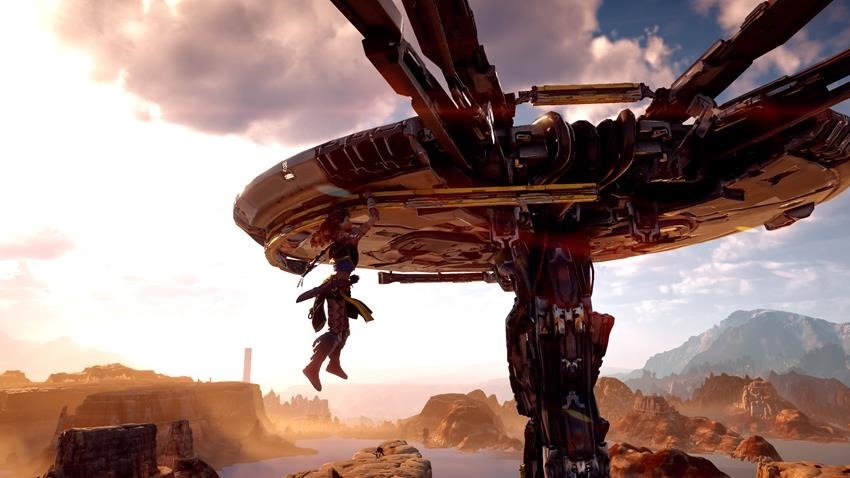 That journey is only possible through the immaculate world Horizon has craft here, which is both admirable in scope and detail. Horizon's map is simply enormous, segmented into distinctly seasoned areas that wouldn't be out of place in a Legend of Zelda title. It's snowy forests quickly turn into sand stricken deserts, it's lush flora disintegrating under a sweltering sun. And even if these transitions seem a little jarring, their presentation leaves nothing to be desired.
Guerrilla have performed feats of technological wonder in the past, but there's no arguing that they've produced the most stunning game across any platform to date. And given the sheer size of it all, it only makes the achievement that much more profound. It's detailed to the point of implausibility, and only lends itself to giving you stunning vistas to gaze upon, nature-reclaimed cities to wander (and wonder!) through and a world to truly get lost within.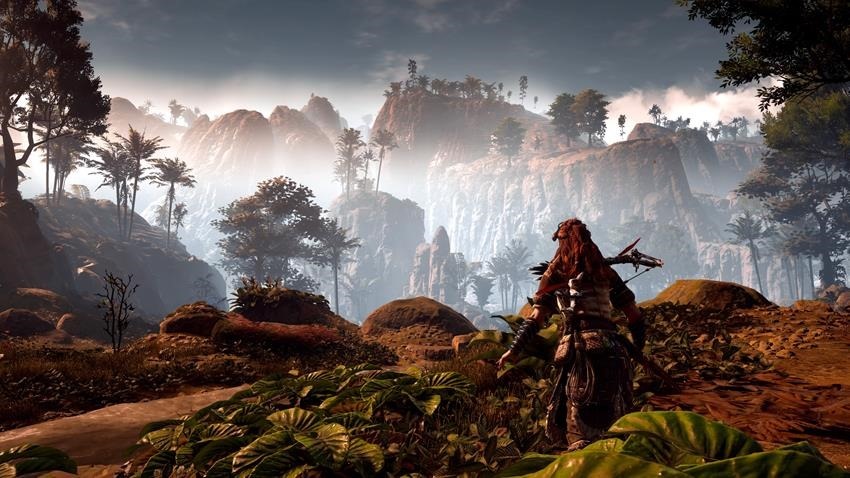 This sort of splendour extends to the games various wildlife, with efforts largely focused on the robotic caricatures of animals we have today. These stunning creatures are brought to life with exquisite detail. Mechanical connections between joints are laid bare to see, as their bodies move with elegant animation and believable weight. Aloy too benefits from some incredible animation work, which only makes getting around Horizon such a treat.
It's also half of the reason why combat in Horizon Zero Dawn stands out as the game's most compelling feature. Aloy, being a hunter, is given a plethora of tools to engage with her metallic foes, with each bringing their own strategies, strengths and weaknesses to the table. Engaging smaller foes from long grass while hiding is often a good strategy, and the game caters to this play style with some unlockable skills. But often open combat is unavoidable, and its flow leads to some exhilarating conflicts that you'll not easily forget.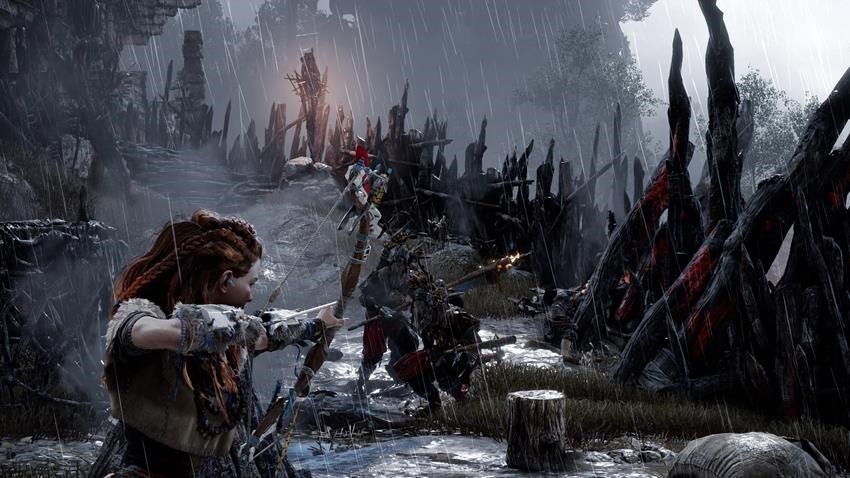 Enemies, being so well put together, are also incredibly susceptible to being torn apart. Horizon's combat revolves around this, with Aloy able to use her Focus (a device that sort of acts like Detective Vision) to pinpoint weak spots and vulnerabilities. You can use specific weapons to tear pieces off enemies to deal big damage, or elementally based ones to trigger massive explosions of ice and fire to take out whole groups. Horizon does an excellent job of both encouraging and rewarding experimental play, while also throwing up occasional surprises when you stumble upon new wildlife.
The game is also rather challenging in this regard, and it wasn't rare for some of the newer, larger foes to floor Aloy with single shots. Preparation is key to Horizon's combat – whether it be with the gear you take into battle or the way you prepare open space around. Having the right tools for the job are just as important as being adept with your bows and casters, as some of Horizon's goliath enemies don't tend to drop as quickly if you're just chipping away at their health with standard arrows.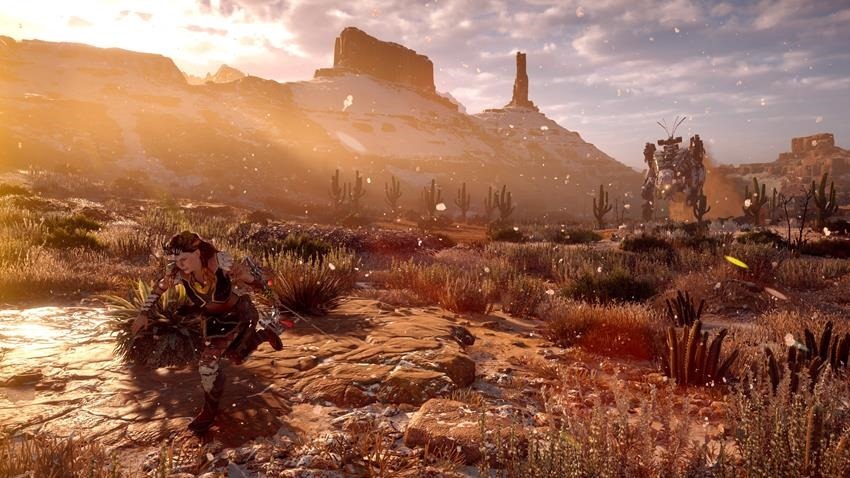 Human enemies don't really measure up in terms of size and challenge, and come off as middling annoyances the couple of times you're forced to engage them. Whether they're peppered throughout the story or in enemy camps you can liberate, human foes are easy to avoid and pick off quickly, but never offer the same sort of adrenaline rush that robotic animals do. It's not all too surprising, but a little more variety in their ranks would've helped alleviate this.
Horizon adopts many role-playing aspects in its system, that bleed into both combat and the way you equip Aloy for them. Numbers fly off foes as you hit them with different weapons, while the weapons themselves are imbued with stats and rarities. This is nowhere as near as deep as more loop-driven RPGs, but they do give you a bit of wiggle room to mess around in. If anything they create a captivating and equally important loop of swapping between gear, and that's aside from the ridiculous number of modifications you can slot into weapons and armour alike.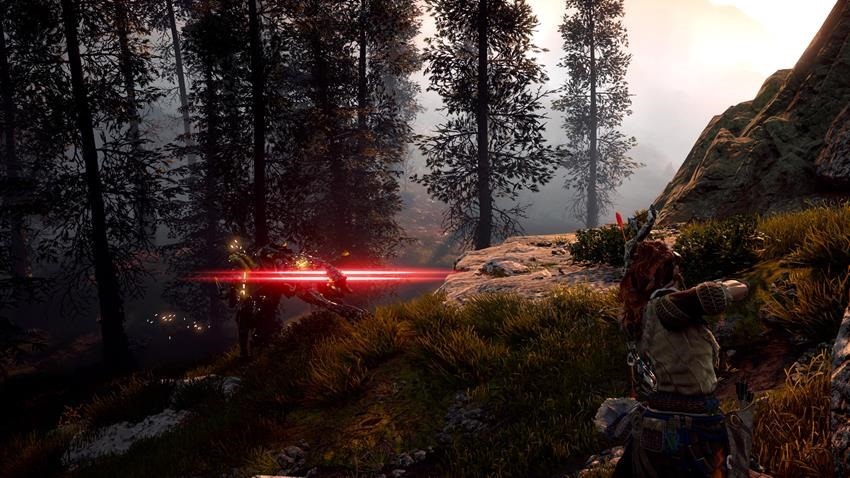 Resources are critical to this system too, and you'll soon get into the habit of picking up anything that falls within your cone of vision. Using these to craft items is simple and intuitive, and it's helpful that the game makes special note of when an item is useful for this purpose or otherwise just junk to sell. There's an issue when it ultimately comes down to that though, as Horizon's inventory offers up no simple ways to cut the clutter and sell exactly what you need. By about half way through you're so inundated with items that it becomes a chore to keep going back to settlements to trade, and the limited buying options ultimately mean you'll just be running around with a lot to spend nothing on.
These are minor mistakes for a studio that has never tackled a game of this scale before, never mind one of this nature, but thankfully it fails to permeate through to the most important aspect of the title. Quests are robustly built, with the game going above and beyond to differentiate them from just main and side missions. Errands (which are your standard fetch quests), hunting lodges and challenges all give you reason to pause your main journey and take a few hours to appreciate the world around you. But they're also not overbearing, with only a handful cropping up from time to time to keep you focused.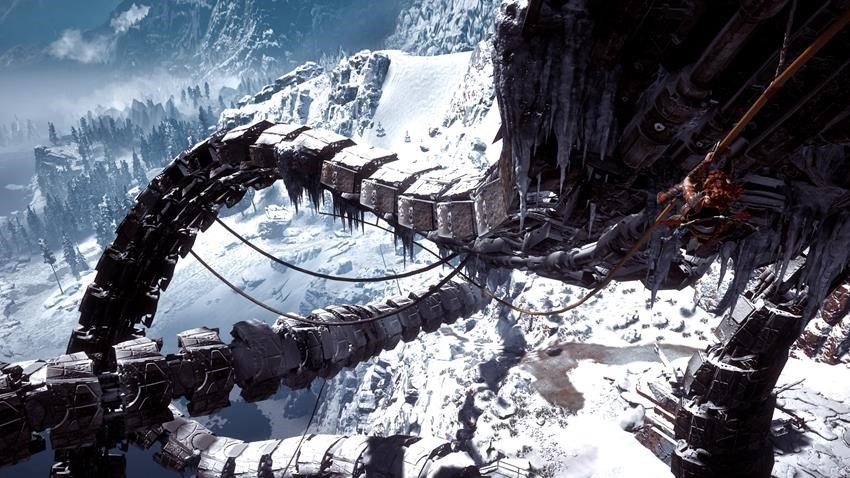 Main and side missions both have far more meat on them, often being split into multi-faceted micro journeys that take place around a region. Main quests shake up your gameplay in interesting ways, with extended areas of platforming culminating in large set piece battles. Side missions differ in scale, but often offer up a more human side to the events transpiring. You'll help fellow tribesman with certain issues they may be having, which sometimes lead to surprising rewards in the way of exclusive weapon perks and items. They're fun to partake in and important to your growth, which just makes them a lot more worthwhile.
Cauldrons are the sort of thing that fall right in the middle. While they're equally important side quests (akin to tombs in Tomb Raider or Assassin's Creed II), they're sadly not up to scratch in terms of quality. One or two stand out with the way they force Aloy to make do in some tighter areas, while others start and finish faster than you'll probably care for. They're limited, but it would've been nice to see them at least stand out a little more, given their significance to the tale.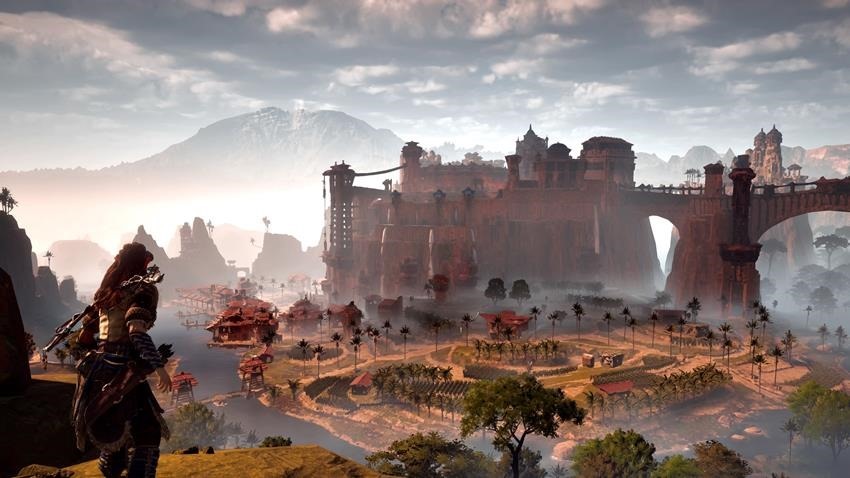 But restraint really is the strength of Horizon, and it's why its many distractions keep from being monotonous over your 30-50 hours' playtime. Massive Longnecks which act as your tried and tested "clear up the map" vantage points aren't only varied in the way they move around, but are so limited that their splendour is never diminished. The same goes for small platforming puzzles intended for collectibles, or the odd savage camp or corrupted ground you need to clear out. Their scarcity allows them to feel a lot more important, and in turn makes each of their encounters one that you savour for its limited time.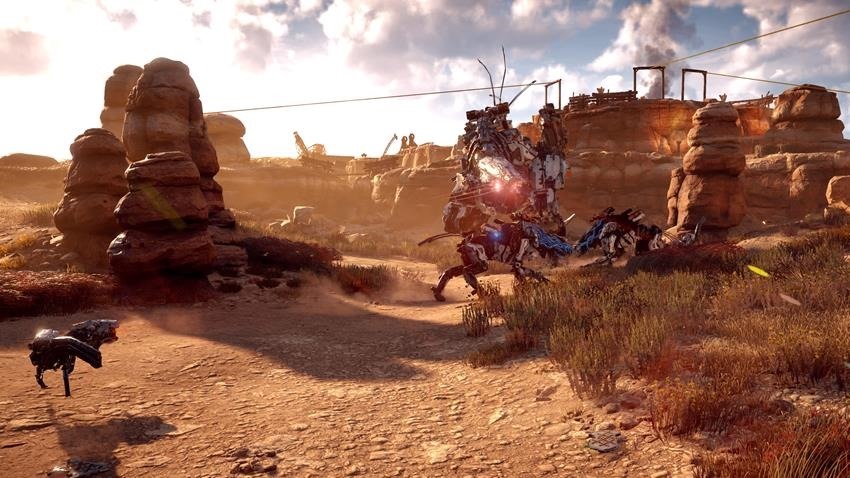 It's lessons like these that Guerrilla Games have somehow learnt without ever making the mistake in the first place, and it makes you question just how hard it should be for other open-world titles to emulate. In this respect, Guerrilla have not only elevated their standing in the development community, they've raised the bar for a genre where they've only just gotten their feet wet. Horizon Zero Dawn isn't just a must-have title for PS4 owners, it's the reason you buy a console in the first place. Because right now, it's clearly one of the best games this generation has managed to produce yet.
Last Updated: March 2, 2017
Horizon Zero Dawn

Horizon Zero Dawn is a love letter to the finer details, as they reinvigorate an open-world setting in startling ways. Its tight combat and engrossing world are icing on a package that just shines from all angles, making it an easy recommendation to not only play on PS4, but to buy one in the first place.

Horizon Zero Dawn was reviewed on PlayStation 4