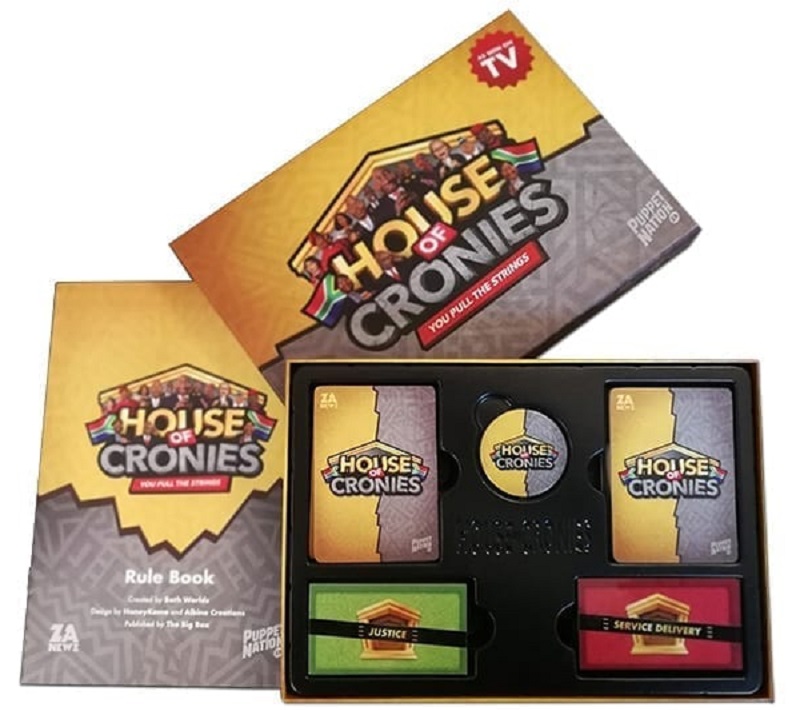 One of the things I love about South Africa is our ability to laugh at life. Take politics for instance. No matter how bad things get we find a way to see the humour in the situation and make jokes, even if the reality is no laughing matter. And it is with this in mind that I feel a game like House of Cronies could only have ever been made in South Africa and with a South African context. And while the core concepts in the game are universal across the world, it definitely has a local flavour that makes it instantly recognisable.
House of Cronies is essentially a politically-based board game which sees you playing against other players to form your own cabinet. Each cabinet has core positions like finance minister, speaker and security, as well as some open portfolios, a president and a deputy. As with any government, who you place in these positions is of incredible importance. To get the right people in power though requires influence, which in the political world includes greed and corruption. House of Cronies sees you wielding this influence through the likes of paying money, bribing or a variety of dubious in-game actions that alter the game at any given time (nothing stops a player better than bringing them to a "point of order"). Along the way, you also need a foreign aid and so finding someone who you are willing to team up with to help you wield your influence is vital. Being a card game though, you don't always have your way in these decisions and you need to best use the cards dealt to you to win the game.
From the outset, House of Cronies is a simple game and although it is certainly competitive in nature, it is as much designed to make us laugh (or cry) as it is to play to win. If you've ever watched ZANews, then you will understand the core design and humour behind the game as the artwork and characters are all based on popular puppets from that TV show. Despite its simplicity though, there is a deep strategy and thought to the way you play it, though the first few times you get into the game you might not care too much for it because you're having too much fun. If you do give it enough time, it does have a lot of depth beyond the surface. The clue is perhaps in the instruction manual which provides some of the core strategies up front, but knowing the best situation to side with the different strategies based on the cards that you have takes a bit of time to familiarise yourself with.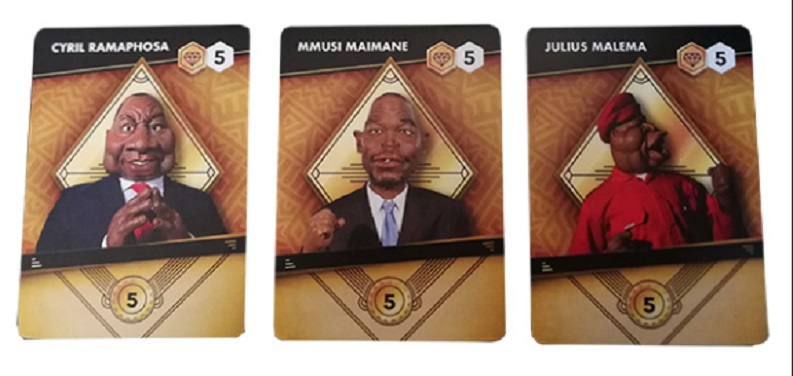 As a game, it is certainly fun. The game is simple enough to get into without taking too much time to read the rules, though I will confess to a little confusion with the playing party the first time I tried it out. However, it is quick to get into and very quick to start having fun. The humour is apparent and you'll be quickly laughing at the different predicaments you find yourself in given the different political partners you find yourself dealt with. The general idea is that you can choose to play in whichever alignment you prefer and can choose to play the game taking the moral high ground and not be corrupt at all. However, what I found is that with little real punishment for corrupt activities (there is some, but not enough to make you want to avoid it), it's a lot easier to just play the game as the cards may fall and corruption is part of it. In fact, if you want to play competitively, you will probably want to take a blind eye to corruption. However, this is fitting for a game which is mimicking politics where sadly, this is a commonplace reality, so is a design decision that makes sense.
Once you get past the initial laughs though, you will find a serious game that is competitive and that you will want to win at. It's not the most strategically balanced game and there are some strategies which are clearly more advantageous than others, but there is definitely some luck required with some of the card draw. Sometimes you can make some compelling moves as a result. Other times you can be left just laughing at things and try and disrupt other's game as much as possible to benefit your game. The nice thing is whether you are winning or not the game is just a lot of fun to play and no doubt the conversations it will generate will be extremely memorable.  After one or two playthroughs though, everyone should get the hang of it though and you move quite quickly through the different rounds.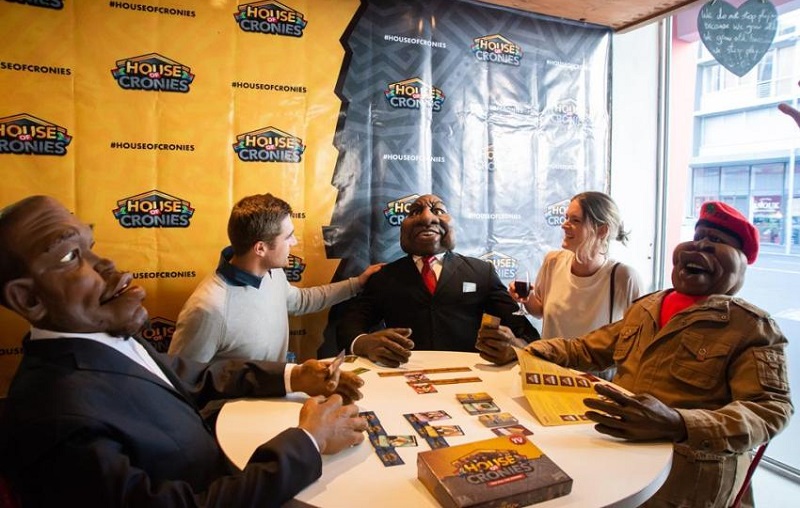 Perhaps the biggest weakness that a game like House of Cronies offers is that its political nature could be off-putting to people who are already wounded by the harsh political world that we live in. Hopefully though many people can see past this and give the game a chance because it really is a lot of fun to play and is bound to bring out plenty of laughs along the way. And if you are concerned about the potential for divisive banter around the table, the game actually removes any form of political party affiliations from the game. If anything it makes fun of everyone without necessarily mocking anyone specifically. It's also not just about politics as several popular public figures are also included in your decision-making process. Having a situation where you now need to have the likes of a Julius Malema, Steve Hofmeyr and Kim Kardashian work together is the sort of comedy that not even the best comedy writers could possibly even think of.
If there is on big weakness to the game, it was that I did find after several playthroughs in one night, it could become a little tedious to play as some of the magic wears out. Much of the reason for this is that although the game is quite deep strategically, once you become familiar with its tactics it can be quite easy to identify your opponents' strategy by the way they play. This could be seen as a grave problem, but I found this only really kicking in after a few hours of repeated play which is better than most board games offer. When you next sit down with a different group of friends, the magic again kicks in as they will play with a little more reckless abandon. Considering that a lot of the magic behind the game though lies in the social interactions it creates outside of just purely playing the game, it is still massively recommended and arguably the perfect icebreaker for any evening with friends should you ever need one. Perhaps the biggest obstacle could be that the game is really only designed for a maximum of four players, but if your audience is far bigger than this,  you can team them up together and I found that this actually works quite well, especially for new players.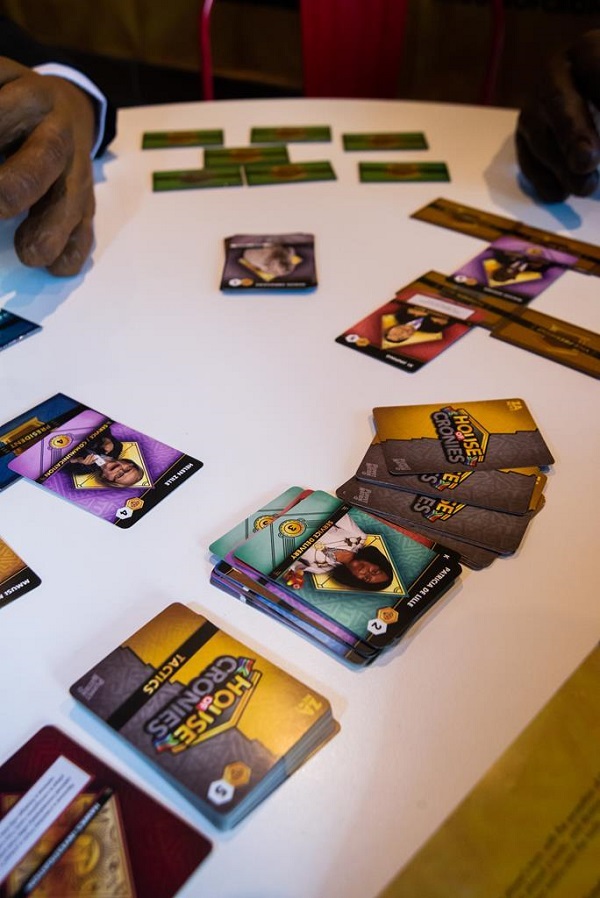 House of Cronies is relatable to everyone, though perhaps best played by adults who understand the political intricacies of the country. The concept is universal, but it simply wouldn't work if you don't see the humour in it. It is also a game which will need to iterate quite regularly because as a game it relies on a lot of current context and it's easy to see how in 5-10 years' time it might not have the same impact. However, that doesn't detract from the fact that it is a great concept and a game that is likely to become a key part of many social evenings with friends and family.
From the outset, House of Cronies has a fun and captivating appeal, is easy to get into and most importantly, fun to play. Yes, it is possible to develop a winning strategy and get better the more you play, but it's the kind of game where it doesn't really matter how you play it, as long as you do. You can order it online for R340 on special, here.
Last Updated: November 20, 2018
House of Cronies

House of Cronies is a well-crafted game that ingeniously captures the humour of South Africa's political landscape. It is more than just an opportunity for satire though, because at its core it remains a seriously strategic game with many viable ways of playing it. It's the kind of game though where it doesn't really matter how you play it, as long as you do.