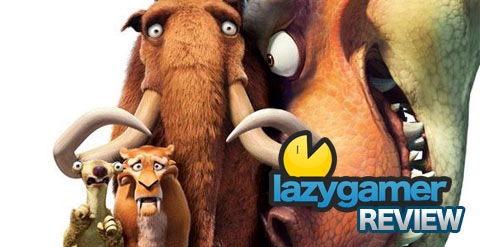 by Lady Ramkin
I have to admit that I wasn't very excited to start playing Ice Age 3, as I was afraid it would be just another movie-game that would possibly prove to be disappointing.
The Ice Age franchise has been very successful, and licensed games have recently upped their game, so we'll have to see if this will be a proud moment in evolution, or a yellow stain in the snow…
I got my snow-boots and gloves on, and jumped right in…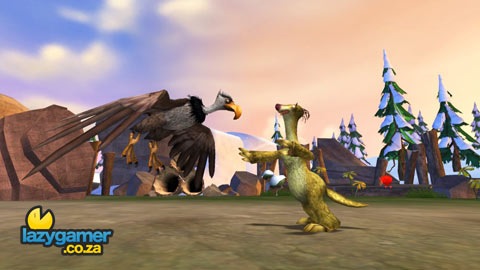 The game starts off very slowly, as the tutorial is riddled with dialogue segments that pauses gameplay to explain the storyline. This can be tedious, but the quirky characters make it worthwile. If you make it through the 'hold-your-hand' part, you'll be pleasantly surprised at the candy bowl full of fun that's waiting for you.
Become part of the herd as you take control of among others Sid, Diego, Manny and even Scrat our favourite pre-historic squirrel! It's hard to get bored when each character offers a unique game mode, ranging from wall running Prince of Persia style, or platform jumping that'll remind you of the classic 1994 Lion King game, to handbrake turning with claws!
You collect cherries, apples & pears that serve as currency at the in-game store where you can buy several novelty upgrades from bigger guns to a fish-eye camera lens effect but, be warned that this upgrade can cause motion sickness so keep a paper bag handy if you want to try it (can be turned off in preferences menu).
There are also a couple of multiplayer mini-games to purchase and enjoy with a friend. Throughout the game you will collect different coloured crystals on each level, which are often hidden out of sight, so for the obsessive compulsive players it'll be fun to try and find every last one of them. Alternatively you can skip the search and buy the crystals at the store. They're not cheap but unlock extra content like concept art & in-game cutscenes.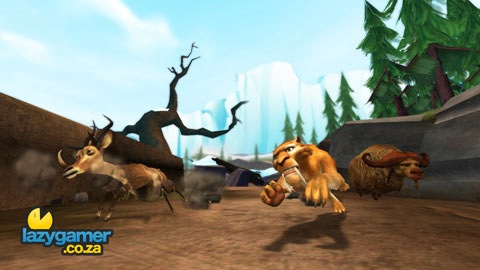 The controls are easy to grasp, and killing three Molehogs with a single body slam is strangely satisfying. Expecting a walk in the park as far as fighting difficulty is concerned, I am pleased to say that the game does offer a decent challenge. Navigating narrow mountain passes & slippery ice platforms whilst balancing on an egg wrapped in snow was the reason for many a reload. Luckily the game has plenty of checkpoints so you never lose too much progress.
The game might be aimed at a younger audience, but it offers a fun experience that anyone can enjoy. I found myself choosing the 'continue' option after each level, being unable to put the controller down. Definitely a must buy for fans of the Ice Age franchise and not a bad pick for anyone looking for a fun adventure.
Conclusion:
If you're looking for an uncomplicated, straight forward game, you're a fan of animated movies and in touch with the child in you, then Ice Age 3 is definitely a good buy. Not too challenging for hardcore gamers, but perfect for a casual experience.
Scoring
Gameplay: 8.0
 Basic controls that are quite responsive. Great variety of game modes.
Presentation: 8.0 
Very nicely put together with colourful backgrounds and characters.
Sound: 7.5 
Voice overs are top quality, sound effects work well enough.
Value: 7.0
 Length wise the game could've been a bit longer, but not bad as it is.
————
Overall: 7.9
Last Updated: July 8, 2009