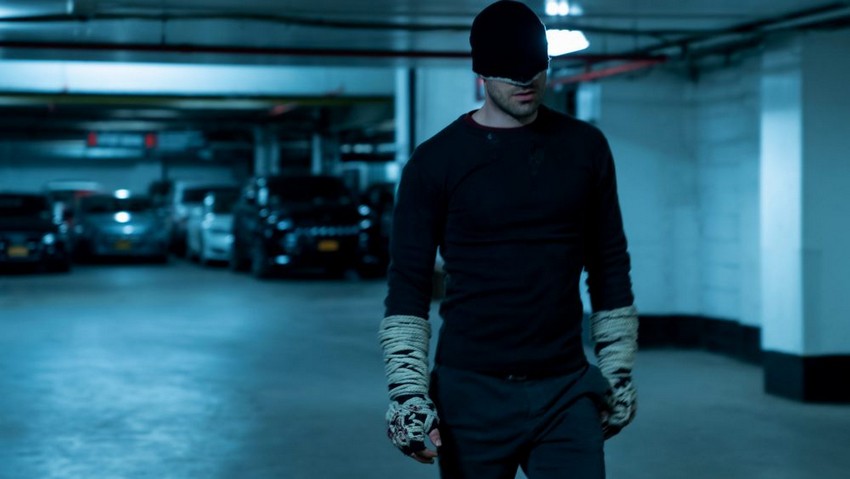 In the wake of the recent surprise cancellations for Iron Fist and Luke Cage, the future of Marvel shows on Netflix is a bit nebulous at the moment. We know that we still have another season of The Punisher due, but have heard nothing about the potential returns of Jessica Jones or The Defenders. And if those shows don't come back, and the recently wrapped Punisher season 2 were to not see the light of day for some unexpected catastrophic reason, I would be okay with that. Because, after all, you have to ask what the point is of even making more of these shows when they've just peaked in greatness with Daredevil season 3!
The last we had seen of Charlie Cox's blind lawyer/superpowered titular vigilante, he was busy having a building dropped on him, leading close friends Foggy Nelson (Elden Henson) and Karen Page (Deborah Ann Woll) to assume him dead. A little bit of death can't keep the devil of Hell's Kitchen down though. Especially not when incarcerated criminal kingpin Wilson Fisk (Vincent D'Onofrio) is buttering up the FBI – via Agent Ray Nadeem (Jay Ali), desperate for a promotion due to personal issue – with leads on other criminals as part of a deal that sees him removed from behind bars to instead serve his sentence in a cushy 5-star penthouse under permanent federal surveillance.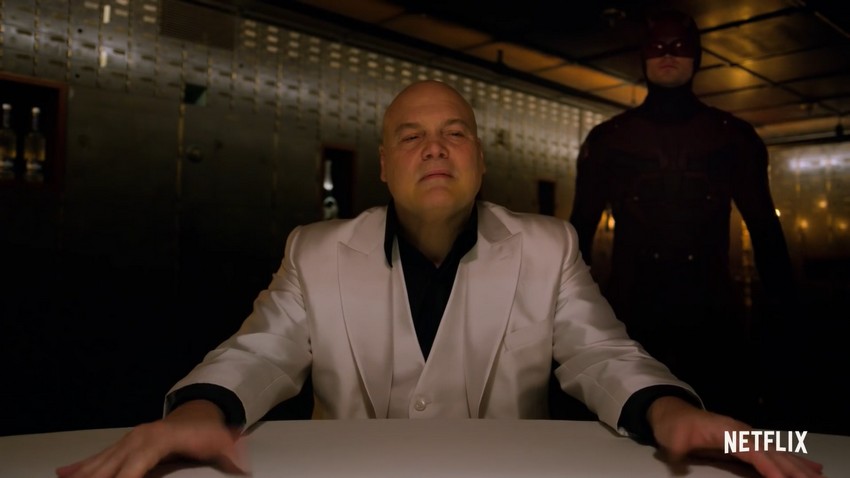 One member of that FBI surveillance detail is Agent Ben "Dex" Pointdexter (Wilson Bethel), who hides his own secrets, suffering from long-term mental issues as acute as his aim with any weapon (ANY weapon!) is unerring. And with Fisk whispering sweet everythings in the ears of both the troubled Nadeem and Dex, the stage is set for Daredevil's greatest foe to make one hell of a return.
This is a different Daredevil though. Physically in very rough shape after his experience facing The Hand at the Midlands Circle building disaster, Matt Murdock is now hiding out in the basement of his local church, tended to – and regularly scolded – by Maggie Grace (Joanne Whalley), the no-nonsense nun who helped raise him when he was orphaned as a boy. While his bones and muscles reknit though, Murdock's mind has already been made up: No more Mr Nice Man Without Fear, as Daredevil will do whatever it takes to rid his beloved city of its criminal infection, his previously resolute moral code and close friendships be damned!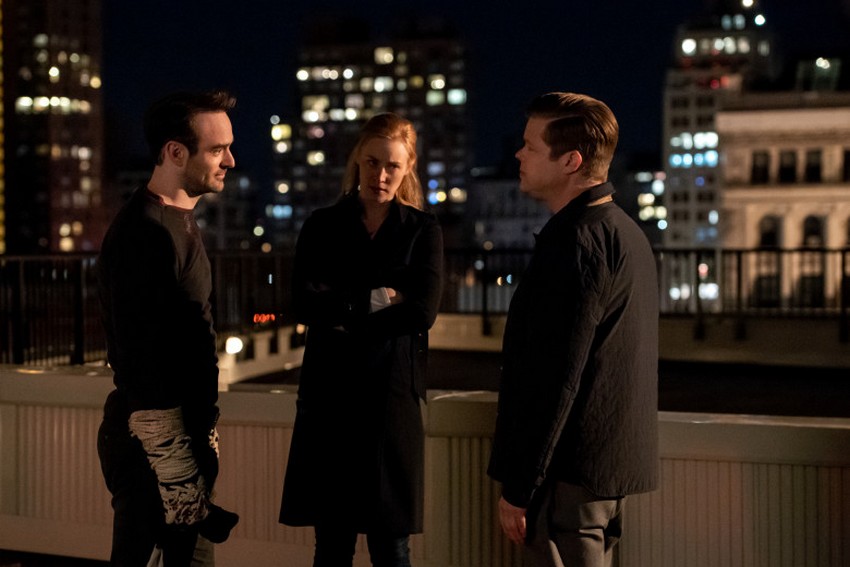 New showrunner Erik Oleson borrows elements from Frank Miller's classic "Born Again" story arc while also cleverly reworking narrative beats and key characters across this third season's 13 episodes. That last bit is important, as I've previously decried the bloated episode counts of Marvel's Netflix shows. Even the brilliant first season of Daredevil, which kicked off this gritty street-corner of the Marvel Cinematic Universe, felt like it was a few episodes too long, its story stretched unnaturally to cover all its installments. There's no such slog here as Oleson keeps affairs moving rapidly, interspersing strong character drama and intrigue with frequent bursts of seriously kick-ass fight scenes (wait until you get to a jaw-dropping 15-minute long single-take battle royale that makes the famed corridor fight of season 1 look like a schoolyard shoving match). More often than not, you will be hitting that "Next episode" button before the 10-second timer even elapses.
One aspect that helps tremendously in not making things feel bogged down is that when the focus shifts away from Cox's Daredevil (the British thespian once again in superb form as a hero undergoing a crisis of faith and conscience as he makes some shocking personal discoveries) to his co-stars, their arcs prove equally as gripping. Woll's Karen Page, in particular, gets to shoulder a large portion of the show's emotional work as her tragic past is finally revealed, and she rises up to the occasion in tremendous heartbreaking fashion. And, of course, as the "Kingpin", the scenery-munching D'Onofrio proves himself once again to be the most charistmatic Marvel on-screen baddie that isn't a tricky Asgardian demigod.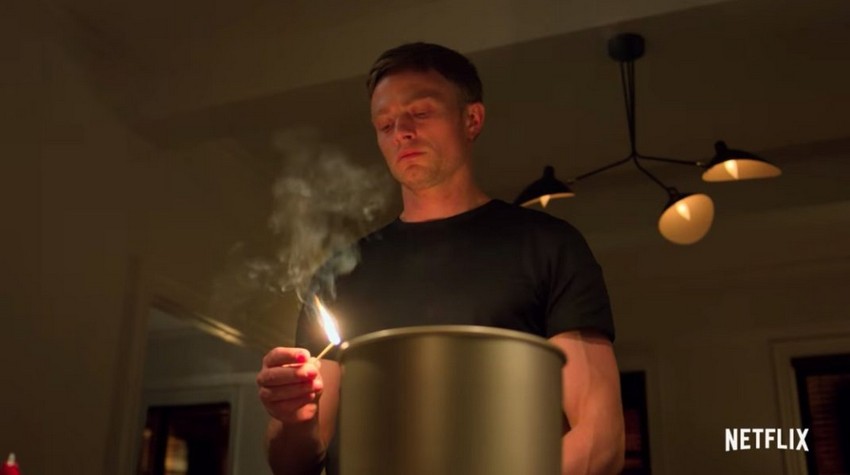 And then there's Dex. Or rather, [MINOR SPOILER ALERT] as I'm sure any fan worth their salt will figure out rather quickly, Bullseye. Much like how the first season of Daredevil delved into the fractured psyche of Kingpin, turning him from just a super-sized bruiser in a white suit into a compelling fully realized character with believable flaws, season 3 also flays Bethel's version of this iconic Daredevil rogue to expose what makes him tick. While admittedly not as wholly jaw-dropping as D'Onofrio's Kingpin, Bethel puts in a great showing and looks every bit as lethal as his comic book counterpart is supposed to be when engaged in some epic bloody tussles with Cox's Daredevil. And, most importantly, this is a far cry from the Loony Toons caricature version we got from Colin Farrell in the deservedly derided pre-MCU Daredevil feature film.
In fact, that's one aspect of this third season of Daredevil that many fans will appreciate. Gone are the cartoonish hand-wavy mysticisms and prophecies of The Hand, as Oleson steers events back to the grungy street-level crime drama scope where it all began. And, while I'm always a sucker for some cool ninja fights, I will admit that it works gangbusters here. Better even than the show's critically acclaimed genesis.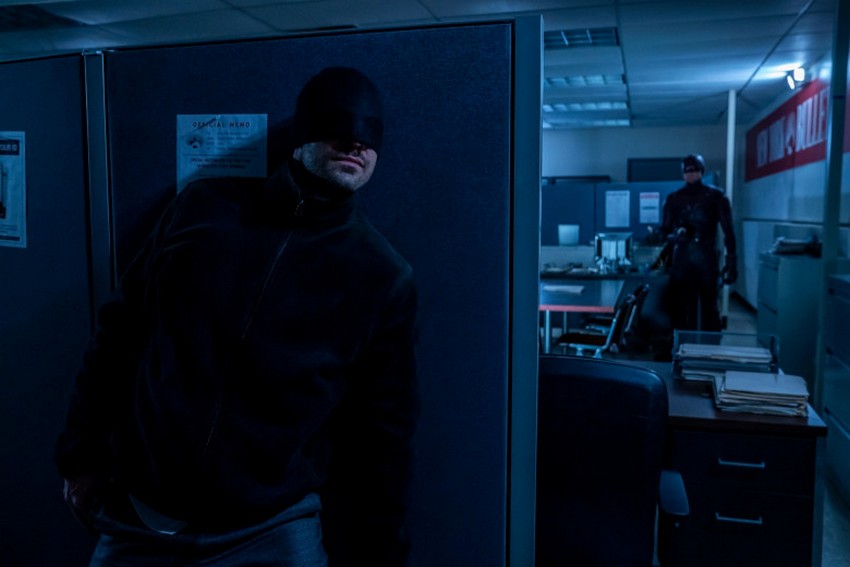 In fact, while it has some flaws (the FBI, especially Agent Nadeem, is laughably inept at times), with its gripping narrative, bone-crunching and technically superior action choreography, compelling characters, and great performances, I would go further than just saying this is the best season of Daredevil. This is the best season of any Marvel Netflix show we've ever had.
Nick agrees, but is a bit rougher on one of the character's. Probably because he's jealous they rock the ginger and he never will…
Last Updated: October 27, 2018
With a return to its street-level roots, binge-worthy storytelling, fantastic characters and some seriously mind-boggling action, the third season of Daredevil isn't just a step above its former outings, but the best season of television we've seen yet from the Marvel/Netflix collaboration.