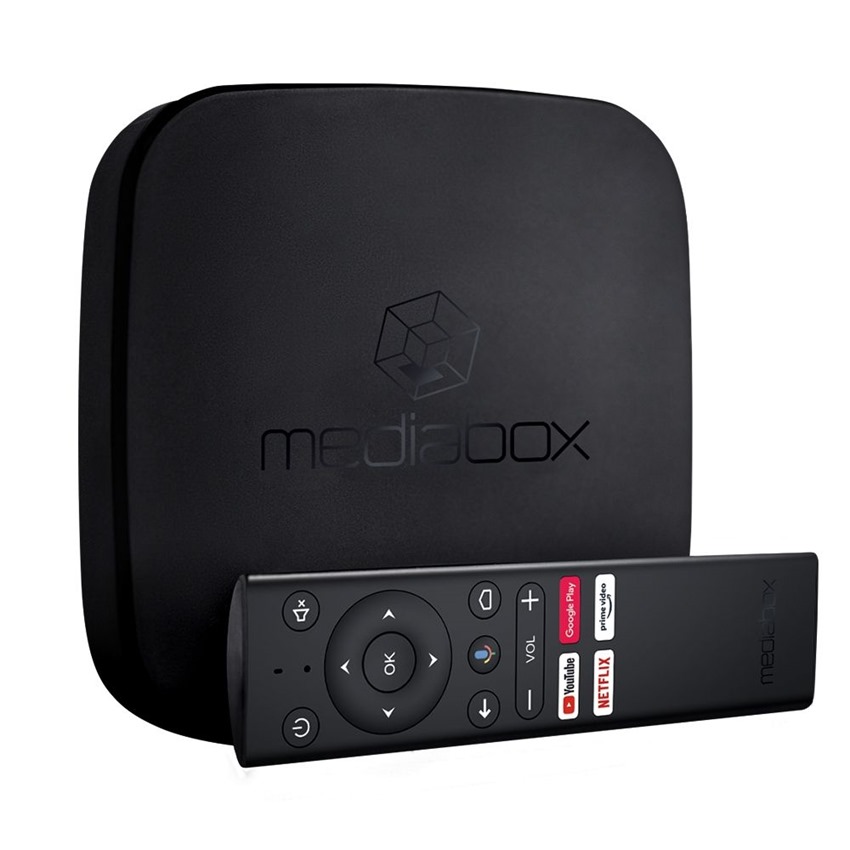 I recently reviewed the Mediabox 4K Ranger, and if I'm honest, I wasn't particularly impressed by it. While it had the necessary Google certification and all the ports you'd want from a capable AndroidTV set-top box, it lacked the certification to run what's arguably the biggest streaming service: Netflix. That's not to say it didn't support the service at all, rather that it used a side-loaded, aging version that didn't run at higher resolutions.
Thankfully, it's got a bit of a makeover in the new Mediabox Maverick. A little bit smaller, a tiny bit sleeker, and packing the necessary Netflix certification, the MBX4K Maverick is a much better solution for the average consumer who might not even care that Plex or Kodi exist, (let alone that the little box and its predecessor) could run them just fine.
In addition to certification, the Maverick also has a newer version of the ubiquitous Amlogic SoC that powers just about all of these AndroidTV boxes. Though the S905X2 has been available for several years already, this is the first widely available certified AndroidTV box locally. As with the previous chip, the quad-core Cortex-A53 is clocked at 2.0Ghz but has moved to a 12nm process, which has increased efficiency, meaning this box runs cooler than the previous model. It's more than sufficient for decoding 4K60 video, with the older chip struggling a bit in that regard.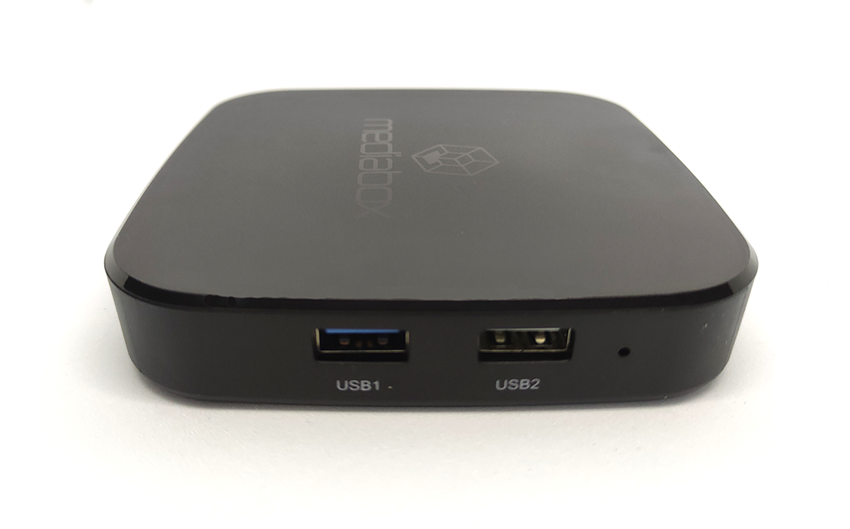 The system's GPU has also had a mild upgrade, from the 750Mhz Mali 450 G31-MP2 which is clocked at 850Hz. The SoC supports rudimentary HDMI 2.1 features, though I can't really tell you what features those are. Technically, the chip is capable of running 4K media at refresh rates of up to 75, but I can't say I've encountered much media at that spec. It's moot anyway because it seems that in this implementation here it's capped at 4K60 anyway.
The ethernet port is similarly throttled; the chip supports gigabit ethernet, but the port here is limited to 10/100. While it would have been nice for ensuring smooth playback for locally-hosted networked media, support for 802.11ac Wi-Fi means that wireless connectivity is more than adequate.
Aesthetically, I quite like it. With lightly bevelled and rounded edges and subtle "Mediabox" branding, it's an attractive little box for something that'll likely be stuffed behind a TV or in a cabinet somewhere. On the right-hand side of the divide you'll find two USB ports; one standard 2.0 port and one that'll work with faster USB 3.0 devices, enabled by the newer 905X2 chip. On the rear, you'll find the power input port, a 3.5mm AV port, a single HDMI out, an ethernet connector and an optical out for use with older AV systems or headphones. It's missing the dedicated microSD port you'd find in the older model, but it's not an important omission.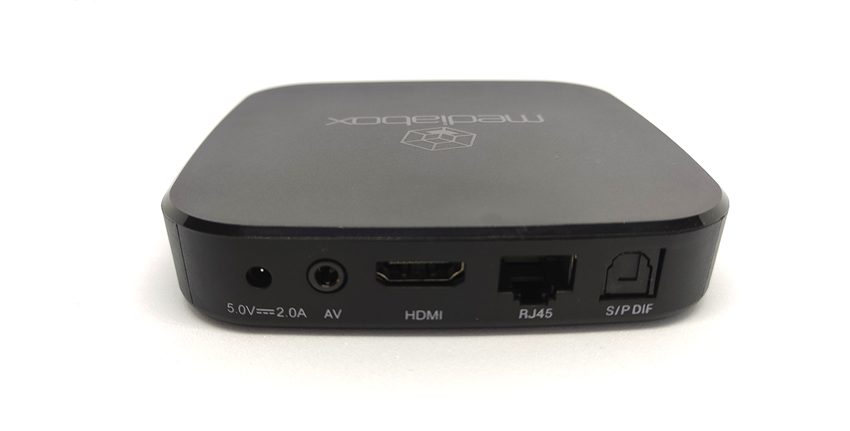 With the certification comes a new button on the remote; one that'll take users directly to Netflix. It's joined by a dedicated Amazon Prime button, a button for Google Play Movies and one that'll jump straight into YouTube.
Beyond that, the remote remains much the same as the deluge of other media devices that run Google's Android TV, though it is admittedly solid and well-built.. As is standard with Android TV boxes, the remote has very few buttons, with just a set of four directional buttons accompanied by an enter key, a home button, and a back button. There's a button for voice search and smart functionality through Google Assistant, which works well enough.
I still feel like an absolute pillock talking to my tech, but for those of you who aren't averse to conversing with robots, the option is there. I did get my robot vacuum cleaner to start cleaning my kitchen by talking through the remote, which is a nice short-lived thrill, but more fuss to my mind than by doing the same by tapping a button in an app. Still, you can ask it for recommendations – like the latest action movie – or specific things – like an album – and if they're available in your services (like Spotify) or library, they'll start playing.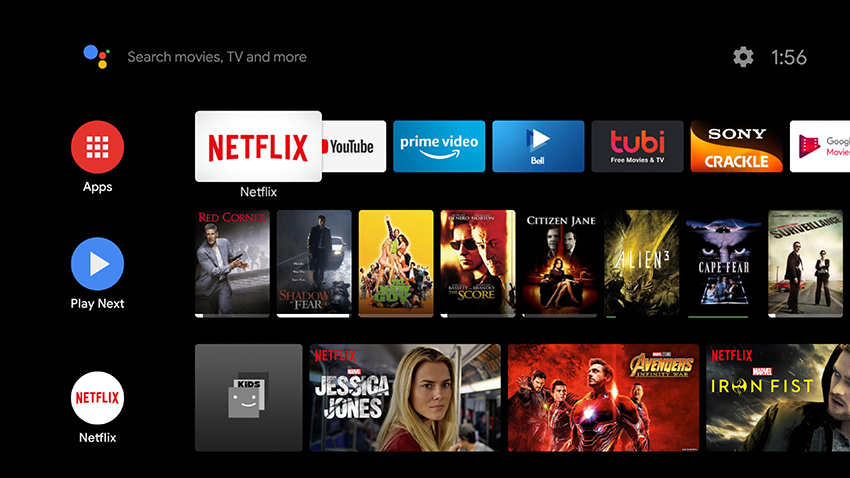 The truth is that one or two things aside, all of these Android TV boxes have a unified user experience. Unlike Google's Android proper, these devices aren't skinned and themed with unnecessary visual overlays. They all largely have the same somewhat limited selection of apps and there's very little about any of them (aside from the Nvidia shield family) that really distinguishes one from another.
If you've seen and used one, then you've seen and used them all. The most important thing for any of these devices is just that they work – and that they work without giving consumers any unnecessary grief. The Maverick does just what it says on the tin; it's a fully Google-and-Netflix-certified box that works has Widevine L1 DRM support – meaning it'll work with Netflix in resolutions of up to 4K. It has the requisite security features to work with DStv Now, Showmax, and Amazon prime, making it a no-nonsense, zero-fuss streaming solution.
If I have any complaints, it's that the SoC supports Dolby Vision HDR in addition to HDR10, and the lesser-used HLG and Technicolor, but this box is missing Dolby Vision support. That's likely down to licensing and the manufacturers skimping out a bit. It's not a deal-breaker, but it's still a disappointment. Other than that, the Maverick is now an AndroidTV box I'd recommend to most consumers.
It comes in at an RRP of R1599 which is a little higher than current competitors like the MiBox S and Ematic (which can each be had for about R1,100) but is available for R1499 at the moment. It's worth it for the better performance, better 4K media playback and USB 3.0 ports alone.
The Mediabox Maverick has overtaken previous rivals to become the best of the widely available AndroidTV media players. with full Google and Netflix certification, it gives you easy access to just about every streaming service you'd ever need.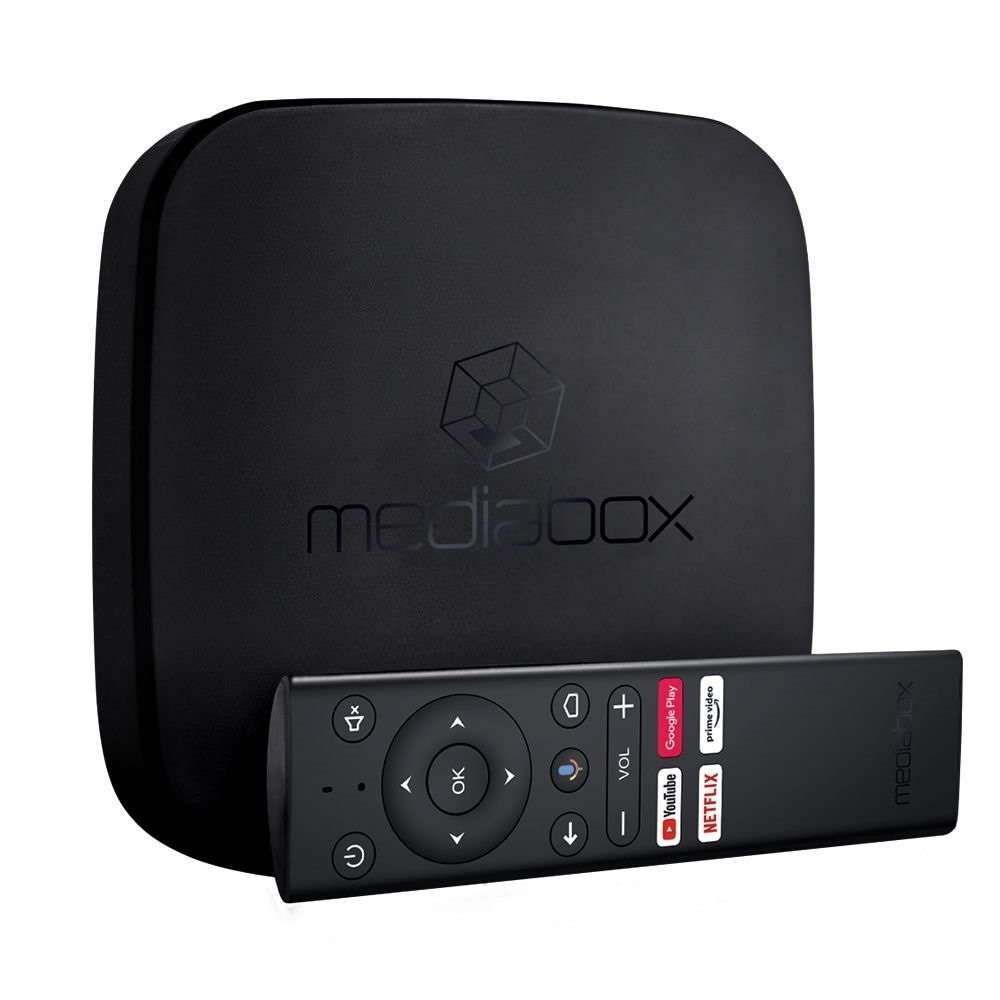 Last Updated: February 15, 2021
Mediabox Maverick AndroidTV

The Mediabox Maverick has overtaken previous rivals to become the best of the widely available AndroidTV media players. with full Google and Netflix certification, it gives you easy access to just about every streaming service you'd ever need.