Around this time last year I had my hands curled around a Scuf Controller – the then be-all-and-end all when it came to professional gaming peripherals for Xbox One and PS4. Back then I ended up testing it out a lot, and really liked the tangible edge it gave me in online shooters particular. The only issue with the Scuf (and one that persists today) is its user unfriendliness  something which put it squarely in the bracket of consumers aiming to use it for one thing only.
The Xbox One Elite Controller, a first-party controller from Microsoft, seemingly learns from these exact mistakes, while crafting a peripheral that stands taller than everyone else across the board. Simply put, it's the most perfect controller money can buy right now.
It starts right out from the box. The Elite controller comes packaged in its own carry case, a lovely fabric covered hard-shell that will protect your new investment from any real dings you can throw at it when travelling in a backpack or similar. The case has some nice foam padding for the controller and a rubber mould to hold all the little detachable bits its made up from. There's also a little pouch for the included, braided charge cable. Too bad there's no charge and play kit to actually use it on.  Real oversight I think.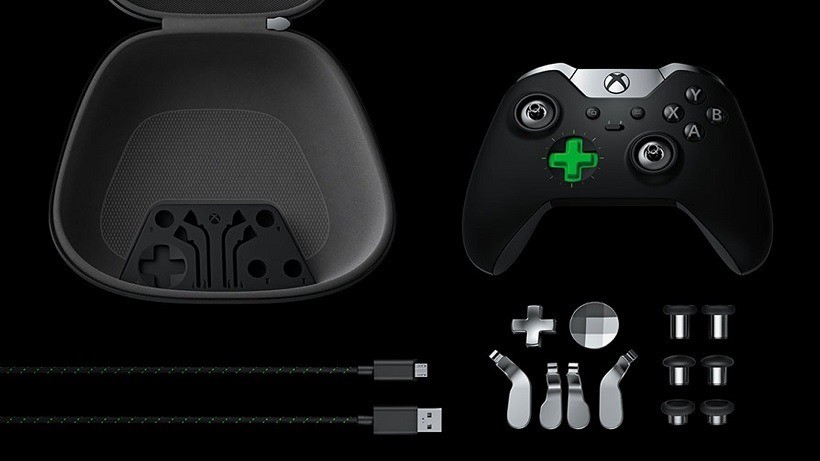 The controller itself is elegantly designed too. It's a little more muted than a regular controller, ditching the coloured face buttons for a more grey-scale approach, but it screams professionalism. The chrome accents pop against the hard black exterior, and when it's in your hands the Elite feels like a premium product. It's also incredibly comfortable too, with the texturized grips overcoming any issues you'll have with some sweaty palms. Its improvements to make the entire thing a little heavier than usual, but it's so slight that you might not even realise it without doing a direct comparison yourself.
These all seem like extras when it comes down to what really makes the Elite special though. The Elite is the most modular, but equally user friendly controller I've ever used, letting me customise it to the scenario I need it for in seconds. It comes standard with two extra, longer neck convex thumbsticks, a pair of equally high concave ones (which are my new favourite thumbsticks by a mile) and the weird yet incredibly functional disc-d-pad.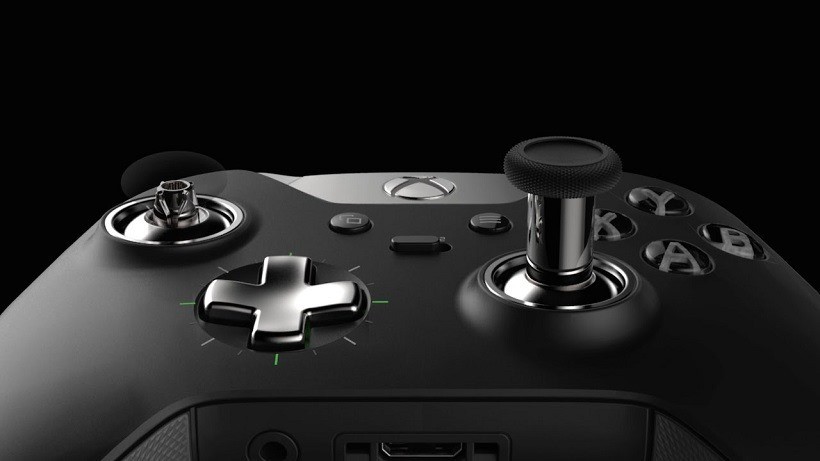 All of these can easily be added or removed to the controller without the need to break out the toolbox, with each piece fitting easily but securely on magnetically. It's so simple to pull off a thumbstick and replace it with another one during a kill-screen in Halo 5, or just before the light go out in Forza Horizon 2. And even though they're only magnetically attached, I had no issue with pieces flying wildly off during any game time.
These pieces helped make the Elite a far more comfortable, accommodating controller, but it's the business at the back that really puts it squarely into the realm of professional gaming. Flip the Elite over, and your eyes are immediately drawn to the four paddles. These paddles can be customised to mimic any button press on the controller, and can also be just as easily removed and reattached using the strong magnetic links. Their sensitivity can be tuned, but I found them to respond to light touches just as fast as deliberate, hard ones.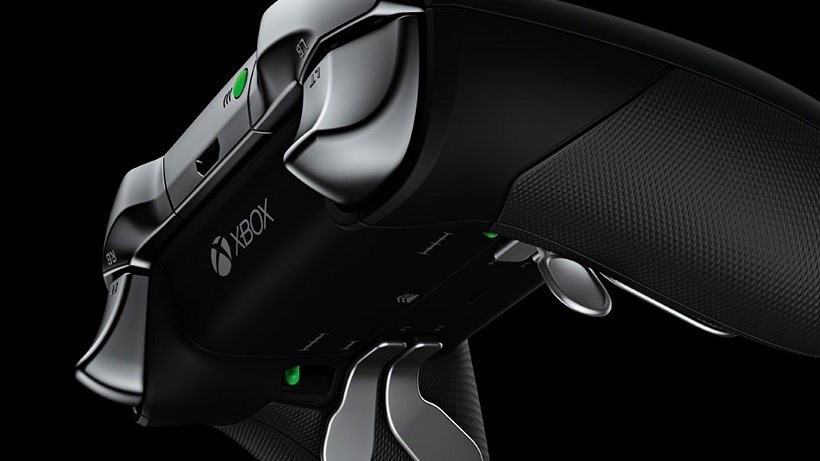 Next to the paddles are two switches, which control my favourite part of the Elite. Flip them down and your trigger activation lengths are immediately halved – meaning you can press down and reset in a shooter in theoretically half the time. It's makes a massive difference in games such as Halo 5, where your pistol game is directly affected by your trigger press and reset speeds. It made a noticeable difference to my performance, but having the ease of access to change back to a full trigger press (for games like FIFA and Forza) was equally appreciated.
It's a massive difference to the likes of Scuf too, which requires you to dismantle your controller to physically remove the pin in-between games. The Elite puts its users first above all else, and it's a design idea philosophy that reaches deeps into the software custom-built for the controller too. The Elite offers an easy way to quickly swap between the two profiles stored on the controller itself via a new button, but it's the hundreds stored on your console that really put it into a league of its own.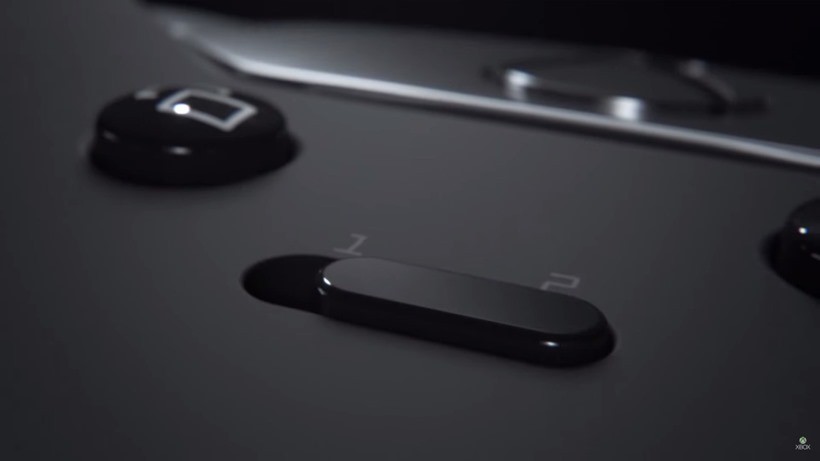 With the intuitive app on Xbox One, I could easily map button pressed to the four rear-paddles quickly and easily between Halo 5 matches, just in case my current setup wasn't gelling with my play. Better yet, I could download and customise the various Halo 5 profiles that Microsoft have created themselves, which they've also done for first party titles such as Sunset Overdrive, Forza 6 and more. There really was nothing to it – I simply chose a paddle to remap from a list, and then assigned a button to go with it. Easy and quick.
If your needs require something a little deeper, the app also provides customisation options for the sensitivity curves for both individual thumbsticks , as well as adjustments to the dead-zones present in the controller's triggers. It's functionality that I personally never see myself using, but is the type that more competitive players in the eSports space will certainly lap up. It's just good to see functionally for customisation of this calibre baked in from the get go, and it truly puts the Elite in a class of its own.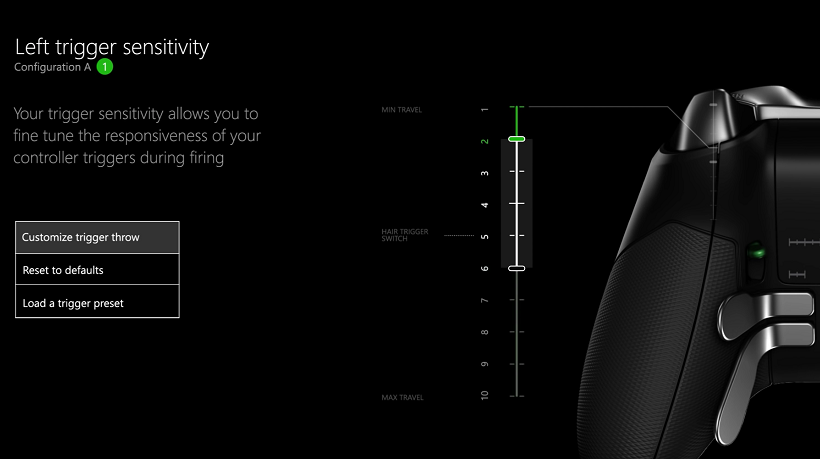 But what class is that really? Microsoft markets the Elite as a controller primarily for competitive players, and even with Call f Duty leaving for PS4 there's still a large group of Xbox One players out there craving this type of tool. In shooters alone it lets you never take your fingers off the thumbsticks for button presses, but also offers some gameplay comfort when it comes to shifting gears in Forza, or executing complex jump patterns in Sunset Overdrive.
There's a market (however small) for this Elite controller that lies outside competitive play, but its steep R2999.00 price asks more questions than it answers. The Elite is simply the best controller I've ever used, but it's also up there as the most expensive.
Like esports?
Check out esports central
Last Updated: November 20, 2015
Xbox One Elite Controller

Still, if it's a competitive edge you desire there really is no equal – even in more expensive price brackets – while offering none of the pitfalls that competitors force you to endure just for having a customised controller. It's the type of manufacturing that only Microsoft could've managed for the Xbox One, and it's really paid off.

Xbox One Elite Controller was reviewed on Xbox One