Mirror's Edge Catalyst is a game of two somewhat discordant halves. On the one hand, you've got a blissful, near perfect first person platforming game that takes the promises that the first game made and delivers on them. There's a euphoric high to its free-running and urban exploration as the button combinations you press allow you to very nearly soar.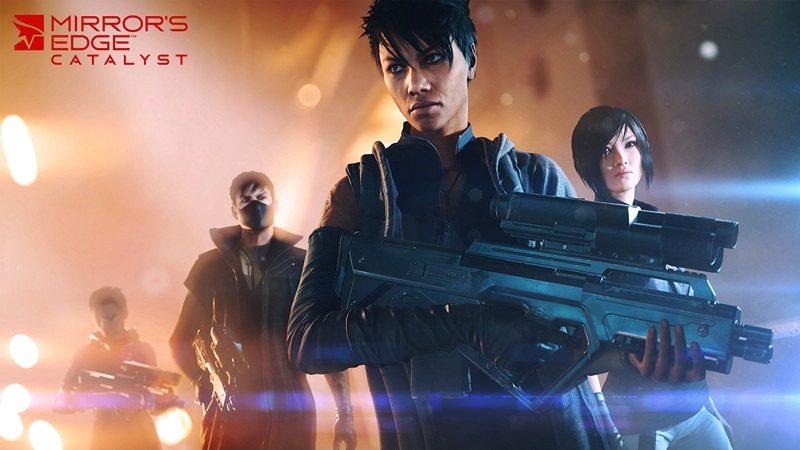 Mirror's Edge wasn't anywhere near perfect but it felt fresh and exciting, giving us a violence-averse game with a playable woman that was the antithesis of everything else released in an era of muddy grey and brown shooters. Mirror's Edge Catalyst is more of a re-imagining, a reboot of the first game. Unfortunately, it makes many of the same mistakes that the excellent, although polarising original did – and it makes some new ones too.
It's juxtaposed, unfortunately, with a frightfully bland open world that's so sterile and lifeless that it's a perfect example of open world bloat. That would be okay if there was a great narrative driving everything forward, but there isn't. While there are a few memorable characters, most are decidedly one-dimensional and flat. Worse still, the story did little more than serve as a reason for you to keep on running over rooftops, from one similar locale to the next.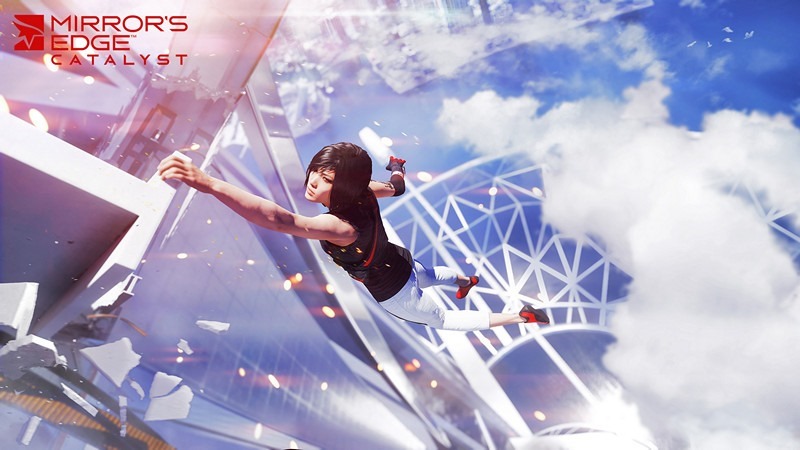 The game starts with our free-running, ass-kicking heroine Faith Connors being released from Juvenile prison – returning to her life as a cat burglar and rooftop courier. After stealing some sort of encrypted gadget on one of her runs, she cracks open a conspiracy to subjugate the populace through mind control. There are a few story beats and twists that you can see coming a mile off, and others don't seem to come to any sort of conclusion by the time the credits roll around.
As Faith completes missions she earns wads of experience that can be used to upgrade her movement, combat or gear skill trees, opening up new moves that help her keep her flow of motion going or help dispense with the game's enemies a little easier.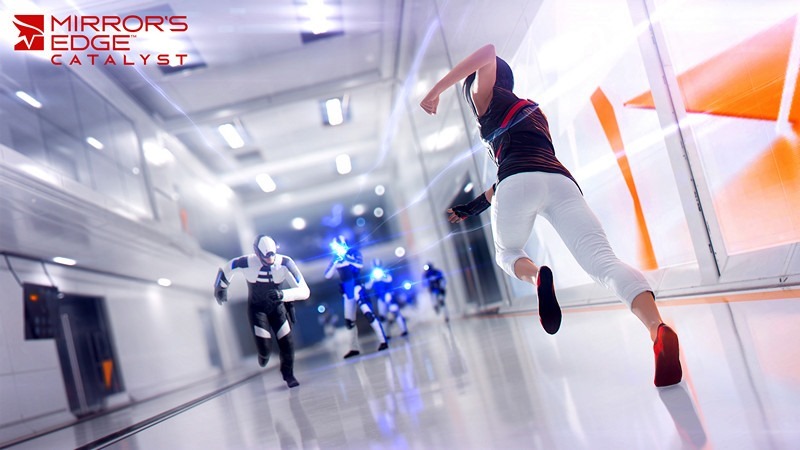 Anything that aids in dispatching with the bad guys is welcome, because once again Mirror's Edge falters when it comes to combat. Though the developers have stuck to not letting Faith be a gun expert, she's forced to engage far too often with enemy archetypes. Some have sticks, others wield automatic rifles while some are far too damned good at Kung Fu – and your only way around them is to either avoid them completely, or try kicking and punching them to death.
When she's running about, Faith builds up what's called a "Runner's shield," which makes it so that enemy attacks don't do damage. It's a great way to make players actively avoid combat, but too often the game forces you to engage with these enemies, ruining the pace of the experience. The actual combat of it though just feels wrong. Faith has little more than a few very awkward melee combos at her disposal, which enemies can easily counter.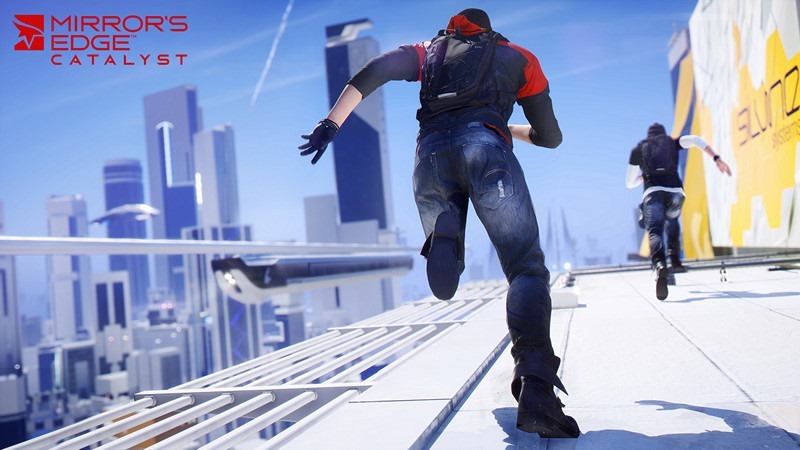 One of its biggest problems though, is that the open-world formula just isn't suited to Mirror's Edge, and the whole thing works better as a linear game. The boring, bland and sterile Utopian future world is too similar, so all of the bounding over red boxes and shimmying up red pipes becomes awfully repetitive as the game drags on. The open world is so full of collectible fluff – reminiscent of the first Assassin's Creed's feathers – that give you tiny bits of experience points, but do little else.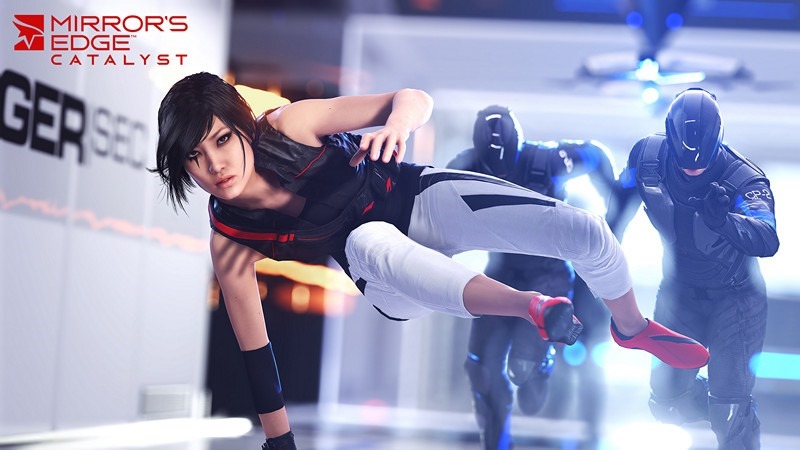 Navigating the dystopian city of Glass is also bothersome, because most everything looks and feels the same. Thankfully, there's a new addition to Runner's Vision that instead of just turning objects you can jump off red, gives you a little red trail to follow. It absolutely ruins the experience by telling you precisely where you need to go when you're doing missions, so you'll probably turn it off for those, but it's essential in getting around the open world.
That world is also over-populated with dashes, little timed racing segments that have you running against the clock. The first few are fun and frantic but like much else in the game they become very old very quickly. Social features mean you can create your own runs for friends to complete and measure yourself against. But the whole thing's just soulless.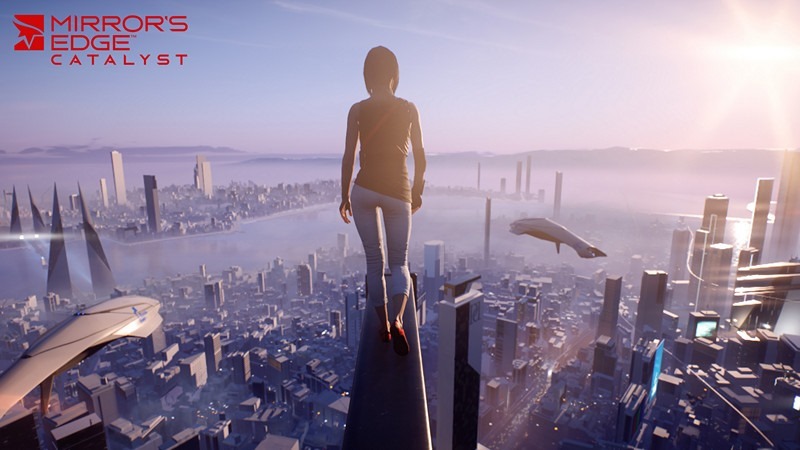 Thankfully, though it's not quite a saving grace, the parkour itself is sublime and moments in the game's main missions that have you going through to different locations take advantage of this. There are some genuinely exhilarating moments – like jumping off the top of a building and being whisked away by a drone as you try to escape a security detail, or climbing and wall-running to the top of a crumbling, crashing glass building that's shattering around you. It's pre-parkour platform perfection. Pity that the game that those moments are built around is so infuriatingly dull.
If you loved the first game, the actual platforming is very similar, and it's likely you'll still enjoy Faith's new escapades. It's just not the game fans have been clamouring for for the past eight years.
Last Updated: June 15, 2016
Mirror's Edge Catalyst

Mirror's Edge Catalyst isn't as good as it should be. It's maddening, because there's so much potential here for it to be a good game, but so many odd design decisions result in an experience that's actually less than the sum of its parts.

Mirror's Edge Catalyst was reviewed on PlayStation 4