The memories flooded back quickly.
Long ago, way back. Back before I dedicated my primary school years to collecting every Sims expansion pack. The earliest memory I have of gaming, and most likely the first game I actively engaged with was Monster Truck Madness 2 on Windows 98. I vividly remember the big-wheeled giants rushing through the rain and mud at pixelated speed. Bigfoot, Grave Digger, and Snake Bite. I remember spamming that obnoxious horn the trucks had equipped and how the landscape went on forever, split down the middle by a train track and locomotive that would not stop for anyone.
I would've given Darryn's Batman figurines for a ticket to Monster Jam back in April. Fortunately, I now have the game to play: Monster Jam Steel Titans. What a title.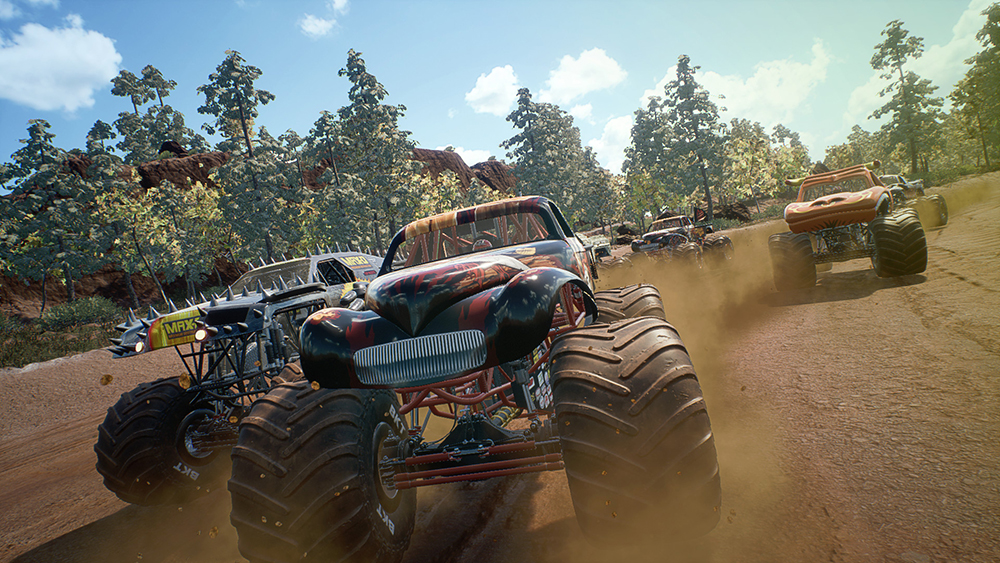 The instant I started playing, I fell in love with it. And despite all of its shortcomings, I still do.
The game does not waste time in delivering what was promised on the tin. Logging in, you are plopped into the seat of a tutorial vehicle and are forced to learn the ropes. Away with any kind of story or plot, you are here to drive Monster Trucks and win big. This game is bare of an extended narrative and does not assert anything other than what the vehicles do in real life.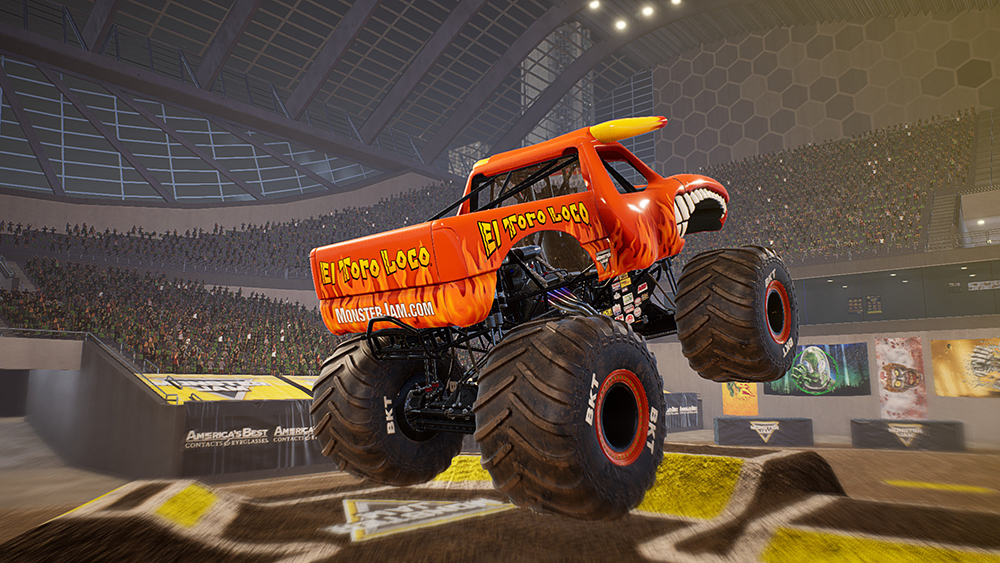 The vehicles. The gang is mostly here is all colours of glory. No sign of Bigfoot and Snake Bite, but Grave Digger is here as well as my new favourite of the lot, Northern Nightmare. I get to be the most aggressive Canadian on the planet. The trucks and their upgrades are relatively easy to unlock thanks to easily-obtained in-game currency. Setting each one up for specific race types and performance is great for focusing the monsters in your collection to do either backflips or flat outs. Sadly though, they all drive the same at the standard level. The selection remains purely cosmetic and the unlockables are made somewhat hollow thanks to no one being around to admire your chosen set of gargantuan wheels. More on that tragedy in a moment.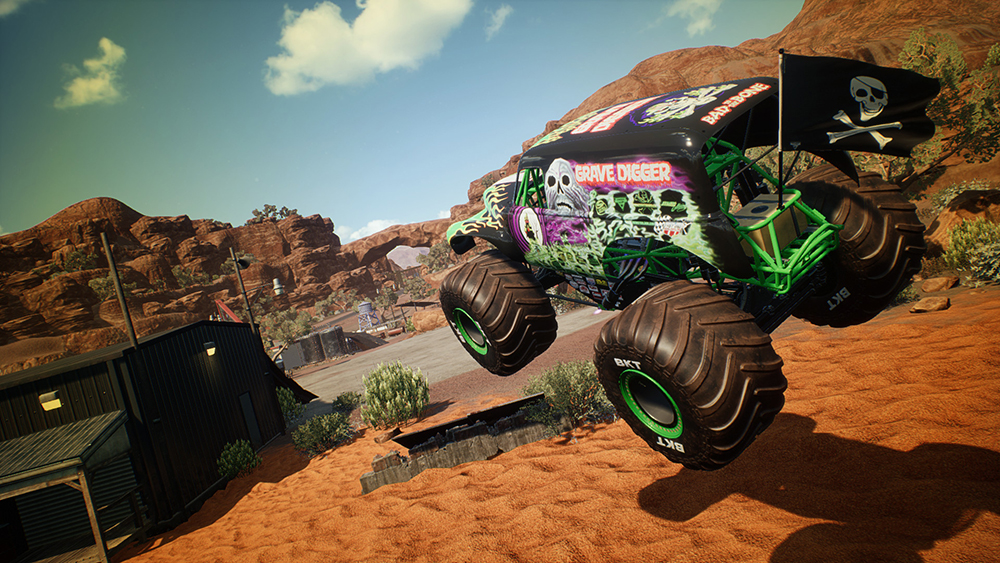 That being said, the drive is fabulous. No other word for it. It's the one thing you do in this game and it amounts to a double dose of fun. For such tall and wide vehicles, the trucks have a high level of manoeuvrability that becomes almost graceful once you have your controls memorised. There is give in the steering. Forget sharp cornering though, you can pull off insane drifts in your Monster Truck! With the variety of races that can be played in the game, you are encouraged to master your vehicle for all it can do. The mechanics are straightforward, and once you've completed that mandatory tutorial, you are more than capable of accurately hitting a rock ramp and launching yourself into the heavens. Stunt-driving enthusiasts can have the real jam here.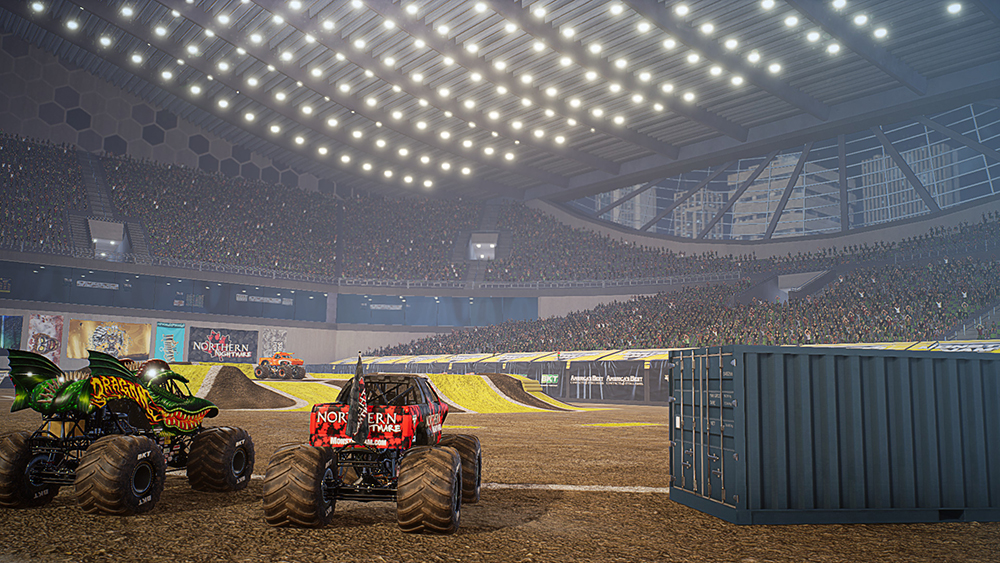 Destructibility was a key highlight in Steel Titans' marketing. They have the space and the cars to pull off some fantastic carnage. The world map is expansive, broken up into areas surrounding Monster Jam University which can be unlocked by achieving prominence in your career. Going too far in your joyride jaunts can leave your truck without its bodywork (or in the case of Doomsay, Darth Vader's helmet). However, for such a vast world, there is very little in it to wreck.
There were a few caravans and sedans parked around, waiting to be flattened, but light posts and picnic tables are welded to the ground and they're not moving for anything less than earthquakes – including your juggernaut of a pickup. Doubling this disappointment is the racing venue lineup. When you're not pulling off stoppies in front of a crowd in an arena, you're left circuiting the map you already have free reign over and even then, the lineup itself is very, very limited. All of this starts to yield to overall gameplay that has very little longevity.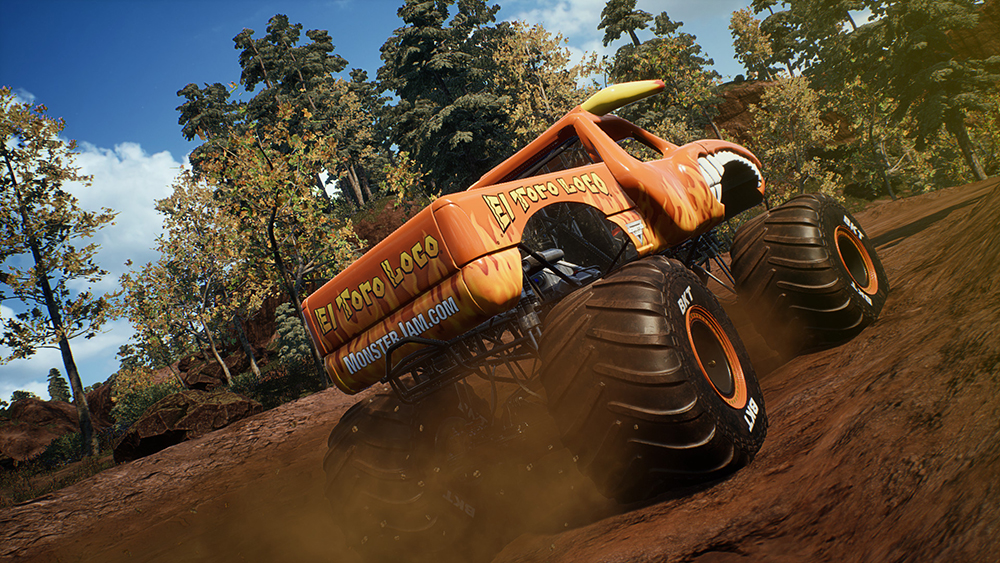 Now about that tragedy I mentioned. Multiplayer in Monster Jam is limited to splitscreen. I wouldn't take issue with it were it a case of a single player title having adequate single player content – but the content in question, the content that it has, was perfectly set up for it! The world map would've been made ten times more engaging were it to also serve as a lobby or a Crew-style county. And don't even get me started on the potential hilarity to be had with an online multiplayer race. It plays as a completely missed opportunity.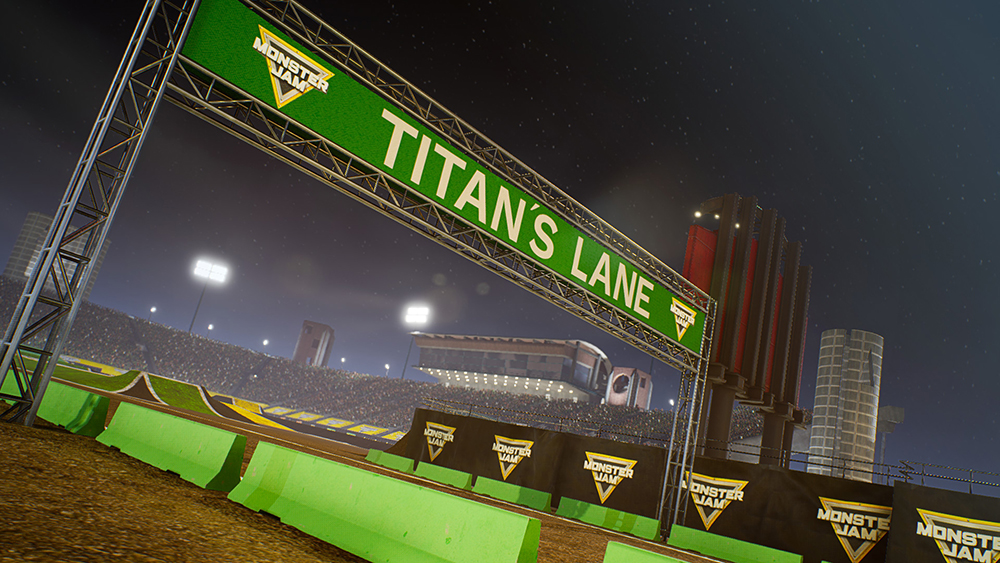 I had real, honest fun at first. The game looks good. It has excellent depth and textures despite there only being so much dust to kick up. The trees, weirdly, explode when you hit them. And the driving alone incites a bout of ridiculous joy. The lone player will be satisfied in how much Rainbow Studios has prioritized the act of driving a Monster Truck, which is what the tin is labelled as. But said tin has gaping holes in it, leaking design and gameplay elements that would have gone a long way in heightening and improving the overall experience.
You can only get so much mileage of your warm memories of a game long gone. And even then, that is not a definitive measure of goodness or quality. Monster Jam Steel Titans is a very fun drive. But, owing to limitations, the trip falls short in terms of satisfaction.
Last Updated: June 26, 2019
Monster Jam Steel Titans

Monster Jam Steel Titans is a very fun car trip leading to a disappointing destination. For all the excellent mechanics and the trucks themselves, there is only so much gas in this single-player tank to cover an empty world and a limited number of races.

Monster Jam Steel Titans was reviewed on PC