If there's one area that NVIDIA knows how to target, it's the high end market. Anything below a GTX 1060 level of performance, and NVIDIA struggle to offer the same level of competitiveness that AMD has been perfecting for the past 8 months. A growing segment of eSport titles like Dota 2, LoL, Counterstrike GO, Overwatch run perfectly fine at 1080P on $250 and below graphics cards, and AMD has capitalised while NVIDIA have been somewhat flat-footed with uninspired cards, like the GTX 1060 3GB.
Enter the GTX 1050 Ti, which is NVIDIA's answer to the dominance of AMD in the sub $200 market, slotting in-between the RX 460 at $120 and RX 470 4GB at $170. At $140, it's the smallest Pascal GP107 GPU NVIDIA has launched, which has 768 CUDA Cores, 32 ROPs, 48 TMUs and a 128 Bit memory bus for the 4GB of VRAM. Power efficiency is one major advantage NVIDIA has, and they really twist the knife in AMD at this end of the market. NVIDIA managed to run the diminutive GP107 chip on a TDP below 75W, which means the card can effectively run off of slot-power and flips the bird to all those electron guzzling RX 470 cards, it's nearest competitor. To put that in perspective, this card offers around GTX 960 in terms of performance; that's a 75W card keeping pace with a 120W TDP card. Really astounding stuff. As a result of this smaller chip and lower TDP, the base and boost clock of the GP107 chip is around 200MHZ lower than the GTX 1060s, coming in at 1290MHz/1392MHz.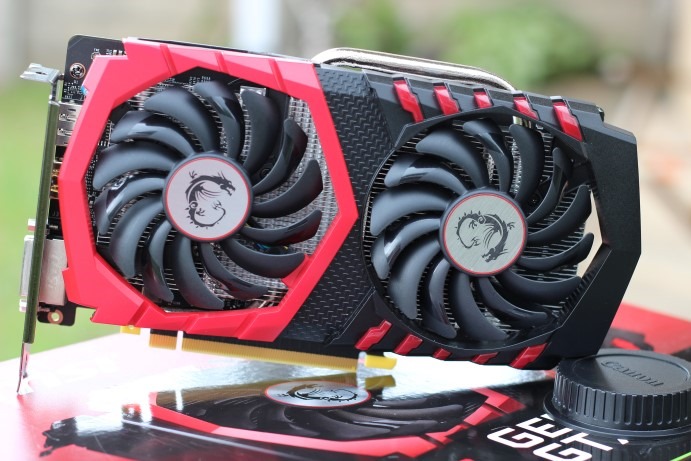 However, even though the GTX 1050 Ti can run off slot power, the MSI GTX 1050 Ti Gaming X 4G we have for review today, does come with an external 6-Pin power. At the time of writing the card is sold for R2850 locally, while it goes for $165 on Newegg. Usually manufacturers brag about having extra power for overclocking their mid-range or high-end cards, but those are almost always useless marketing malarkey. In this case, after some research on the net (and confirmed by my own testing), the marketing malarkey has merit this time round.
MSI Twin Frozr Still Has It
MSI's card is not the smallest GTX 1050ti around by a long shot, but the extra cooling courtesy of two 90mm TORX 2.0 Fans means that this card will run silent and never allow the GP107 chip to break a sweat. Although sharing the same red and black themed MSI shroud as any MSI GAMING card released this generation, there are some differences in this rendition.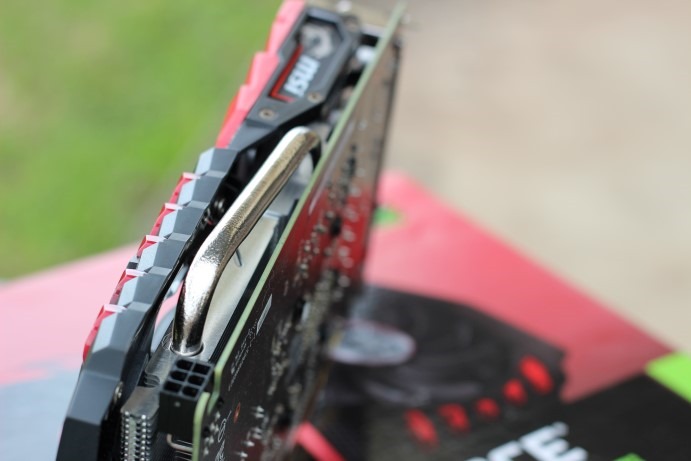 First off, no backplate, clearly a cost-cutting measure, and only red and white LED lighting, so no RGB lighting for those RGB aficionados. Considering competing cards like the cheaper Gigabyte GTX 1050 Ti has a backplate and a 6-pin, it seems like MSI should at least try to add another nice-to-have to really have all the cards.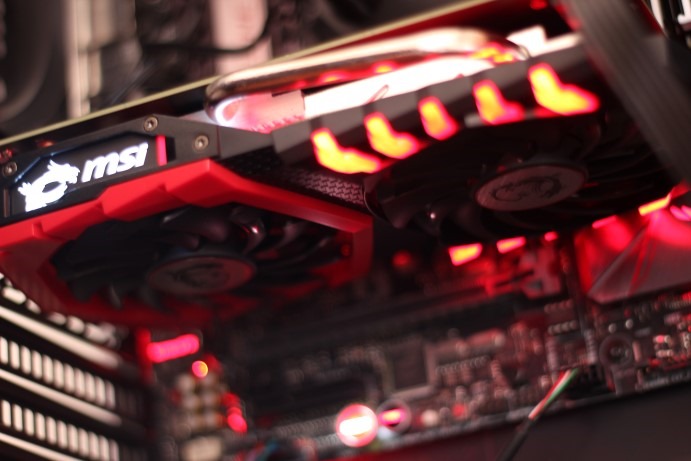 Still, you can't look at this card and not see the quality and aesthetics they Even though MSI have provided the extra juice to the board, the cooling appears very minimal—only a single 8mm heatpipe is used. However, as you'll see in the performance section, temperature was a non-issue for this card, even when overclocking.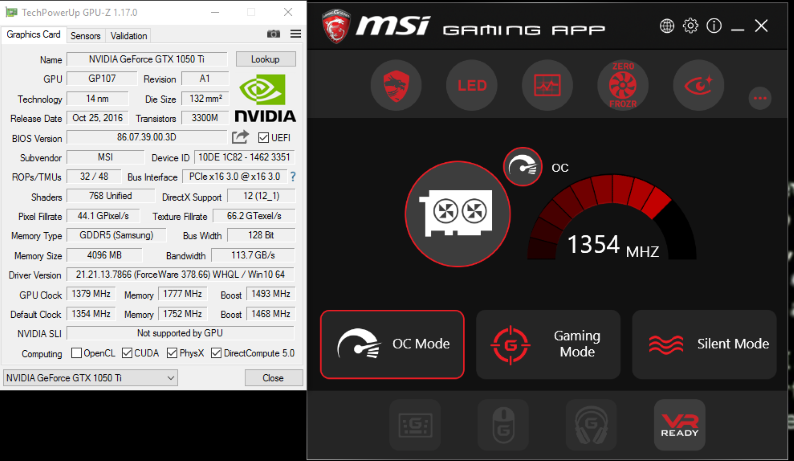 All this does come at price, however. At around $165 internationally ($155 with rebate) and R2850 locally, it's venturing into  some of the cheaper RX 470 4GB territory, while clearly being the slower of the two. Once again, South African pricing finds itself in that zone where normal things don't happen very often. MSI has, however, upgraded the power delivery, soldering a 6-pin to the PCB, which should (and did) give some welcome extra overclocking and baseline performance. MSI has given three operating frequencie: their Silent mode, basically running the card at stock GTX1050 Ti speeds; a Gaming Mode which overclocks the base/boost to 1354MHz/1468Mhz, while OC mode has the card overclocked to 1379MHz/1493MHz (base/boost),while also upping the memory to 7108MHz. It's a fair overclock, although, as with all custom-cooled Pascal cards, these are merely suggestions, with actual operating frequencies settling much, much higher.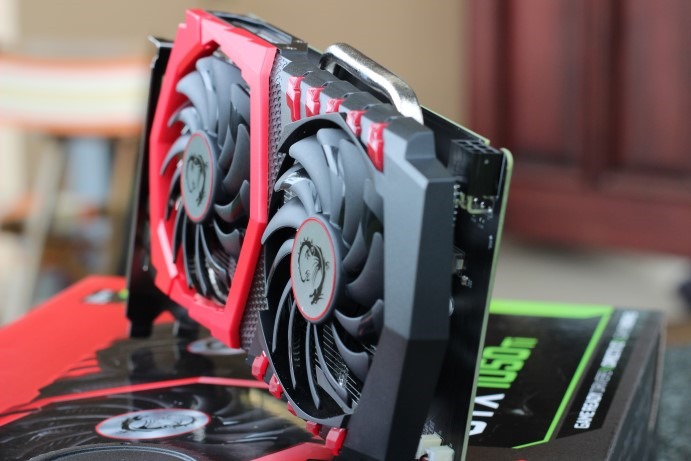 I've had the pleasure of testing a variety of brands of NVIDIA Pascal and AMD Polaris based cards, and I have to admit that MSI has hands down the most effective cooling, robust feeling and aesthetically pleasing design this generation. Good looking, silent and performance focused, MSI has made producing a good-looking card seem easy.
Temperatures, Clockspeed and Noise: Cool, consistent, composed.
If there's a single take-way that NVIDIA and its board partners have achieved with Pascal, it's clockspeed consistency. Clock-for clock Pascal might be slower than Maxwell, but NVIDIA has been able to create a GPU that really extracts as much performance as possible out of the silicon while keeping temperatures and power consumption in check.  The MSI GTX 1050 Ti takes  this low powered chip, overcools the card exceptionally well and lets GPU boost take the card to noteworthy heights.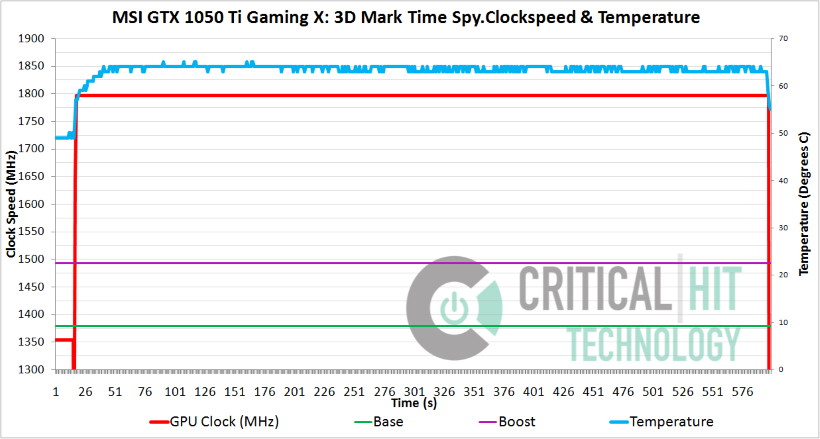 The card barely breaks 65 degrees C, with the fan only turning on when the temperature exceed 60 Degrees C. And when it does turn on, it gently canters at 30% speed, making the card one of the most silent cards I've ever use -, something that MSI are quite notable for this generation. Testing of each mode was not done, simply because there was no need to run this card in silent mode, because you already can't hear it above the sound of your case fans.
Although the GTX 1050 Ti is rated at quite conservative base and boost clocks thanks to the 75W TDP design, MSI have been able to put together a card that leaves those boost and base clocks in the dust. Doing research on the net, many non-6 Pin GTX 1050 Ti's are only able to overclock to the standard boost speeds that the factory overclocked MSI GTX 1050 Ti Gaming X achieves. Mighty impressive, and shows what can be achieved with a tad more electrons. So, when we loosened the dials and crank up the power limit (NVIDIA disables voltage adjustment), we found even more performance hiding under the hood. Reaching the ceiling of Pascal's clockspeed limit was achieved faster than Trump can contradict himself on twitter, but after sliding the power limit slider to +125%, we were able to settle on a game stable +150 MHz core and an impressive +860MHz memory overclock, giving us a stable ~1924MHz core and 2182MHz memory overclock. During Battlefield 1, the card never skipped a beat, with temperatures being a non-issue at the same 65 Degrees C, but with the card simply upping the fan speed to 35%.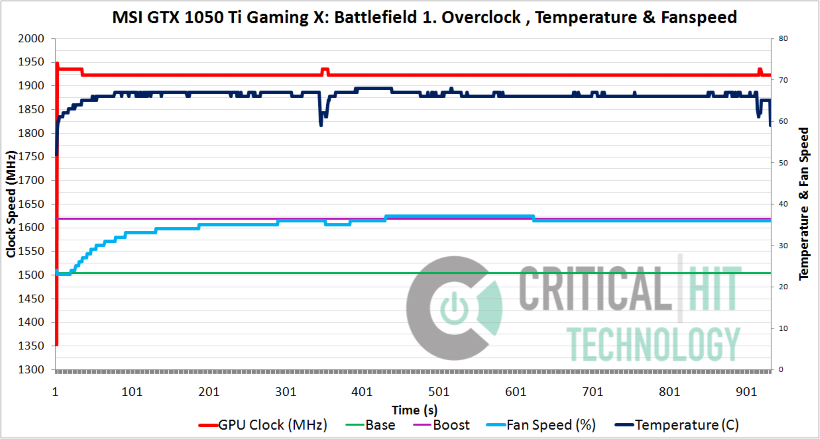 So, the card looks epic, barely gets hot, overclocks like a demon and can get by with a simple breeze—but does the price attached with all these benefits match up to the performance you can expect in games?
Gaming Performance: Participation award
Testing was done on:
Core i7 6700K @ 4.5GHZ
ASUS Z170 RAMPAGE Gene VIII
4x8GB G-Skill DDR4 @3200MHz
Samsung 850 Evo 250
Windows 10 X64 Anniversary Edition
AMD Drivers 17.1.1, NVIDIA Drivers 376.53 (GTX 1050 Ti) & NVIDIA Drivers 376.33 (GTX1060 3GB)
I've luckily had a cross-over of cards that more or less lie within view of the performance a GTX 1050 Ti delivers, namely an RX 470 and GTX 1060 3GB. Although I could not use the latest drivers for the RX 470, the performance benefits should be more or less the same. An immediate trend you'll notice with the MSI GTX 1050 Ti is that the performance delta between itself and the RX 470 and GTX 1060 3GB is marked. Nevertheless, it is cheaper than the RX 470 and GTX 1060 3GB, but not by much, as the extra cost of being an MSI Gaming X branded card diminishes its value proposition – although we'll see that it goes beyond MSI, and is a failing of NVIDIA's pricing of a budget card.
Synthetic Benchmarks
This slideshow requires JavaScript.
Synthetics benchmarks are a good first step to determine the performance of your card in a standardised manner—although not indicative of real world performance, people, including reviewers, like the certainty of numbers. And the numbers are clear, the MSI GTX1050 Ti Gaming X cant hold a candle to the likes of the RX 470 and GTX 1060 3GB, even when you turn on the overclocking knobs. No surprises here. I do find the VR Orange blue test a little encouraging, though. Since the GTX 1050Ti performs more or less on par with a GTX 960, which itself was considered the minimum for VR performance, the numbers are in line with the VR-lite capable performance of the GTX 1050 Ti. Does not mean you should get it, but it can probably run the less graphically demanding VR games without issue.
1080P Benchmarks
This slideshow requires JavaScript.
This card is meant to be NVIDIA's bang for buck 1080P gaming card, so even though it comes out consistently behind the more expensive cards, just managing to get close to 60FPS (with overclocking) for the likes GTA V at close to maximum settings is worthy of some praise. Although it's capable attaining an average over 30FPS (coming close to 60FPS) among most of our demanding games, in less graphically demanding titles, such as Overwatch, the card was easily averaging around 95FPS with Ultra settings. For someone playing less graphically demanding games, e-sports titles like Overwatch, or playing on medium to high settings in demanding games, the card will be more than sufficient at 1080P. And if you want to extract around 5-10% more frames, overclocking this card easily nets you that extra 3-5 FPS. Compared to the GTX 1060 3GB and RX 470 4GB, the card gets put in its place, while once again showing NVIDIA's soft DX 12 underbelly, scoring lower in DX 12 rendered games.
1440P Benchmarks
This slideshow requires JavaScript.
Although a card priced at under $180 has no place ever driving a 2560X1440 based gaming system, I thought it interesting to see how bad, or good, things could be at this level. We saw the ASUS RX 470 and GTX 1060 3GB (most times) manage to push out playable framerates between 30-40FPS, with some more punishing (Ashes of the Singularity) and some more forgiving (Hitman). Surprisingly, the GTX 1050 Ti is capable of delivering a mostly playable experience on most of our gaming tests at ultra settings, sans Ashes of the Singularity and Witcher 3, which achieved an average under 30FPS. Now although not exactly meant for 1440P, and arguably 30FPS is borderline performance as minimum frame rates do make gaming jarring at times, there is space for adjusting quality settings to ease the graphical burden and game well above 40FPS. Clearly not advised, but if you really want to, this card can drive 1440P and not have you game in single digit FPS.
Conclusion: Cheap, fast, but a performance paradox.
The inherent contradiction usually associated with dolled up "premium" cards at the lower end of the performance sector is that they eat into the value proposition of the card. However, this is not really the issue with the MSI GTX 1050 Ti Gaming X. Looking at the graph below, you'll see that even though the cost of the MSI GTX 1050 Ti is ~86% of the cost of the Asus STRIX RX 470, it delivers at a maximum, around 74% (without overclocking) of the RX 470 performance in DX 11 at 1080P. That's exceptionally bad value for money, in my eyes. And we're not comparing it with a cheaper brand of RX 470—no this is an ASUS STRIX card at ~R3300 at the time of writing.
So, if you pay 14% more for an RX 470, you'll gain around a 25% performance bump at a minimum compared to going with the GTX 1050 Ti, even against this highly overclocked and supremely silent MSI GTX 1050 Ti Gaming X card. The average frame rates here do not include overclocking, so when you add in the extra 5-10% in fps, it does somewhat redeem the card at 1080P DX 11 gaming. I know it sounds like I am ragging on MSI, but the truth is, NVIDIA released a lacklustre chip into the budget segment, where AMD, for just a few dollars more, has a card that is around 40% faster in DX 12 gaming, and 30% faster in DX 11, for only 14% more cost. MSI did the best they could, but it's still not enough in my eyes. Interestingly, at the time of writing you can get the $179 MSI RX 470 Gaming X for cheaper than the $165 GTX 1050 TI Gaming X on Newegg (through rebate), while the MSI RX 470 Gaming X is only R400 more expensive locally than the GTX 1050 Ti Gaming X (at the time of writing).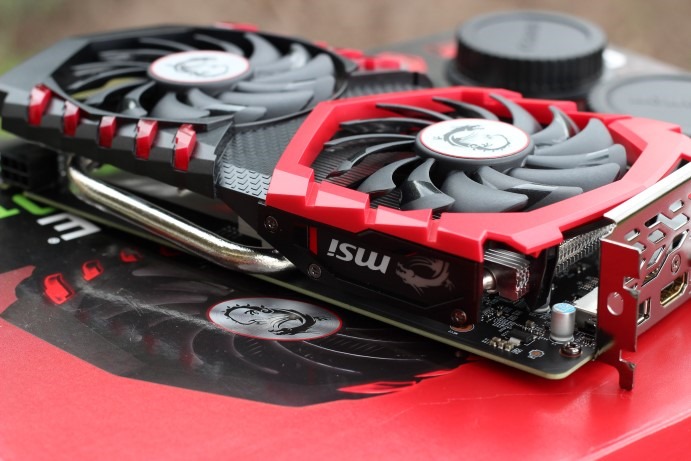 Unique selling points aside,  the GTX 1050 Ti just does not offer enough to give it a sense of value for money over competing cards from AMD. The delta in performance from a GTX 1050 Ti is out of touch with a core principle of this segment: bang-for-buck gaming, which AMD offers more of right now.
Last Updated: March 15, 2017
MSI GTX 1050 Ti Gaming X

Although the MSI GTX 1050 Ti Gaming X is a stellar card, it's crippled at the knees with price/performance that is not competitive to AMDs RX 470.