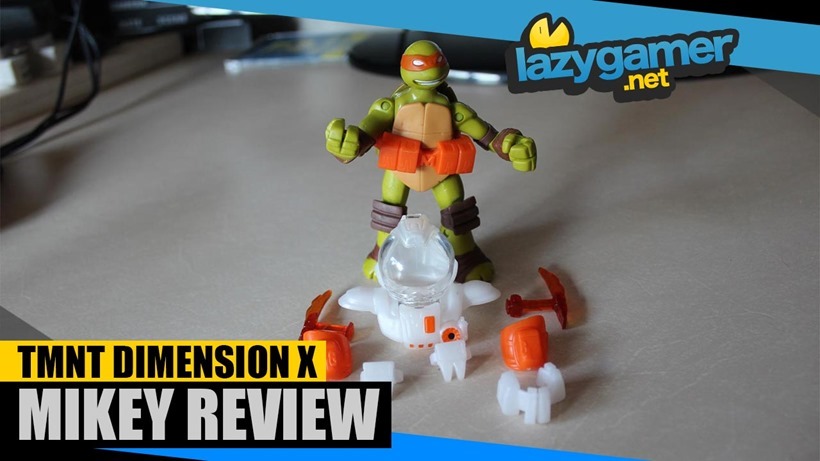 I'm a huge fan of the current Teenage Mutant Ninja Turtles incarnation. It's the best of the franchise, boiled down to its roots and re-imagined for a new generation of young and old fans. Each turtle brother is now even more distinct than before, with personalities that are larger than life. And then there's Michelangelo.
It doesn't matter which version of Teenage Mutant Ninja Turtles you got into, because Michelangelo was most likely your favourite. The cool dude with a love of pizza and who jumped into battle with his trademark nunchucks. Not too much has changed in the current Nicklelodeon series. But instead of being overly cool, Mikey is now completely adorable as the youngest brother of the shinobi quartet.
If you've been keeping up with the series, you'd also know that the Turtles have left New York for space so that they can save the day. Naturally, they've been outfitted with new gear and weapons. Especially Michelangelo, who rolls into battle with a pair of laser-tonfa now. Adorable ones at that:
Right, so review for people who are blocked from watching a video at work. This Michelangelo is a massive redesign from the versions that came before. The head is slightly smaller, and shaped more like his Nicklelodeon version. They've still whited out the irises, which works far better for me. There's less texture, and fewer details.
And that works just fine for me. There's a very specific style to the Nicklelodeon TMNT series, which is far more evident with this figure. You compare that to the first Mikey figure that came out, and you'd notice that that one was actually very reminiscent of the classic toys tat kickstarted the whole half-shell heroes craze in the late 1980s and early 1990s. But less can be more, and I think Mikey actually looks like he stepped out of the cartoon now.
But there are a few downsides here. I think the space armour here could have been a bit more detailed, instead of single-colour paint jobs, while the legs don't contain a lot of articulation, making for some very stiff poses and a bit of difficulty when it comes to keeping Mikey balanced. The hands are also a tad tricky when it comes to placing the tonfa inside of them, and my main concern is that the figure could be easily twisted apart with some childish rough-handling.
That being said, Mikey is surprisingly durable, and the space armour is a treat. Not a bad figure, and certainly more distinctive with that new design that mirrors his Nick appearance more closely.
Last Updated: April 11, 2016