While its title might call forth images of fire and brimstone, of leather-clad Mad Max types and lawless wastelands, The End of the F***ing World is about a more personal apocalypse. Dynamite duo James and Alyssa's bloody misanthropic romp through suburban England, and subsequent run from the law, is something like a millennial cynic's Thelma & Louise or Bonnie and Clyde. Adapted from the graphic novel of the same name by Charles S. Forsman, the series is Netflix's latest acquisition and yet another successful addition to their exclusive television library. It's snarky, fiendishly funny and will only take around two-and-a-half hours of your life. So if you're looking for your next afternoon binge, come on down and join us at The End of the F***ing World.
The show's heroes, James and Alyssa, are two distinct types of teenage outcast. James, timid and cold, believes he is a psychopath. He struggles to feel anything; to connect with people – his father most of all. He grew up hurting animals and the only thing that interests him is his goal of taking it further. He fantasises about killing a person. The thought of it has all but consumed him by the time Alyssa asserts herself into his life. Turbulent, confident and deeply conflicted, she is in many ways his opposite. Where James is soft-spoken and submissive (despite his dark intentions), she is defensive and outspoken. She is ill-tempered and aggressive. She is damaged at her core and looking for some kind of companionship. James, usually cut off from society, lets Alyssa into his world. They see something in each other: something that makes them both special.
However, their feelings are very different. She finds comfort in him – a comfort she has never had in anyone – while he sees a victim. But James is tentative. He comes across many opportunities to take her life as the two form a bond, but hesitates. Meanwhile, Alyssa's contemptuous relationship with her mother and step-father is driving her to the edge. She recommends they run away and James, eager to find his perfect opportunity, goes along with it. Their plan: steal his father's car and just drive. Though it goes about as well as it could, their raucous exit is only the beginning of the story. By a series of unfortunate events, they are  thrust into an escalating crime spree and ensuing manhunt that can only end in one way.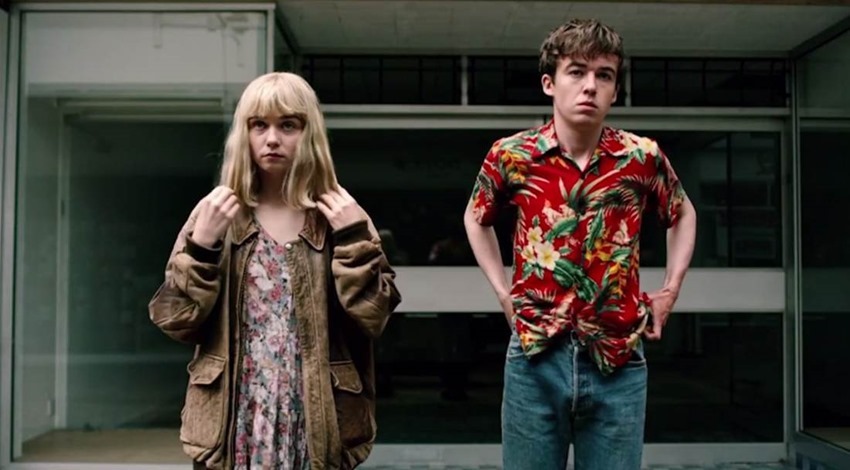 Throughout their insane journey, James and Alyssa become close, despite their conflicting personalities. One could say they become co-dependent. James grapples with his innate desire to murder and his growing feelings for Alyssa, while she struggles to connect with him and longs for her estranged father. The police, meanwhile, follow the bloody trail and draw nearer every day.
The story of The End of the F***ing World is, in many ways, like watching a burning fuse. It's a violent and intelligent run from the law. The series invokes a strong sense of imminent doom, but handles it with an optimistic flair and liberal doses of pitch-black humour. Its tight run-time is the perfect length for its short, but explosive life. That it manages to properly develop its characters over this brief period is a testament to the fantastic writing and talented cast. Furthermore, every episode is directed with an excellent visual competency, while the soundtrack compliments the themes of naivety and teen angst.
Eccentric and self-assured, it tells a relatively classic tale of renegades but manages to do so without running into cliché. The End of the F***ing world feels like a fresh take on a genre and easily stands out as one of the most interesting new stories on television. It's superbly cast, brilliantly paced and witty at every turn. Netflix's decisions to experiment have paid off once again here. This is one apocalypse not to be missed.
Last Updated: January 17, 2018
The End of the F***ing World

Clever writing and sweet performances make its reprehensible characters relatable, while its unique direction and the race to its conclusion are exciting and engaging endeavours that are sure to leave many a jaw hanging. One thing's for sure: The End of the F***ing World is a f***ing good time.