This article was sponsored. The editorial and content is entirely created in-house, unless otherwise specified.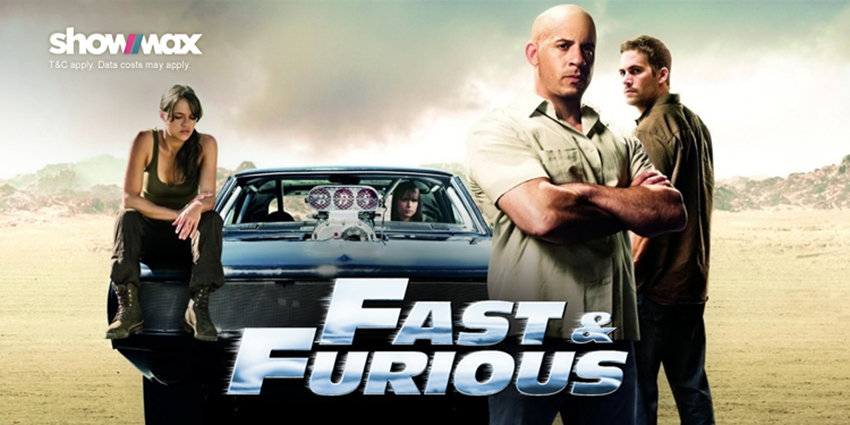 The school holidays are in full swing at the moment, and what better way to spend them than by travelling around the world!… And stealing stuff… with Vin Diesel… Okay, so maybe that's not the most advisable plan for real-life holiday activities but you can't fault its appeal when we're talking about revisiting the Fast and Furious franchise. And that's exactly what you can do as Showmax has added the first five movies to its lineup today for you to binge!
If you could go back in time to 2001 and tell people that Rob Cohen's "Point Break but with cars" original film would be the start of the 7th biggest grossing film franchise in history, they would have had you in a straight jacket inside a padded room faster than you can say $5.1 billion. But that's somehow exactly what happened, kicking off not only a fan-favourite mega-successful series of films but turning its cast – sorry Vin, I mean familia – into beloved icons.
And it all started with The Fast and the Furious, a small budget affair about an LAPD cop with skills behind the wheel infiltrating an illegal street racing crew suspected of being involved in some flashy robberies. Cohen was inspired to make the film after reading an article about street racing from a late 1990s issue of Vibe titled "Racer X" and then watching an actual illegal race in Los Angeles. The director took his pitch filled with petrolhead action to Universal who agreed to make the movie, but only if Timothy Olyphant, who had just come off acting with Nicolas Cage in blockbuster car heist movie Gone in 60 Seconds, could play the role of street racing gang leader Dominic Toretto.
For the role of the young LAPD cop Brian O'Conner, producer Neal Moritz brought in relatively unknown actor Paul Walker who he had worked with on The Skulls. Dropping its original title of Redline to instead licence the admittedly cheesy The Fast and the Furious from B-movie legend Roger Corman, and with a script by Gary Scott Thompson (who actually also had some help from David "Training Day" Ayer), everything looked good to go. One small problem though: Olyphant didn't want to be in the movie. Moritz suggested Diesel, but the up and coming actor had to have his arm twisted to commit. He eventually relented, and as the $38 million production went on to earn $207 million globally upon release, it turned out to be a very wise decision.
Diesel would opt to stay out of the 2003 sequel, 2 Fast 2 Furious, though. An even more ridiculous title (which would spawn many a meme) would be the least of the film's problems as new director John "Boyz n the Hood" Singleton's effort would get grilled by critics for how over the top and cartoonish it was (ironic, if you know where the franchise ended up). Still, petrolhead fans loved all the amazing cars that were on display as the film featured several cross-city races. The film would also introduce franchise stalwarts Chris "Ludacris" Bridges and Tyrese Gibson as Tej Parker and Roman Pearce, and this expansion of the cast would help to propel 2 Fast 2 Furious to even more popularity at the box office than its progenitor.
Though it would not be as financially successful as its predecessors, 2006 follow-up The Fast & Furious: Tokyo Drift would mark the second biggest turning point for the franchise (we'll get to the biggest shortly). With none of the original cast returning (this would be the only franchise entry Walker didn't appear in until his tragic death in November 2013 while filming Furious 7), this third film instead transplanted its action to Japan and introduced Lucas Black as American high school student Sean Boswell and Sang Kung as the ex-Japanese street racer who takes him under his wing to learn the art of drifting.
Most importantly though Tokyo Drift would be directed by Justin Lin and penned by Chris Morgan, a dynamic duo that would turn the franchise on its head. Morgan would take over writing/producing duties for all films after this, while Lin would direct all entries up to 2013's Fast 6, which would complete an overarching story the pair would begin laying the seeds for in Tokyo Drift. Yes, a franchise which at its core was just about testosterone-pumped car porn, had suddenly developed a plot. And drifting. So much drifting. If suped-up cars going sideways in the craziest way possible is what revs your engines, then this is not one to miss.
The fourth film, the admittedly confusingly named Fast & Furious, would take things further by bringing back Diesel, Walker and the rest of the crew, and then layer some character drama on top of things with an intriguing plotline for Michelle Rodriguez's Letty Ortiz. The film also boasted a slightly more grim approach, differentiating itself from the sillier aspects this crew went through in 2 Fast 2 Furious.
The franchise's action also received a service: Up until now, the vehicular action had mostly been all about racing and macho posturing (both of which, the films did really well). Now Lin and Morgan took inspiration from those few fleeting moments of in-transit heists shown in the original, and elaborate high-speed action thrills performed with the franchise's ever-present fleet of jaw-dropping cars became the order of the day. The approach worked as Fast & Furious became the highest earning entry in the franchise at the time with $363 million worldwide.
However, if Tokyo Drift and Fast & Furious had given the franchise a few tune-ups to look and sound better, Fast Five was the equivalent of overhauling the entire thing, bolts and all, to produce a growling muscle-car beast of a film that was about to leave the competition in the dust. Lin and Morgan dropped any of the franchise's previous street racing trappings and instead doubled, tripled and quadrupled down on the multi-pronged vehicular action, throwing in explosive gun battles and bone-crunching fights as well. Oh and one other secret weapon: Dwayne "The Rock" Johnson.
Like a (massive) man-shaped bottle of NOS, Johnson would inject a sweaty intensity into affairs unlike anything experienced in the franchise to date as his Diplomatic Security Service agent Luke Hobbs and his team hunts down Toretto, Walker and the rest of the crew through (that "through" often being used literally) the sprawling city of Rio Di Janeiro. On top of all of this, Lin and Morgan would also construct a series of complex set pieces that combined escalating action with sly-wink subterfuge and an ever-increasing disregard for the laws of physics. It felt like watching Ocean's Eleven but instead of suave suits and slick con-artist speeches, this gang of thieves used roll-cages and thunderous V8 engines to pull off their heist. It was amazing. Oh and this was also the introduction of a certain, shall we say, wonder-ful actress you may have heard of called Gal Gadot.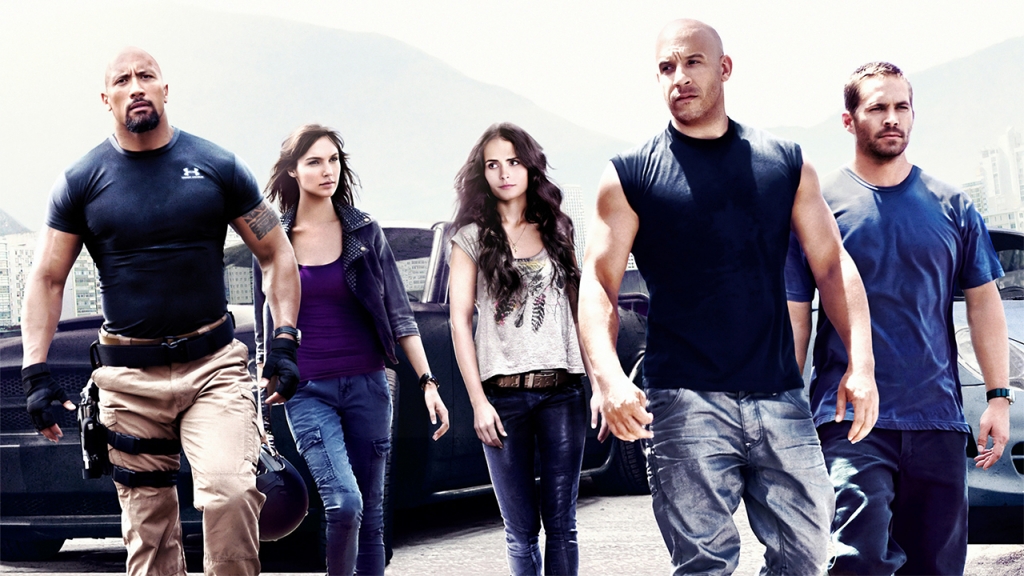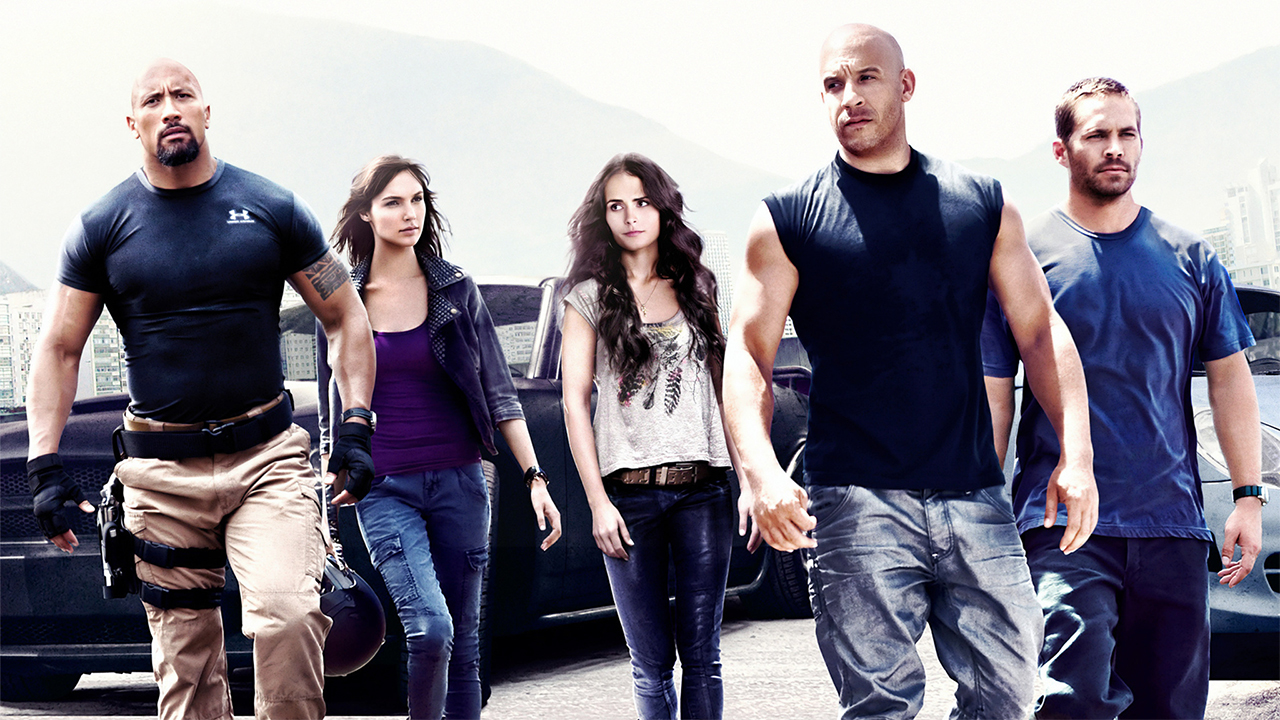 While previous franchise entries had been fan-favourite commercial successes, stodgy critics had never been impressed by their straight-up action stylings. With Fast Five though, even the critics loved it as the series evolved to true blockbuster status. One of the most incredible action films of the last decade – not just for how thrilling it is, but for how it completely reinvented and reinvigorated a franchise – Fast Five would shatter all previous series records by earning a whopping $626 million worldwide.
Although three more films would follow – each one more commercially successful than the last, with last year's Fate of the Furious earning a gigantic $1.5 billion worldwide – they would all adhere to the successful template laid down by Fast Five. It's widely regarded as the peak of the franchise and you can revisit it and the movies leading up to it right now on Showmax. And don't worry, while those other three later movies – Fast 6, Furious 7, and The Fate of the Furious – should be along on Showmax in the near as well, it may be a good thing they're not available yet. After five movie's worth this fast and furious action, you may just want to take it slow for a bit.
Last Updated: July 5, 2018