This article was sponsored. The editorial and content is entirely created in-house, unless otherwise specified.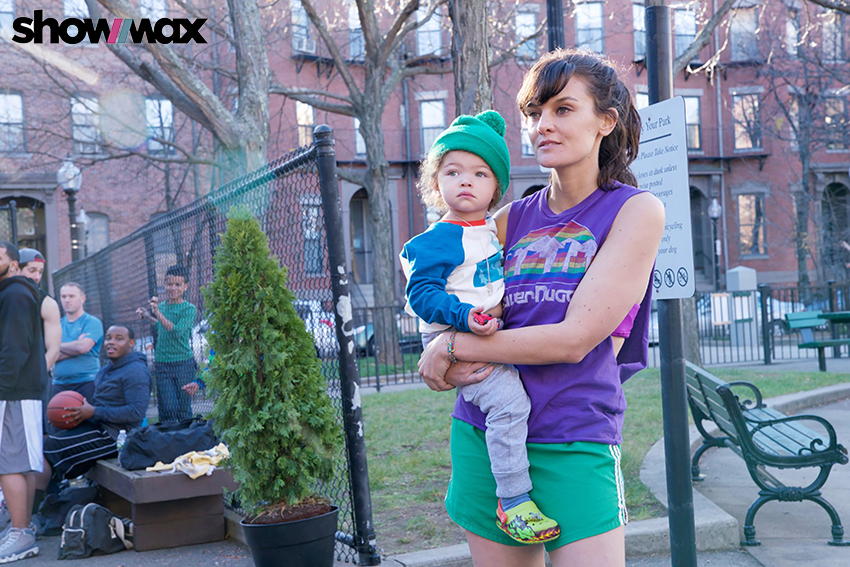 Raunchy 1999 comedy American Pie gave us two eternal things: 1) the unintentionally hilarious comedy routine that came from Chris Klein now thinking he could be a leading Hollywood actor, and 2) the word MILF. That's Mom I'd Like to F**k, for all you youngsters (although, I think you may be too young for the explanation). But what about SMILF? Single Mom I'd Like to F**k? Never heard of that, right? That's because it doesn't exist.
That's according to Frankie Shaw, the creator, writer and star of SMILF, a raw and honest comedy series that follows Bridgette Bird, a 20-something from South Boston whose desires for relationships, sex and a career collide with the realities of working-class single motherhood. "There's no real room for a woman's existence in the word MILF," Frankie told The New Yorker. "By getting inside her life experience, we are in a sense changing the meaning, reclaiming it."
Drawn from her own experiences being a twenty-something mom, Shaw initially garnered attention with a Sundance Film Festival Award-winning short film of the same name, which has now been turned into a full series. The series has kept up the high quality of the short film though, debuting last year on US network Showtime with the third biggest premiere week audience for a comedy ever. Since then, it's found it's way onto multiple "Best of 2017" lists from publications like Deadline, The Los Angeles Times, and Vogue and has earned nominations at the 2018 Golden Globes for Best Comedy Series and Best Actress for Shaw herself.
SMILF also features multiple Emmy winner Rosie O'Donnell in her first series regular TV role, as Bridgette's stubborn mom, while Golden Globe and Emmy nominee Connie Britton guest stars as her unstable boss, Ally. Award-winning actresses are not the only drawcards though, as Showtime President of Programming Gary Levine explained what the appeal of SMILF was for so many people and publications.
From its first episode, the refreshingly honest point of view of SMILF broke through with audiences, the press and on social media. Frankie Shaw is a creative force to be reckoned with; her show is funny and forthright, pointed and poignant, irreverent and relevant, all at once.
And now we can finally get to see what all the fuss is about as SMILF debuts first and exclusively on Showmax! The 30-minute 8-episode first season premieres today, so now you know what you can binge on this weekend! And remember, if you're not a Showmax subscriber, you can get access to the streaming platform's entire library for free as a DStv Premium subscriber, or at a much-reduced price if you're on a DStv Compact or DStv Compact Plus package.
Last Updated: March 2, 2018