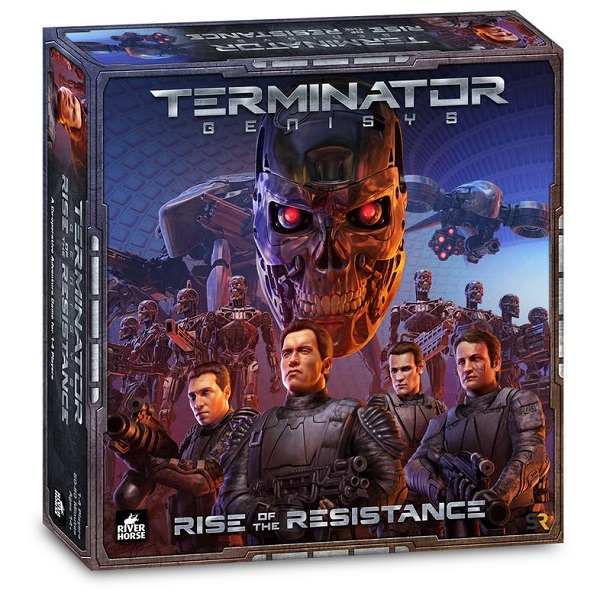 I think it's fair to say that Terminator: Genisys was not a good movie. While it had bold ambitions in trying to reset the storyline in the human's battles with Skynet, the film wasted much of its potential and ended up disappointing more than it enthralled. If you loved the premise of the move but wanted to right some of its story wrongs, you have a chance – with the Terminator Genisys: Rise of the Resistance board game.
River Horse Games and Lynnvander Studio have teamed up with director Alan Taylor to launch this, bringing the classic world and story of The Terminator series into a co-operative and story-driven board game. That series creator James Cameron is not involved with this does make one wonder about the authenticity, but as for the gameplay mechanics and artwork by Steve Argyle (Magic: The Gathering, Legend of the Five Rings), this looks like it has the makings of a fantastic board game.
And like most board games these days, it has a Kickstarter page where you can start backing it now as they raise money for the expensive print runs that are required for games such as these.  Set in 2029, the game is set to be a four-player cooperative adventure, where you play as the remaining forces of humanity battling against the nearly unstoppable SkyNet forces.
The game features loads of highly, detailed miniatures, including your favourite heroes (like Kyle Reese and John Connor) and their robotic counterparts (including a Schwarzenegger look-alike figurine). With a variety of interlocking tiles that form the game board, as well as a series of missions that string together to create a story-driven campaign, players will struggle to outsmart the most powerful artificial intelligence in history, all in a desperate scramble for survival. The game will see players do everything from rescuing prisoners to dealing with infiltrators, from gathering weapons and supplies to taking part in the final assault against SkyNet's secret weapon, The Time Machine.
All it will take for you to play this ambitious game is to part with up to $86 (R1050) of your hard earned cash for the basic version of the game.  Bigger pledges get you a host of added extras which are likely to add significantly to your game-play experience and your bookshelf, as it includes bigger models of the T-1000 to show off to friends. As a game, it looks well thought out, and although it is a lot of money, it's still in line with what many other games of its type go for these days and if you're a big fan, is probably worth it.
And with the last few movies not quite living up to the expectations fans have had of the series, perhaps taking the battle against SkyNet into your own hands is the only way to really play in this Universe without feeling too disappointed.  If all comes together for the Kickstarter campaign, expect backers to have the goods in their hands by Nov of this year, just in time for you to give it to me for Christmas.
Last Updated: April 11, 2018