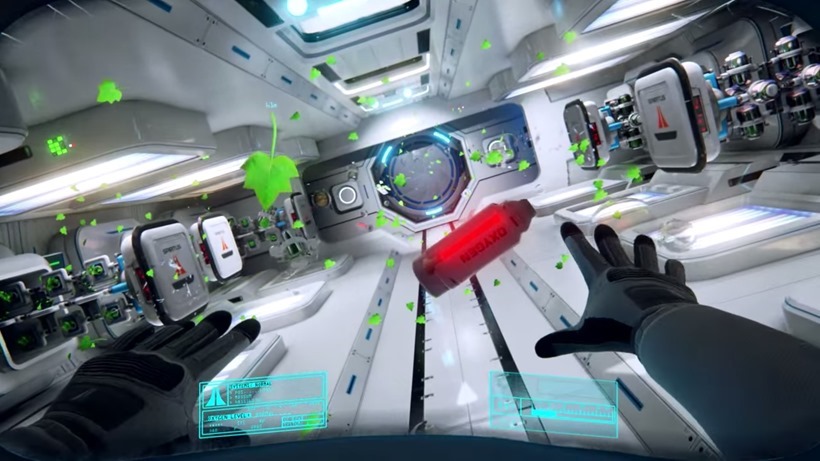 Have you ever wondered what it would be like in space? Getting a chance to float aimlessly around in zero gravity, effortlessly pulling off zero gravity spins and twirls without getting completely sucked into the never ending abyss? It all seems rather tranquil and peaceful, and something I'd certainly like to try given the chance.
That's not what Adr1ft is about though. In fact, the VR space exploration game is about when all of that goes very, very wrong.
It's also a strong reminder that sometimes having no single force keeping you firmly planted to the ground can have some really adverse affects on your ability to properly perceive motion. On other words, watching Adr1ft in action over these otherwise gorgeous ten minutes made me feel a little ill. But still, so pretty.
Despite getting a bit nauseous watching the game flow, I had no such problem when I actually went hands and face on with the game via an Oculus Rift at E3 earlier this year. Adr1ft can almost be compared to the hit sci-fi film Gravity – in the sense that you're a lone astronaut who finds herself in the precarious position of surviving when things go pear shaped on a space station.
It's a game that fills players with a sense of dread as they scramble to keep the Oxygen meter topped up, all while ensuring you don't propel yourself too far away from anything you might be able to grab on. It's the perfect game for Virtual Reality, but it won't require it. Adr1ft is a launch title for the Oculus Rift in particular, but will be playable as a normal game on PC and PS4.
It's out early next year.
Last Updated: October 19, 2015