Alienware has been around for 20 years. Let that sink in – two decades. We are getting older, and gaming is growing up, regardless of what happens on Twitter or YouTube comment section. At rAge 2016 we got to sit down with Chris Buchanan, Client Solutions Director at Dell and Jonathan Ryall, Client Solutions Field Marketing Manager, to discuss their new upcoming gaming machines, new technology and redesign as well as the frustrations of getting their products to the local market.
BYOD: Bring Your Own Dell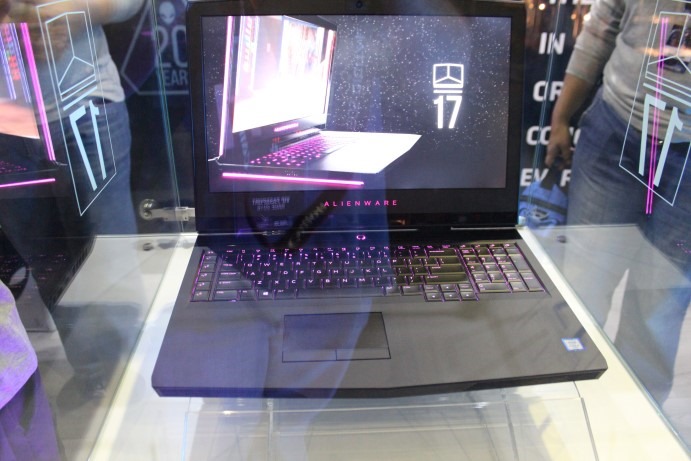 Alienware is celebrating their 20th anniversary  this year, and as a testament to their milestone, a slight redesign and rebranding was needed to reflect their age, cultural trends and the changing user-base. Regarding their rebrand, Chris had this to say:
We're 20 years old, it's our birthday and we've rebranded. So you might see the Alienware font has changed from thick letters to a new font and moving a little bit away from dark and blacks to lighter colours . I think it's just to appeal to a broader market as well as we're finding a lot of BYOD Bring your own Device, or in our case, Bring Your Own Dell, type users. So you know, they're using it in corporate; you're allowed to buy your own machine. A lot of the guys are saying "I need a machine I can work on at work and then take home and play". I walk through the offices of a few customers and I see Alienware, and it's almost out of place in a corporate environment, but it's BYOD. So it's got a dual use in a way.
It does make sense to start shift their branding towards a less aggressive tone while keeping their look sophisticated and powerful. Even the Alienware brochure at rAge has been toned down, which in the past has sported scorpions walking along their machines, loads of tech specifications and blackened backgrounds with product halos; that's all gone now, with product presentation appearing on a grey neutral background with a much cleaner, more serious, tone. Personally it felt like I was picking up a Calvin Klein fashion brochure, not that I ever would ~Manly Cough~
Of course, Alienware are still the company dedicated to melting your face with pixels, and they have 5 new machines ready to do just that. Three new laptops (Alienware 17 R4, 15 R3 and 13) sporting the latest NVIDIA Pascal GPUs for laptops and, surprisingly, a mobile (yet full version) Radeon RX 470 from AMD. Of course that makes it VR capable by virtue of the fact that graphical performance is above that of a GTX 960 according to Oculus. It's a small step in the AMD direction, since the likes of the GTX 1080, 1070 and 1060 still dominate; although a value proposition can be made for an RX 470. When asked why they're offering mobile AMD graphics after the long dry spell, Chris had this to say:
The more relevant thing for deciding to have and AMD graphics is the price and performance. So when you're looking at Alienware as a brand, you've got to understand that you've got the buying power of Dell behind it. So when newer technology is introduced by AMD, it's always weighed up in terms of our cost/performance versus our mainstream products that we are procuring. The other thing that affects our choice are obviously our users; if our users want it we do customise our devices and custom manufacture them, and we will continue to do that. We will be using AMD, we've got the cross-fire cards. You'll see in the mix of cards we have at the moment, it's mostly the NVIDIA cards. The new devices which we have on display today which will come out in February next year [2017] will be the series 10 Pascal Nvidia cards, but they will have the AMD Polaris card options.Processor wise we'll still be using Intel and there are no plans to integrate AMD Zen into our laptops.
Using an AMD option also opens up the usage of cheaper, non-proprietary, screen technology such FreeSync. When asked, Chris and Jonathan simply stated that they have not heard anything about implementing FreeSync screens into their lineup:
Our screen options are really going to be the IPS displays, the 300NIT 1920 X 1080 full HD displays, but then we'll have the Quad high definition which is the 120Hz TN panel, and that's your G-Sync enabled display. There will be a regular IPS 4K UHD display with Tobii-Eye tracking.
It seems Alienware are tentatively supporting AMD, possibly waiting for Vega to see if they should stick with investing in AMD backed technology. In a wider context it would make sense for a lower end graphics card to have FreeSync capable monitor as lower frame rates on a FreeSync monitor would perform better with less tearing. It's cheaper to implement than G-Sync, and if someone used an AMD card in their Alienware Graphics Amplifier, it would be an extra reason for an AMD graphics card user to get an Alienware laptop.
The big new technology for Alienware is integrating Tobii Eye tracking into some of their monitors, and only a fully kitted out Tobii eye tracking experience( like In-Game eye-tracking and targeting) on their Alienware 17 models, with similar, yet limited implementation on their lower end Alienware 15 R3 and Alienware 13 R3.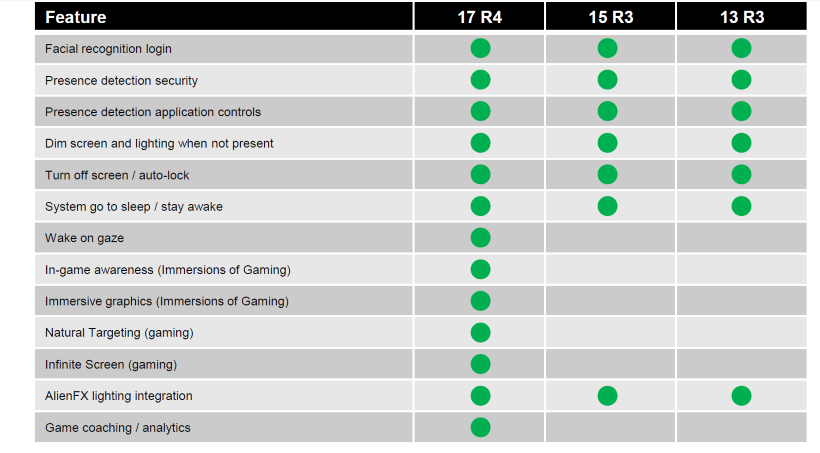 The creepiest (and coolest) feature is when Tobii becomes "big brother"; watching and recording your eye movements in game into a "report" for analysis later. Essentially it's a potential coaching tool to get you to look at your map or parts of the screen more. I would have loved to have tested this out, but there was no sample laptop brought to the interview.
Addressing their Graphics Amplifier, I posed the question to Alienware about graphics card makers releasing desktop grade graphics in mobile form and how it impacts on users' choice to invest in a graphic's amplifier.  Chris had this to say:
When I buy a notebook I'm thinking about the future. I'm buying a Pascal GPU in my device now, but what's going to happen in a year's time? They may be a better card that comes out. So it's about future proofing my gaming. I know that I can get a Titan X in that accelerator if I wanted to and it just boosts my performance. One of the features of Alienware screen plus two external displays. Plugging in an accelerator I can even add additional displays to that. You're always going to pay a premium for taking that technology and shrinking it down to fit into a laptop. Typically new technology is introduced in a desktop format and then what follows after a time is integration into a Notebook. So if you want the latest graphics technology you have the graphics amplifier to get a 6 to 9 month jump on what will come out later as a small form factor.
As for the laptop specifications, they range from Core i7 6700HQ to i7 6820 in the Alienware 17 and 15, sporting up to 32GB of DDR4 Memory and PCI-E NVME SSD technology. They made special mention of the redesigned body and lighting on their new laptops:
In terms of the design features in the notebook, physically we've redesigned the internal cooling and added a drop hinge which means we've moved the screen a little bit forward on the base. That allows you to connect devices into the back a lot easier, and it allows air to be drawn in through the sides and blow hot air out the back, so if you have anything on the sides you're not actually heating up the user's hand or anything else on the side. We're also using a far more stable magnesium alloy frame, with a steel reinforced Alienware TactX keyboard. We've added the Tron lighting to the side of the screen, whereas before it was more on the base and on the back of the screen, so there's lighting all the way.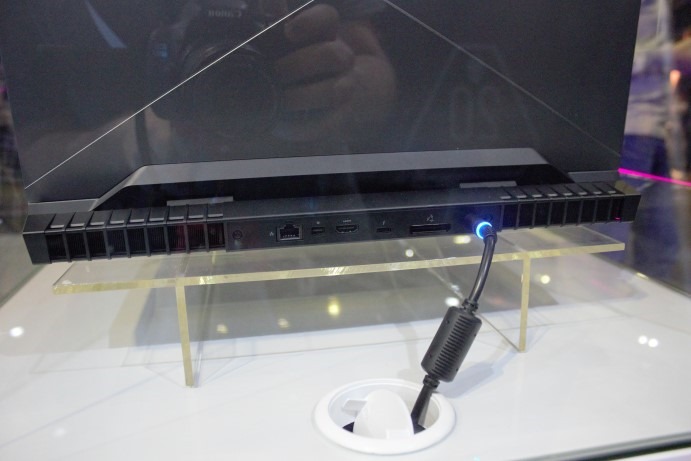 Looking at the devices at the Alienware stand, the design choice does seem to free up a lot of space at the rear of the device for cooling redirection and connecting devices easily. As for actually feeling the units, Alienware had them encased in a glass box, which meant I could only breath heavily on the glass instead of get a feel for the new design, cooling and forward screen.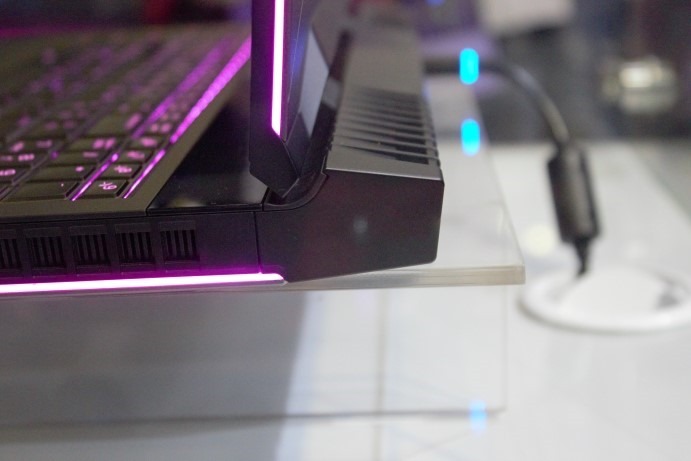 The big elephant in the interview room, was not actually in the room. I posed the question To Chris and Jonathan that their competitors already have Pascal powered notebooks in the country, so why will they only be available next year February? A sombre looking Chris, frustration evident on his face, answered:
It's got really little to do with our technology. You can actually purchase it [internationally], unfortunately we're dealing with a bit of Government bureaucracy here. There's a certification department called the NRCS which issues certification for product to bring it into the country, a safety certification. They currently have a 120 day backlog on approving products. That's 120 working days, which is like six months. And there is no way you can speed up the process or query where your certification is in the process. Often our emails are simply ignored. The CEO also just resigned about a week ago, so we're sitting here incredibly frustrated from a vendors point of view, and it's not just us who are being affected. Everyone in this industry is being affected by the bureaucracy that's currently sitting at the NCRS. We're in a very frustrating position; so take a bash at them if you want!
You heard it folks; once again our slow to act Government is the reason a product will only be here next year. Just like Digital TV migration and a working power grid.
Portable, Tool-less, Powerful and Pretty: Aurora and Area-51 Desktops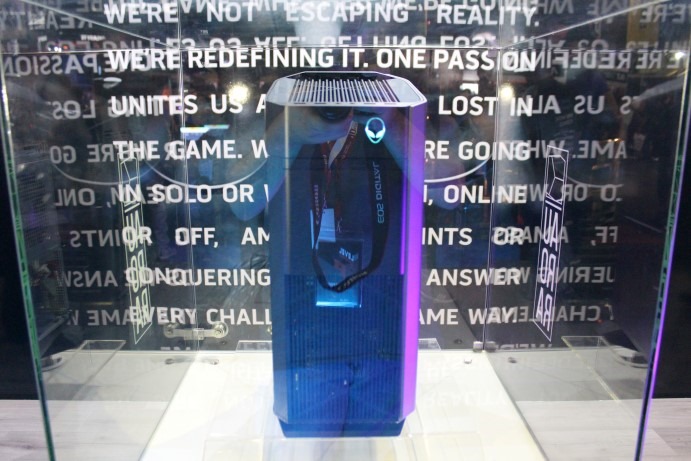 Prebuilt machines are not really my thing since I've been building my own PCs for years. That being said, Alienware do make some pretty looking machines that you wont readily find anywhere else, in size or design. Talking about the Aurora's size and power, Jonathan had this to say:
The reason we went for a smaller chassis is just to make it portable. I mean you see these guys lugging these machines around to things like rAge or LAN sessions. So we've included a handle on the top and what we've done with the design with the Aurora is make it fully tool less, so it's upgradable. The whole design language behind it was to make it fully upgradeable. So you'll see on the side the whole power supply actually comes right out and gives you access to the entire device. The internals will allow you to have up to 5 SSDs, the first being a boot drive PCI-E SSD and the rest regular SSDs, up to 3TB. We also have Pascal cards, and what's great about it is we have space for two cards, and because it's tool less, even the cards are tool less. All these machines are designed to be overclocked, so we can factory overclock them, or they can be overclocked by the user. So with that though, we've offered water cooling, but it does come standard with normal air cooling, with optional water cooling. There is also up to 64GB of DDR4 ram.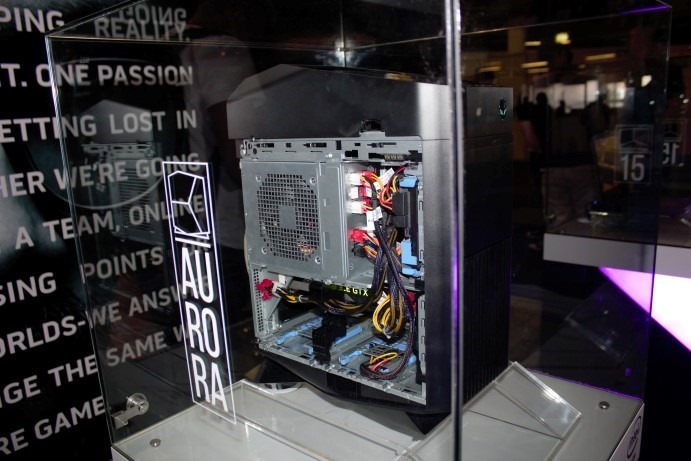 This machine was also encased within a glass tomb on the rAge floor, so scoping the innards was a tad difficult. The design was impressive nonetheless, and offering two graphics cards in such an enclosure is a feat by any means.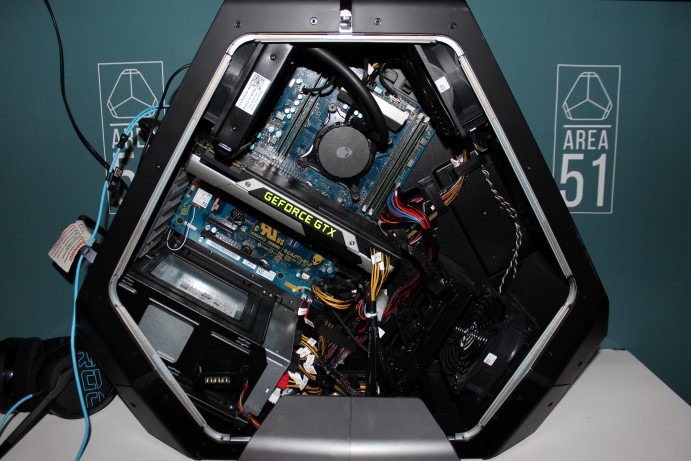 Moving to the Area 51, it's pretty much the pinnacle of Alienware performance. Sporting Broadwell-E processors and space for up to 3 graphics cards, it's the best pre-built customisable behemoth. Illuminati confirmed.
The reason we've gone for this shape of chassis is that it leaves very little area at the top for heat to actually reside. So the idea is that air will flow in the front, push it straight back and straight out. So the reason we've actually gone for this chassis design is because of the kind of performance we've put into the machine. So you can spec with up to a 1.5KW power supply, it's got up to 3 GPUs, so we talking 3 Titan X full length double width cards. 64GB of DDR4 ram, with a PCI-E SSD as your boot drive, with space for 5 additional drives in the machine. This is really the top of the range type performance-wise gaming machine. What you can with this machine is drive 12K, so you can actually have three 4K displays connected at once. This particular machine will have 6-8 and 10 core processors, and you can overclock them. We actually ship them overclocked and liquid cooled from factory, so that's some of the tech behind it. It also has tron lighting to keep with the look of Alienware. As well being tool less for all components in the machine, you also have easier access to your I/O ports at the back; having a shape like this you're able to pull it forward to access your ports quickly and put it back down.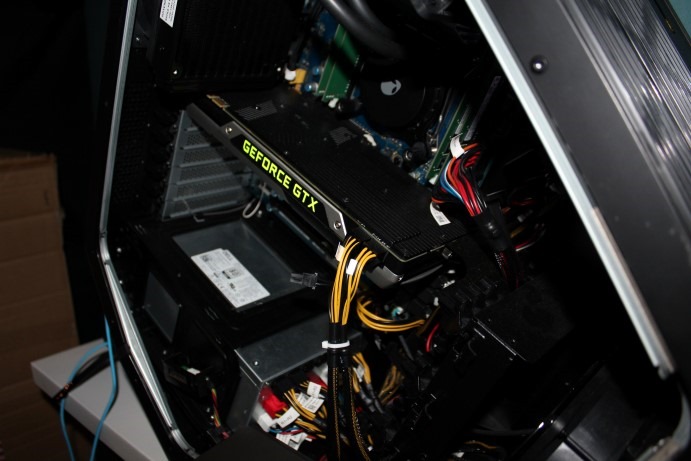 Clearly the design and space for 3 graphics cards was perhaps finalised before NVIDIA killed off Tri-SLI support from Pascal onwards—so for any supported tri-SLI setup, higher end Maxwell and older cards would have to be used.
Pricing And Availability
Speaking about prices inevitably would make the majority of buyers squeamish. There are no final prices, since launch is so far away, and we still have to get through a ratings downgrade. For now Chris and Jonathan said we can expect a starting price of R27 000 of the Alienware 13,  and R35 000 for the Alienware 15 and 17 standard models; not cheap, but also not too far from the current competitors pricing for similar machines. For the Alienware 15 and 17 standard models, you do get a GTX 1060, 1080P IPS screen and 8GB of DDR4 ram with Windows 10 home—not even Tobii IR in the base version of the Alienware 17 is a tad disappointing. For the Aurora prices start around R35 000 and Area 51 start around R40 000, although there was not clarity on which graphics cards would come at the standard package. When questioned on the price and affordability, Chris had this to say:
If you are shipping 40 million devices per annum, that's 40 million processors. So that buying power allows you to get a very high end processor at an affordable rate and you can put it into a niche product like Alienware. We've got massive consumption and buying power, and that allows us to do a comparison with our competitor's products and spec for spec we're able to get, probably 20% more affordable. As you higher up on the scale in terms of performance we become far more aggressive, so we're significantly more affordable than our competition. On the entry level we're pretty much comparable, but as you go up, that premium that you're paying is not as much as you would with our competitors. That's where we leverage our buying power, so the higher spec you go the cheaper overall.
You will be able to purchase the Aurora gaming desktop in the coming weeks, with the Area 51 behemoth becoming available in December 2016. As mentioned earlier, we can only expect to see the laptops next year.
I'd like to thank Chris and Jonathan for an engaging interview, and I hope they manage to get their Alienware laptops into the country as soon as possible, if only so I able to finally touch one!
Last Updated: October 12, 2016