In what was a somewhat underwhelming event that saw Lisa Su reading tweets to the audience, AMD managed to get some geek juices flowing  as AMD officially announced their new Ryzen CPU, coming in Q1 2017. This marks an age where AMD is brining some much needed competition to the performance CPU segment.
The Ryzen CPU has 8 cores and 16 threads, 20MB of L2+L3 cache and "at least" a base clock speed of 3.4GHz with a TDP of 95W, with boost clocks not being revealed until next year. Lisa Su stated that their previous targets of 40% gains in IPC over previous generations had been "met or exceeded our goals" with their new architecture, and if you thought you'd need a lot of salt to stomach that revelation, AMD were on hand to provide some real-time benchmarks and some insight into some features they are launching with Ryzen.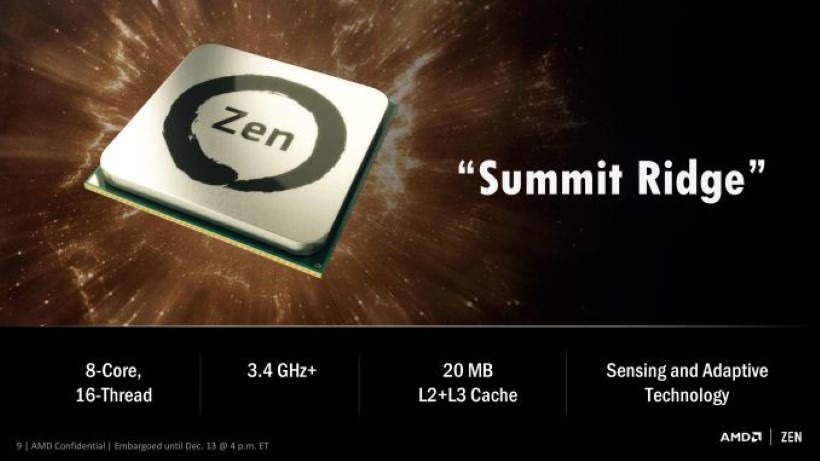 Now although Intel never compares their parts to AMD in any sort of press conference or product reveal, AMD have prodigiously done so in the past and present, to much hype and eventual disappointment (see Bulldozer). However, in this case I feel they deserve a bit of attention in that the CPU benchmarks they show reveal some highly competitive results which, if all things being "on the level", bode very well for them.
4 years ago you would not see AMD trying to compare their Vishera architecture against anything other than Intel's mainstream chips. Today, though, they went for the jugular, going toe-to-toe with the $1100, 140W TDP, 8 core/16 thread behemoth; the 6900K. To even make the jump to showing their performance against Intel's elite enthusiast chip means AMD are quite confident, at least confident enough that their architecture will compete at least with Skylake—quite exciting.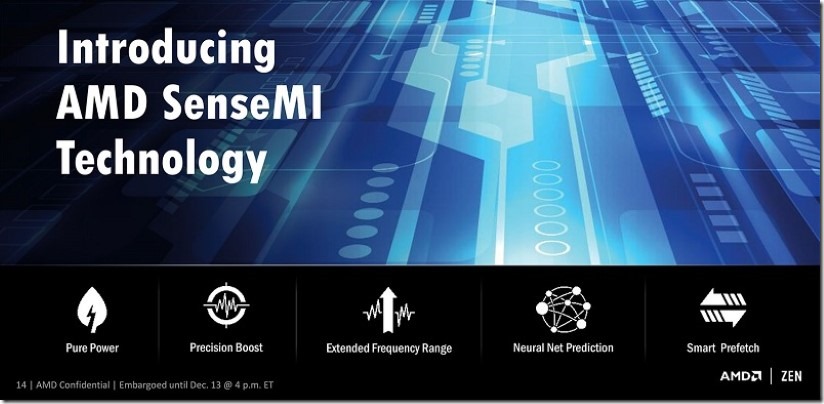 To that end, AMD have focussed on making Ryzen CPUs not only faster, but also smarter, than previous generations. To encompass these developments, AMD has 5 new features that explain this performance and efficiency jump: AMD SenseMI Technology. With 100s of sensors, these technologies allow the CPU to focus on energy efficiency, clock speed control and smarter caching, allowing enhanced performance and lower power consumption. Lisa Su stated that technologies like Neural Net Prediction and Smart Prefetch are responsible for at least a 1/4 of the performance that Ryzen has over their past architecture.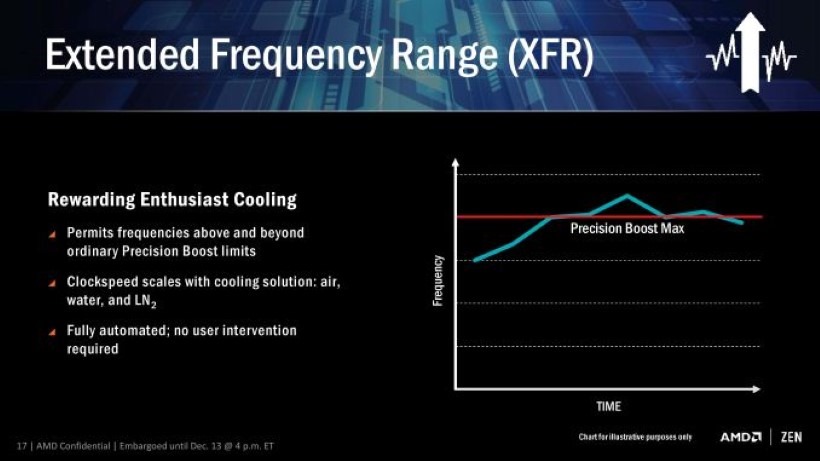 For those who want to gain as much performance as possible, AMD have catered to enthusiasts that use high end cooling solutions, in what's called Extended Frequency Range (XFR), which depending on cooling, allows the CPU to essentially auto-overclock itself without any user input. This sort of aligns with previous rumours around Ryzen having all overclocking done within the chip and not through the motherboard per se. Of course, auto-overclocking is nothing new since many high end motherboards are capable of doing so—but this is built into the chip itself, so it does somewhat level the playing field. Even though we don't know to what levels the CPU will overclock itself, it means those who invest in better CPU cooling can immediately gain some benefit with little input themselves.
Moving to the benchmarks shows what sort performance we can gleam from their chips regarding performance and power efficiency.
The two CPU benchmarks used were Blender and Handbrake. In the Blender tests the Ryzen system consumed 188W of power, while the Intel 6900K based system consumed 191W of power, and although both tests finished very close together, of interest is the power consumption; the stated 95W TDP Ryzen power consumption is very close to the 140W TDP of the 6900K. Regardless, if the aim was to show that AMD is able to match the performance of the 8 core Intel chip and maintain a lower power envelope— mission accomplished, TDP be damned.  In the Handbrake tests the Ryzen CPU bested the 6900K by a good 5 seconds(54-59), which is quite a great feat in the extremely heavy multithreaded CPU benchmark.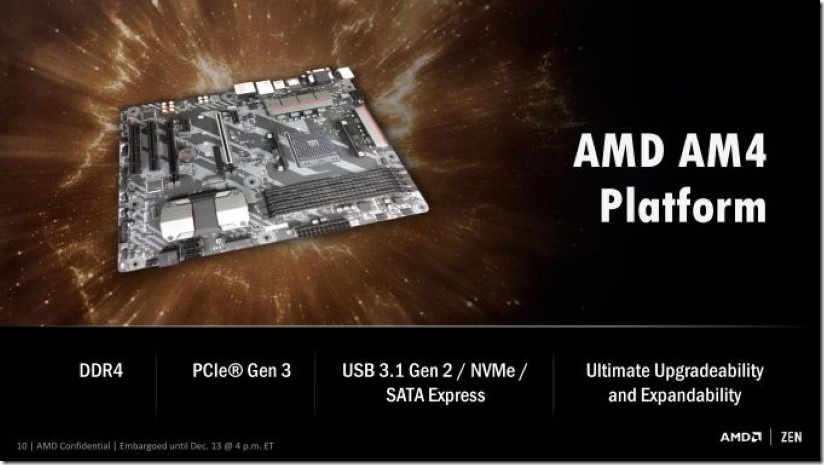 AMD also revealed some information about their AM4 platform, with modern adornments like  DDR4 memory, PCIE-Gen 3, NVME storage and USB 3.1. Current Bristol Ridge CPUs and Zen based Ryzen CPUs will be compatible, meaning upgradeability and expandability are present on the AM4 platform—quite nice to have a unified platform for both high and low end hardware.
Moving to gaming based benchmarks and features, things became a bit more fuzzy and muddied. AMD compared the Ryzen CPU with the 6900K running at 4K on Battlefield 1 with a Titan X and although a general "over 60-70FPS" was muttered for each machine, there was no real concrete figures to grasp on to. That being said, both machines ran Battlefield 1 quite effortlessly, so Ryzen must be doing something right. AMD also featured the Ryzen CPU powering eSports gaming (Dota 2) and streaming (encoding) to Twitch at the same time. It was pitted against a 6700K clocked at 4.5GHz as well as the 6900K. The 6900K and Ryzen streams were perfect with no dropped frames, while the 6700K system was about as choppy as a lumberjack. I don't doubt that an 8 core processor would be better than a 4 core processor for doing more tasks at once (processing and encoding), but the exceptionally choppy 6700K system was a tad unbelievable as that CPU is more than capable for streaming and playing a game like Dota 2.
As the cherry on top of the AMD cake, Lisa Su showed the world their first taste of their Vega based GPU, playing Star Wars Battlefront (Rogue One DLC) at 4K and over 60FPS in their 8-core Ryzen based PC. Perhaps AMD avoiding playing Battlefield 1 to not give too much away regarding performance (and not to steal too much thunder away from Ryzen) although it must be seen as pure marketing up to this point since there was no FRAPS or -again- concrete performance figures on hand to chew into.
Sadly, by the end of the show, no price was given for their 8-Core Ryzen chip, which although is not surprising, it still takes away much of the "awe-factor" they'd been building up throughout the conference. Based on previous rumours, if the rumoured $300 price tag is accurate, it seems AMD might really be in a position to shake up the X86 market and Intel dominance the past half decade.
To watch the event stream to see Lisa Su reading tweets, you can check it out here:
Last Updated: December 14, 2016