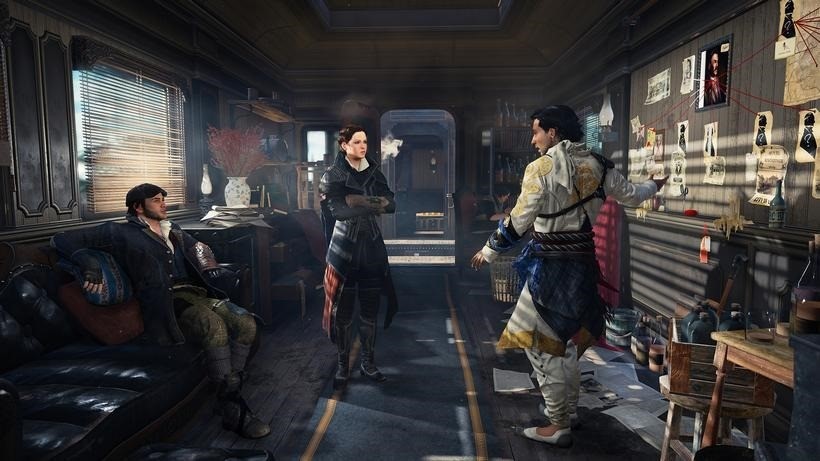 I've rather enjoyed my time with Assassin's Creed: Syndicate. Yes, it suffers many inherited problems from the series – ones that will take quite an internal shake up at Ubisoft to ever be fixed. But, a few minor glitches aside, the experience has been solid. On consoles at least.
I have this sneaking suspicion that the game is going to run poorly on PC when it sees release later this month. It's not because Ubisoft games have a propensity to be broken on PC, or that I don't have faith that the teams behind Assassin's Creed and its ports aren't able to deliver a game that works. Rather, by the fact that it's another game that utilises Nvidia's Gameworks.
According to NVidia and Ubisoft, Gameworks is supposed to make the game look and run better, but in my own completely subjective experiences, I've only ever found Gameworks to make things worse.
Here's the list of stuff that's exclusive to NVidia's GPU's.
TXAA: NVIDIA algorithm for Temporal Anti-Aliasing – Works only on NVIDIA hardware
HBAO+:  – NVIDIA algorithm for Ambient Occlusion – Works on both NVIDIA and AMD hardware
PCSS: NVIDIA algorithm for Soft Shadows – Works on both NVIDIA and AMD hardware
GeForce Experience: Player with GFE can have adjusted graphics options for smoother performance experience
G-Sync Support: Support of special monitor with NVIDIA G-Sync chip
To show the tech off, Nvidia has released a Gameworks Trailer for Syndicate.
Now that looks very nice and all, but I have to view it with a fair bit of suspicion. If you'll recall, we also got a very lovely Gameworks trailer showing off how Arkham Knight looked with the tech – and we all know how that turned out in the end. Hopefully that wont be the case here, and that Syndicate will actually play well for PC gamers, no matter which side of the red/green divide they lie.
Though it may be sour grapes, AMD seems convinced that Gameworks cripples performance, regardless of the hardware choice .
"Nvidia Gameworks typically damages the performance on Nvidia hardware as well, which is a bit tragic really, " AMD's "gaming scientist" Richard Huddy said earlier this year.  "It certainly feels like it's about reducing the performance, even on high-end graphics cards, so that people have to buy something new."
As a reminder, here are the specs you'll need to play Syndicate on your PC (which we posted last week).
Minimum
OS: Windows 7 SP1, Windows 8.1, Windows 10(64bit versions)
Processor: Intel Core i5 2400s @ 2.5 GHz or AMD FX 6350 @ 3.9 GHz
RAM: 6GB or more for Windows 7, Windows 8.1, Windows 10
Video Card: NVIDIA GeForce GTX 660 or AMD Radeon R9 270 (2GB VRAM with Shader Model 5.0)
DirectX: June 2010 Redistributable
Sound: DirectX compatible with latest drivers
Recommended
OS: Windows 7 SP1, Windows 8.1, Windows 10 (64bit versions only)
Processor: Intel Core i7-3770 @ 3.5 GHz or AMD FX-8350 @ 4.0 GHz
RAM: 8GB
Video Card: NVIDIA GeForce GTX 760 (4GB) or the newer GTX 970 (4GB) or AMD Radeon R9 280X (3GB) or better
DirectX: June 2010 Redistributable
Sound: DirectX 9.0c compatible with latest drivers
Hard Drive: 50GB available space
"For a recommended experience,  says Ubisoft, "the game requires a video card with at least 3GB of VRAM when playing at a full HD resolution. While we encourage you to fiddle with the advanced options to fully customize your gaming experience, please keep an eye out for the VRAM meter usage when you adjust these settings."
Last Updated: November 9, 2015