It's easy to call Nvidia's current line of RTX GPUs a bit of a nightmare for the company. Despite the card delivering on performance and bringing forward some truly revolutionary capabilities to the table, there just hasn't been enough interest from games developers to implement them or consumers to suck up the cost and invest in them. It leaves RTX right now in a strange place and makes the laptop market they occupy even more difficult to penetrate. With increased prices over Pascal chips and only a handful of games to really take advantage of it all, an RTX laptop isn't as straightforward a decision as it should be. But ASUS' ROG Strix Scar II makes a compelling argument.
Retaining nearly everything from the original Scar II on the outside, this laptop is a looker. The brushed metal finish on the top accentuates a glowing (and changeable) ROG logo that somehow looks far classier than it should be. It feels great to the touch, and much lighter than it suggests. At only 2.4Kg for the 15-inch version (and only 500g more for the 17-inch model) the Scar II looks chunkier than it feels. It's still got a thin profile with only 28mm maximum thickness, but it's bigger than the slimmer likes of the Gigabyte Aero 15 and Razer Blade.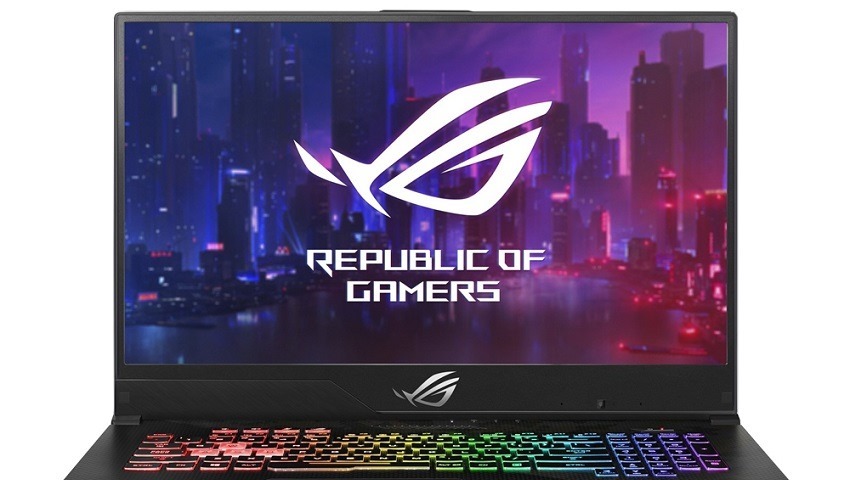 The chassis feels sturdy though, down to the smoothed out plastic edges to the strong hinge that swings the screen open. Bezels are kept to a minimum on the display, if you're only counting three edges. The top and two sides let the screen do all the talking when on, but the Scar II still features an obnoxiously large bottom bezel that houses a glossy ROG logo and a strangely placed web-cam (expect all your shots to be looking right at your chin and up your nostrils).
The display itself almost makes up for it all though. It's a 144Hz 1080p IPS panel with exquisite viewing angles and colour depth, as you'd expect. It gets suitably bright and was never an issue in a well-lit room or some brief direct sunlight. Motion is smooth thanks to a 3ms grey-to-grey response and I saw no evidence of ghosting or smearing across any of my gaming tests with framerates left to run rampant. Colour is deep and nuanced on this display, bringing to light the spectacular highlights in the muted lighting of Metro Exodus or the overwhelming ability effects in Anthem. The resolution is also a perfect pairing for the RTX 2070 inside, letting the card push framerates into a range where that refresh rate isn't wasted. It's missing G-Sync support but given how expensive that feature still is, it's not entirely missed.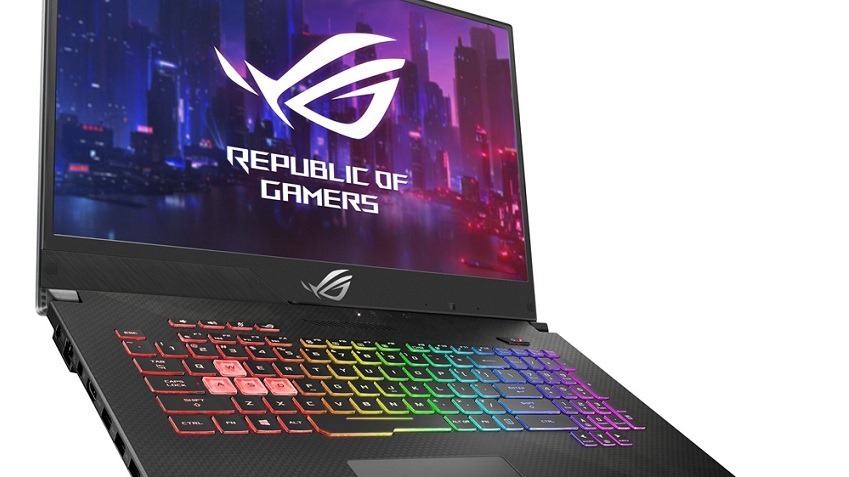 The Scar II keyboard is similarly great, featuring a nice tactile feel to keystrokes despite still being a membrane implementation. The WASD keycaps have been made transparent so that you can (presumably) find them in a pinch, with each key featuring individual RGB lighting. This can be combined with the lighting on the logo and a neat RGB strip where the laptop closes shut, giving you a lot of flexibility when it comes to concocting creative lighting setups. Or it can all be turned off, if you so wish. The only issue with the keyboard is layout. In an effect to cram in a NumPad, the entire keyboard feels oddly shifted to the left and cramped. All the joy of typing on the keys is stripped away by typos and mistakes forced on by too little working space, and I can't say I ever adjusted to it fully.
The coating atop the face of the keyboard and trackpad is also strange, and more in line with the garish gaming designs of old. The camo stain looks exactly like that most of the time – a stain caused by overexposure to dust that will take a few glances to really understand. It's out of place and, sadly, unavoidable. It brings down a rather muted overall design that is far more reserved by ASUS standards than in the past, but it's also not a large enough issue that it's a deal breaker.
The Scar II's cooling is admirable too, although you should expect to hear the fans kick up whenever you'd doing something slightly intensive. At their loudest, you'll need a decent pair of headphones to drown out the sound, and it'll likely annoy anyone near you. But under normal working conditions, the laptop is whisper quiet, making it ideal for an office space.
Heat is also intelligently routed around the chassis to avoid the keyboard and trackpad overheating. Although the keyboard can get a little warm, I never found my fingers sweating during a gaming session like I have on some many other laptops. The underside doesn't avoid this heat though, so gaming on your lap is out of the question.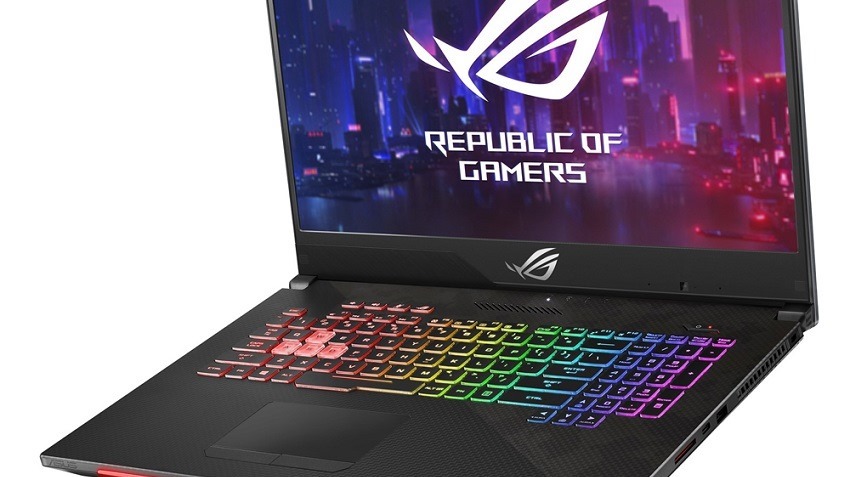 Gaming is the main draw here, and you'd expect that with a brand new, albeit clocked down, version of the RTX 2070 and an Intel Core i7-8750H and 16GB of RAM (some configurations offer more). They're paired with a 512GB NVMe SSD and a 1TB SSHD Hybrid drive. There's more than enough space to keep a handful of games on the main SSD and transfer others over the the hybrid drive for storage, making games and applications load and perform incredibly fast.
Speed is the key word here, because the RTX 2070 has it in spades. Taking the brand-new Metro Exodus out for a spin, the Scar II handled most higher graphical settings at the native 1080p with ease. At the preset High option, the Scar II held Metro Exodus steady at over 70FPS, letting you eek out a little bit of use from the high refresh rate panel. The Ultra preset hovered just above and below a stable 60FPS but was still impressive enough at 1080p considering the demands this suite imposes on the hardware. Both tests are without any RTX features turned on and using just the brunt of Turing's new architecture – which isn't drastically faster than Pascal.
With RTX on, the story changes slightly. Performance is impacted greatly, with the average plummeting down to just 38FPS (even with DLSS enabled). You do get the inclusion of some stunning ray-traced powered ambient-occlusion and lighting however, and the differences in this case are night and day. Having this power at your disposal on the go is impressive to say the least, even if you must already start dealing with some sub-60FPS performance at 1080p already.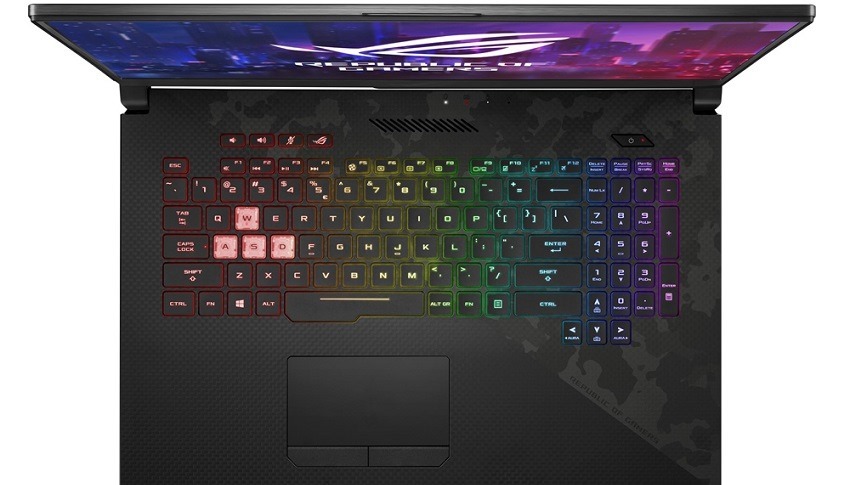 Anthem, which has been a prickly pear on PC performed just as well too. At 1080p on a mix of High and Medium settings to try and simulate the performance on consoles, I was greeted with framerates that generally stuck above 65-70 FPS. The variations are wild though (which has been the case with Anthem since launch, as it struggles to utilise both the CPU and GPU efficiently), but there's enough headroom here to adjust according to either quality or performance. Battlefield V, with its own suite of RTX options both on and off, performed even better. Without any ray-tracing features I was seeing performance well beyond 100FPS in some instances, with the average hovering around 75FPS. That drops down considerably with RTX on, but the constant work on its efficiency could see that deficit continue to shrink.
With a more standard benchmark, Grand Theft Auto V and the taxing final run of its internal test also performed relatively well on the Scar II, although without the benefit of any RTX features to gawk at its performance over previous Pascal cards it starts to look less impressive. Without other laptop designs to test against it's difficult to pinpoint exactly the difference between the two, but with average framerates of 52FPS (despite a maximum of 107FPS) you'd expect a brand-new generation GPU to be performing slightly better on a game this old. Turing isn't a radical leap over Pascal in terms of raw rasterization performance, and GTA V offers an example of how that might sting.
Taking 3DMark out for a spin showed equally predictable results at this point, with the inclusion of the new Port Royal ray-tracing benchmark offering a new metric to look at in future. Across the range of all the FireStrike and Time Spy tests, here's how the Scar II did.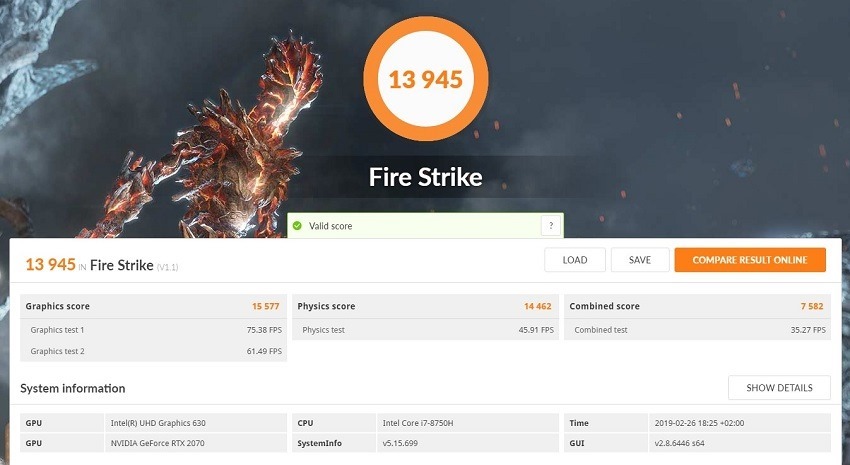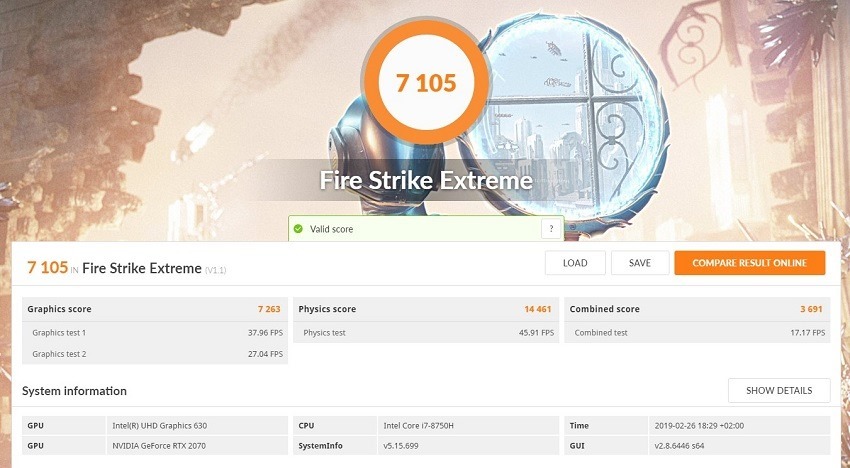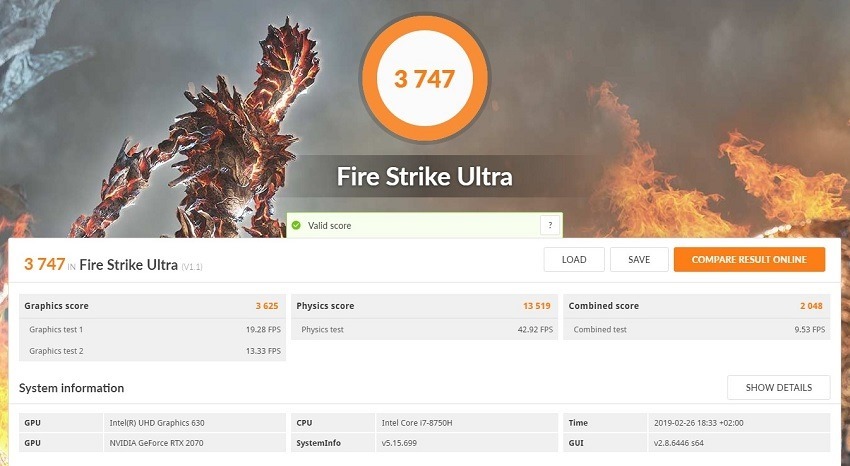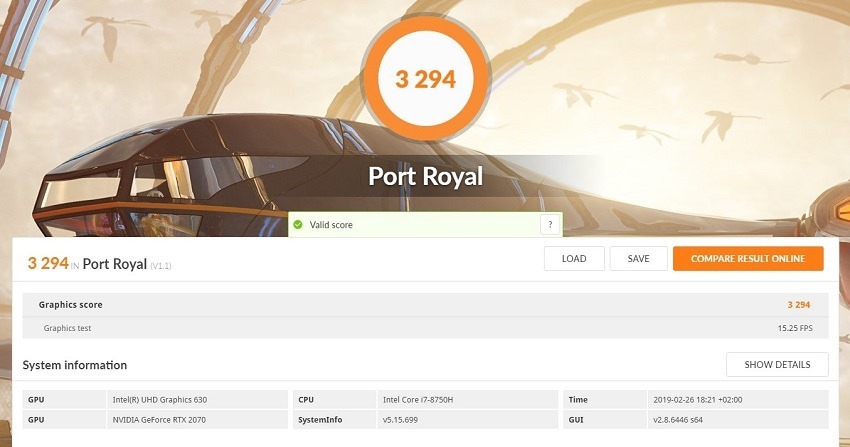 It's all impressive, and the Scar II with its new internals is just that. But that doesn't mean it's an easy recommendation. Right now, even just the RTX 2060 version of this upgraded machine can easily run you over R40,000 locally (the 2070 version is strangely missing from local retailers), which is an astronomical figure when considering a gaming machine, mobile or not. There's no question that this Scar II is powerful, thin and portable enough to drive most of your gaming needs anywhere – from your desktop and external monitor at home to on the move in your backpack. But with RTX introducing a premium on the pricing and both its support and performance not being easy ticks in its favour, you might be better served looking at the older 10-series models of this laptop (which feature the exact same construction) as viable alternatives.
If the best of the best is your goal though, the Scar II is easily bested by thinner, more stylish and powerful laptops from both ASUS and other manufacturers. But what the Scar II does achieve is a good balance between its pricing, performance and overall looks. It's a far subtler take on gaming laptop designs that makes it more suitable in a wider spectrum of offices, while also keeping things quiet for word processing and suitably cool during intense gaming sessions. A zippy CPU, storage and RAM make everything a breeze on the Scar II, while the high refresh rate, incredible display and solid performance of the RTX 2070 keep images responsive, sharp and fluid in motion. The Scar II is a great laptop that I'd love to carry around with me all day, feeling it more in my wallet than my backpack.
| | |
| --- | --- |
| Display | 17.3-inch 1,920 x 1,080 IPS LCD 144Hz |
| Processor | Intel Core i7-8750H |
| RAM | 16GB DDR4 2, 666MHz |
| Graphics | Nvidia GeForce RTX 2070 8GB |
| Storage | 1x 512GB NVMe SSD, 1x 1TB 2.5-inch SDHD |
| Connectivity | 802.11ac Wi-Fi, Bluetooth 5.0 |
| Ports | 1x HDMI 2.0, 1x Mini DisplayPort, 1x USB 3.1 Type-C, 4x USB 3.1 Type-A, SD reader, 3.5mm audio jack |
| Dimensions | 399 x 272 x 25.4 mm |
| Weight | 2.9kg |
Last Updated: March 5, 2019
Asus ROG Strix Scar II (RTX 2070)

The ROG Strix Scar II makes RTX-powered laptops as affordable as possible, maintaining performance in a sleek chassis that only falters in drips and drabs. It's not the thinnest, quietest and most visually stunning laptop you'll find, and there're still questions to be asked about the premium RTX introduces. But if you're looking for a strong upgrade, it'll fit the bill.