Brian Royce and Rob Monster of Epik have been hit with a lawsuit relating to a "widespread and illegal fraudulent scheme – replete with misrepresentations, embezzlement and misappropriation". The latest victim of Epik to go public is Matthew Adkisson, who has had $307,000 stolen by Epik. This follows on from Kathleen Kalaf, who has had $91,000 stolen (source), and DomainEmpire, who are claiming they are owed $1.5 million from the scandal hit company (see Trustpilot).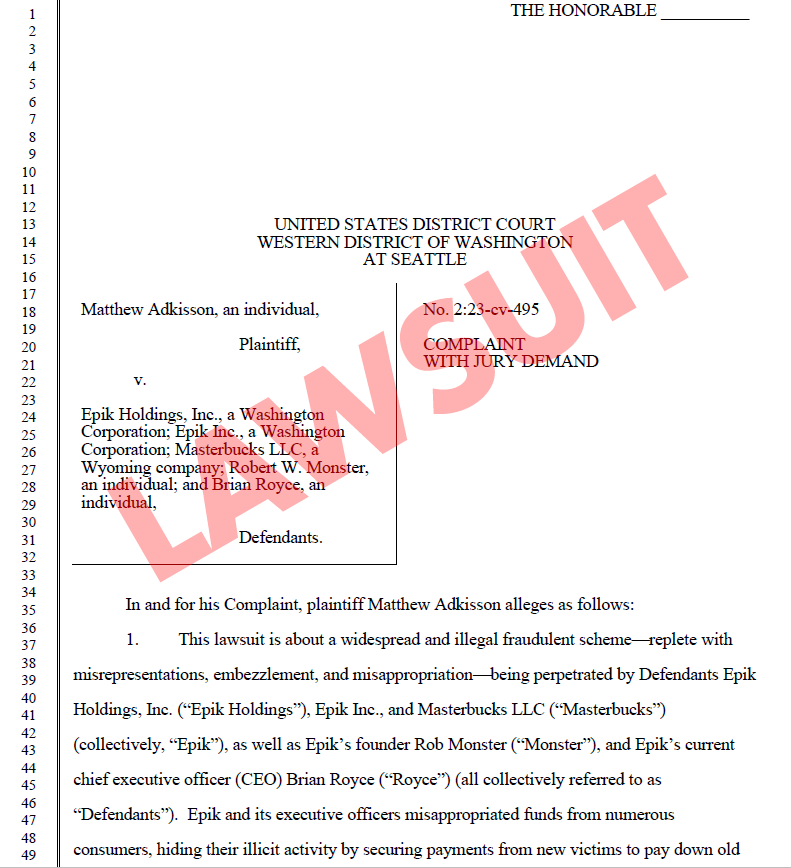 Brian Royce and Rob Monster Epik Lawsuit
In this particular lawsuit, Epik.com, Masterbucks, its founder Rob Monster, and the current CEO, Brian Royce, are all defendants in a lawsuit involving Nourish.com – a domain name that was not handed over to Matthew Adkisson after he paid $327,000 for the name in question.
Adkisson claims that his funds were used for funding other Epik expenses, instead of being used to purchase Nourish.com, and possibly even used for personal purposes. The lawsuit states:
In a subsequent phone call, Epik, through its counsel, admitted that it owed Adkisson the $327,000 it had promised to hold in escrow, and that sometime after Adkisson wired the funds to Epik, it was misappropriated, embezzled or both. In any case, Epik conceded that the Escrow Funds were no longer available. Epik further claimed that the company was "cash strapped" and that Adkisson's Escrow Funds were used to pay other debts.
The lawsuit goes on to alleged that Epik was running Ponzi-like elements, with funds taken in from new customers being sent to other customers to pay off their debts.
The suit against Brian Royce, Rob Monster, Epik and Masterbucks suggests criminality has taken place, with the beleaguered CEO and Founder facing eight counts including:
Fraudulent Mispresentation
Violation of the Washington Consumer Protections Act
Violations of Racketeer Influenced and Corrupt Organizations Act
Unjust Enrichment
Conversion
Adkisson is suing for his full $307,000 back, plus damages, costs and interest. The full lawsuit against Epik can be read here.
Last Updated: April 4, 2023