The disasterous appointment of Brian Royce as Epik CEO was laid bare today in the declining number of domain name registrations under management by the failing registrar. This comes after Epik stole millions of dollars of customers money, including $91,000 from retiree Kathleen Kalaf. Epik are currently being sued by Matthew Adkisson for $327,000, after Epik took his money, and didn't give him the domain he was promised after sending payment. Brian Royce is part of a lawsuit where he is accused of misrepresentation, embezzlement, and misappropriation.
Epik Stats – Falling off a Cliff Edge
Epik lost 10 times as many .com domains than the 2nd worst .com registrar lost from the top 47 domain registrars.
Epik had the biggest loss percentage of 5.4% – 4 times greater than the 2nd worst loss registrar.
Epik has lost an incredible 123,861 domain registrations from August 2022 until January 2023. This is expected to be far more when the next stats are released.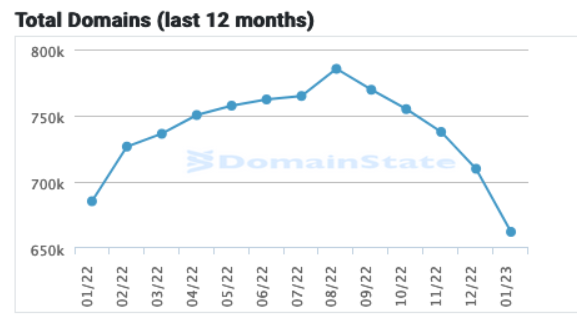 Epik lost 15,882 domains in September 2022
Epik lost 14,637 domains in October 2022
Epik lost 17,201 domains in November 2022
Epik lost 28,009 domains in December 2022
Epik lost 47,412 domains in January 2023 – an average of greater than 1 domain a minute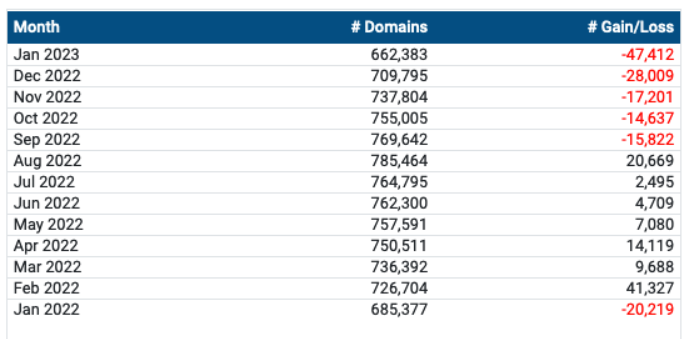 The latest ICANN reports up to January 2023 shows that compared to the same period last year, Epik has lost 11% of their .com customer base. It made transfer gains of 1,117, but lost an incredible 29,449 transfer losses in the .com extension alone. These stats are expected to be a lot worse when the next ICANN report is released, given Epik hasn't successfully registered a .com domain name for many weeks.
A Namepros veteran commented on the stats saying "The problem for Epik is that it is being hit on two sides with the new registrations falling, and the increased transfer losses. It is relying on renewals as its main revenue stream at the moment. Mature registrars make most of their money from renewals. The transfer losses are the real problem for Epik. While some of these may have been sales transferring out to other registrars, the bulk appear to be registrants protecting their domain names. With new registrations dropping, transfer losses increasing and fewer transfer gains, Epik has some serious problems."
Another user commented "I expect a significant increase in the decline over the next couple of reporting periods, given that a lot of people who were 'giving them a chance to sort out the mess' will have finally given up hope".
This comes after Epik CEO Brian Royce said domainers weren't Epik's main customers in one of a number of bizarre tweets on Twitter. His conduct has been called into question a number of times recently, after calling a customer an "asshole", and offering to pay only half Kathleen Kalaf's stolen money back. The suit against Epik continues.
Last Updated: May 3, 2023