How do you sell an old technology while making it seem new? You give it a new "angle". To liven up their air cooling range making something "yours" is just the angle Cooler Master wants to take their new air cooler, the MasterAir Maker 8.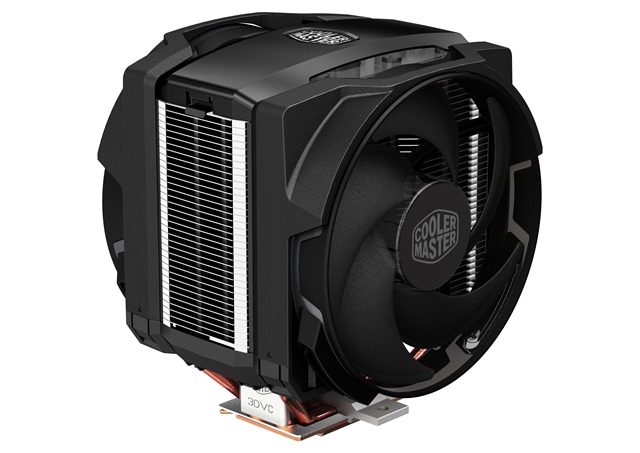 All-in-one water cooling is still going through it's in "vogue" phase, but that doesn't mean good old fashioned high-end air cooling is still not capable, or so Cooler Master would have you believe. To keep up with those liquid cooled rads Cooler Master have used a few tricks of the cooling trade to keep your temperatures below panic stations. One of the ways they do this is to employ 3D Vapour Chamber technology, which ironically enough uses a form of liquid to help with cooling.
After combining Horizontal Vapour Chambers with native heatpipes, the usual copper base has been replaced with a coolant filled Vapour Chamber(VC). When the VC is heated the coolant transforms from a liquid to a gas to transport heat away, then it turns back into a liquid. This is all pretty much similar to other Vapour Chamber designs, much like how NVIDIA use it on their high end graphics cards. A total of 8 heatpipes (four merged into the base) conducts heat away from the horizontal base while the massive heatsink also helps to dissipate heat.
Since your CPU is cooled with over 250W of TDP cooling capacity, it should increase the stability of your overclocking while extending component life. Although it sounds good the only way a CPU would ever have need of 250W of cooling, you know that a LN2 pot will be involved, not an air cooler. Regardless, over-engineering for the win, and it's always good to know your overclock is well cooled.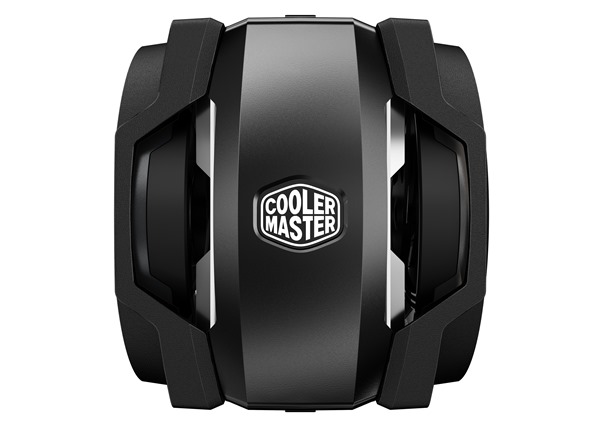 Flanking either side of the towering metal behemoth are two Silencio FP fans, which include Cooler Master's exclusive Silent Driver IC technology, which basically reduces PWM switching sound and reduces sound and lowers its power footprint. The total noise from the fans is a slow 8-24dBa, basically making you able to game in a library without anyone noticing. Apparently the self-lubricating fans have a dustproof design and will outlast your system. The MasterAir Maker 8 also supports both 140mm and 120mm fans that can be adjusted and removed or replaced thanks to a special fan design.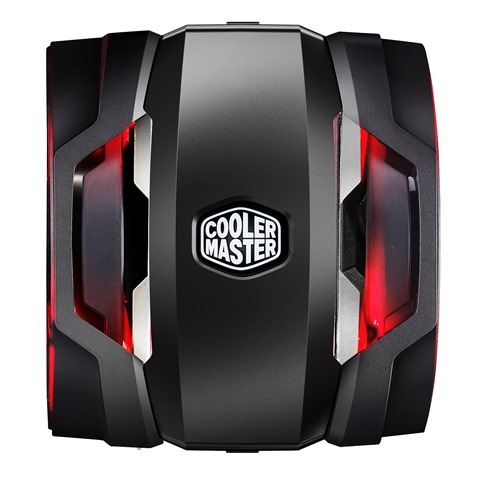 As part of the Maker series of goods, Cooler Master have given you  two choices for aesthetically pleasing final touch to your cooler–an interchangeable top cover. A translucent plate that allows the cooler to glow in a cool red LED, or an aluminium plate for a sleek and stylish finish, or simply coverless for that original tower heatsink aggressive look. Not content to just give 3 styles, Cooler Master have also made the dimensions and schematics for the top cover and fan bracket so that makers can create or design 3D prints or images to be used on the top cover. A Clan member with their Clan tag or simply something geek worthy to make it yours.
The thing about making it yours is that it often costs a lot more to be unique—and the MasterAir Maker 8 is sadly no different. Coming in at around R2100–R2200, the price is rubbing shoulders with the high end 240mm all-in-one water cooling products. Sure, this probably has enough cooling chops to be a pretty effective passive cooler as well, but the people who would most likely spend this much on a cooler are most likely those overclocking. So having 3D printing and alternate top covers might become secondary features when purchasing something meant to keep things cooler in temps, not only cooler in looks.
I find favour in the MasterAir Maker concept and the nostalgia of massive towering air coolers that it resembles, but the pricing just does not gel well unless it has the cooling chops to make it actually better or at least par to already good looking all-in-one water cooling options in the market. That being said, people who don't want to rely on a pump and electronic destroying liquid circulating in their computer, this surely will work wonders.
Last Updated: July 8, 2016