The trouble that Epik as a company has been going through has been very well documented in recent months, after it was found that Epik spent customer's Escrow funds running into the millions of dollars. In an email to one of these unfortunate customers whose funds have been spent by Epik, it was revealed by the current CEO Brian Royce that former CEO Rob Monster has to "repay the debt he owes the company", and the customer was warned that further negative coverage he made public could "force Epik into bankruptcy, resulting in a massive suit against Rob". Multiple customers have also filed complaints and a case against Monster is underway.
One can only speculate as to what Rob Monster did with Epik customer's funds, but one possibility was that the funds from Epik customers were invested into various cryptocurrencies, after which the value of these investments plummeted, due to the fall in Bitcoin values. Speculation that this was the case was raised when some part-payments to Epik customers were made using Bitcoin and other cryptocurrencies, which coincided with slight rises in Bitcoin value. There is also the possibility that these cryptocurrencies are still being held by Epik, and they are waiting for the price of Bitcoin to rise in order to repay their indebted customers.
When asked about whether Epik was holding cryptocurrencies and waiting for their value to increase, Brian Royce said "No bitcoin is being held at Epik. Rob Monster had a private wallet that was never turned over to the new CEO, later the new CEO also found out that Rob Monster had a Private wallet on his laptop and a Binance account that was also never disclosed". He failed to confirm whether Epik held other cryptocurrencies such as Ethereum, which some customers have been paid with. The revelation that Monster had substantial sums in crypto wallets adds weight to the possibility that Monster used Epik customer's funds to invest in the crypto markets.
In a swipe to previous CEO Rob Monster, Brian Royce said "I was put in charge to fix the company and get the customer paid. Yes – I am here to fix it; yes, we have not been paying out Masterbucks clients as fast as I would like that is because of the depth of issues the previous CEO created."
When questioned as to why he was threatening Epik customers, he said "I have NEVER threatened any customer ever, and I would not. That is an outright lie. Customers are free to do what they need to do".
This claim could be disputed, as Mr Royce threatened an Epik customer who said he would publish the video calls he had with Rob Monster and Brian Royce, with Brian Royce saying that Epik "will offset its costs and damages against your account balance" to the customer (see screenshot below) if he did go ahead and publish the video calls.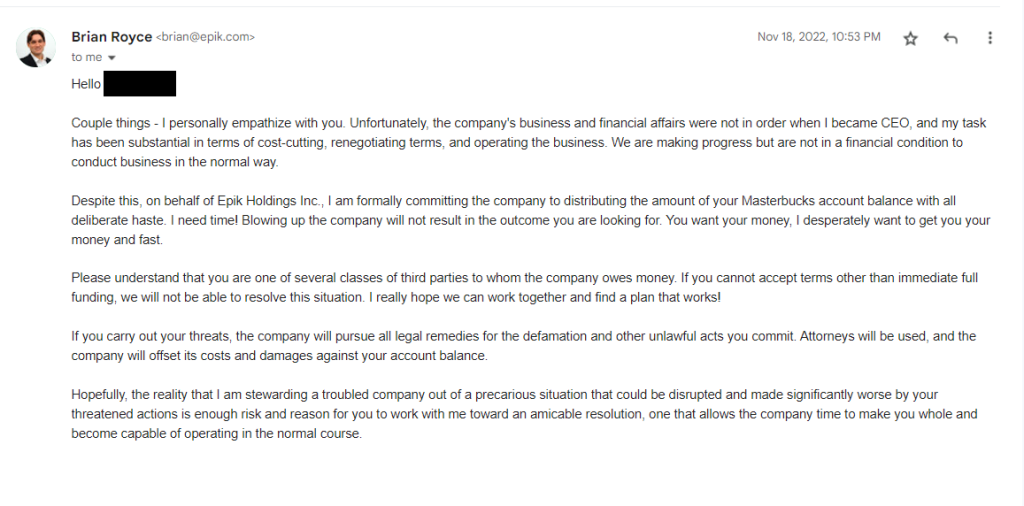 Again, Brian Royce denied threatening legal action against Epik customers, despite his email shown above on the 18th November. He later said to the same customer "I have never once threatened legal action against a customer. How could I? That is entirely wrong, and not once have I ever threatened customers. They have every right to complain, post, or whatever; the previous CEO has wronged many customers. To be clear, I am doing much better than he ever did. I don't believe you are a fool, and I am sure you know CEOs don't get removed because they are doing a great job… Think about that. As for our customers, they have every right to take whatever action they want; I never have and would never threaten a customer when Rob's Epik was clearly in the wrong. I have fixed many issues and am working daily to get you and all of the other clients paid.
"You know you are not helping the situation".
"If you continue, ultimately, it will force Epik into bankruptcy, resulting in a massive suit against Rob. I am not able to go into any further detail".
"Again, I was put in as CEO to fix Epik and pay back the poorly handled customers. I am doing everything I can. How many times can I explain this to you?"

Some clues as to the number of Epik customers still to be repaid was slipped by Lars Skaarup, the Chief Operating Officer of Epik, when he sent a screenshot of his admin panel to a customer, with the sidebar showing 109 withdrawal requests.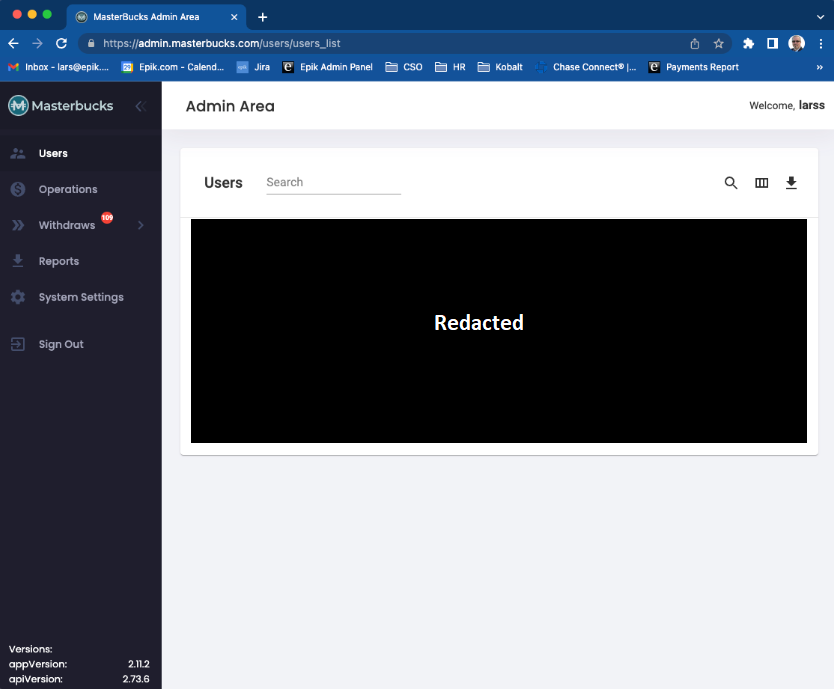 One can only speculate as to the debt still owed to Epik customer's, but it appears even the senior staff of Epik don't know. In an email to an Epik customer, Lars Skarrup thought a customer was owed $2,976.92, when in fact the customer had "instore credit" which couldn't be withdrawn of $38,344.50, meaning the customer was in fact owed over $40,000. In reply to the customer's request to get their money back, Lars Skaarup said that the customer's "antagonistic behavior does not correspond with a need for a $2,976.92 payout".
The frustration of the customer boiled over, who then demanded that Epik return his money that Epik "stole" from him. In response, Brian Royce CEO said "Rob stole my team repays and does the right thing".

Whether they do in fact do the right thing, remains to be seen.
Last Updated: July 21, 2023