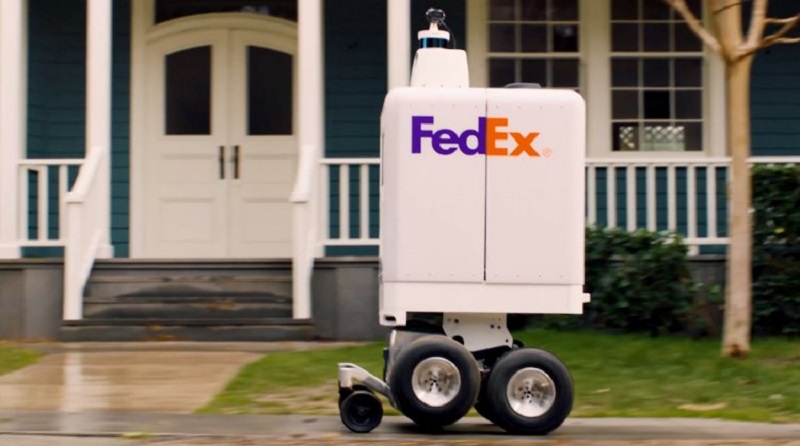 Amazon may be dominating the US home delivery market at the expense of FedEx, but it appears FedEx is up for the challenge of hi-tech delivery as the company recently unveiled a new robot of their own that can assist with automated, short-range deliveries.
Their new creation, the SameDay Bot, is a battery-powered autonomous robot that uses a combination of LIDAR sensor like those found on self-driving cars and AI to navigate through a city and avoid pedestrians and traffic to deliver packages to customers within the vicinity of a distribution centre. The SameDay Bot can reportedly travel at a maximum speed of 16kph.
FedEx (as reported in The Verge) is apparently going to trial the usage of the robot from its headquarters in Memphis (pending local government approval) with the hope of rolling it out to other centres around the country. The company is also in talks with firms including AutoZone, Lowe's, Pizza Hut, Target, Walgreens, and Walmart to assess their need for this sort of robot delivery and potentially open up their technology to them as well.
Outside of Amazon and FedEx, there are a number of companies experimenting with these technologies, which is expected to shape not just the future of the distribution market, but also the potential look of our cities as robots wonder the streets in conjunction with humans.
There are still no local companies that I am aware of that are trying to play with this technology, but I can definitely see a lot of benefit locally for a system such as this. Whether South African will be as warm to having robots roam around their cities though is another thing entirely. Not to mention our robots will need to be built with self-defence and anti-theft mechanisms in place to actually be effective. In fact, it wouldn't surprise me if we one day see a robotic company up for trial for the murder of some unsuspecting pedestrian deemed as a threat.
Last Updated: March 1, 2019