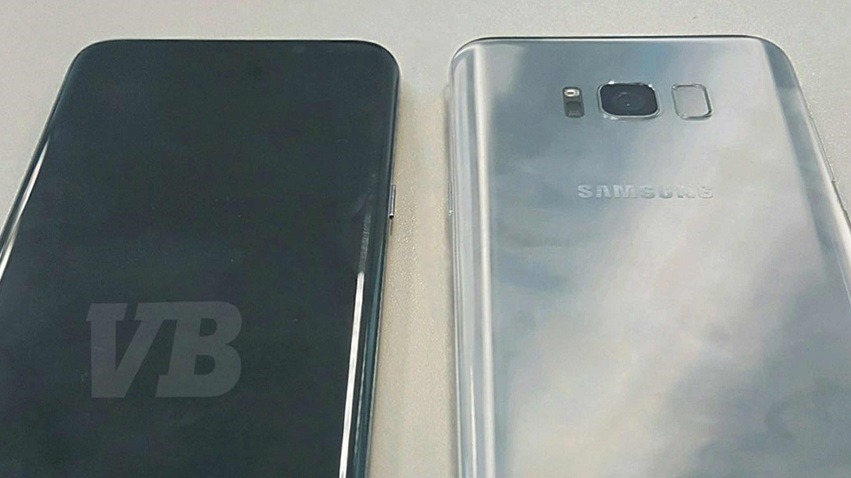 Samsung hit a massive pothole in their relatively smooth stride of annual smartphone releases last year. The Note 7 was an unmitigated disaster, with the handset suffering issues with its battery and subsequently igniting and sometimes exploding on users. Samsung were forced to scrap the product entirely, which damaged their forecasts and image in a way that no one could've predicted. The Galaxy S8 then has a lot riding on it, and the first look at the device doesn't disappoint.
A new report by ways of Venture Beat (via The Verge) gives us our first glimpse of the device, which Samsung will reportedly reveal at the end of March. There are some significant changes to the S8, most notably the lack of any physical or touch sensitive Home and Back buttons on the front face. Instead, you're greeted with a full, curved glass display which seems to stretch edge to edge – and at face value it's a little hard to distinguish it from an iPhone 7.
This is the Samsung Galaxy S8, launching March 29 https://t.co/lQZ0K0q2MA pic.twitter.com/dlusRMX4YH

— Evan Blass (@evleaks) 26 January 2017
That changes when you look down a little, where Samsung have managed to cram in a USB-C port for charging and keep the headphone jack that Apple so "boldly" took away. Turning to the back, some slight changes have rearranged where you might expect to find the fingerprint scanner, but otherwise the report makes it clear that everything here is as it should be. Some slight refinements to the camera will keep it on pace with the competition, but Venture Beat states that more software enhancements are being prioritised over raw hardware advances.
Software will also play a key role with the S8, as Samsung introduces what they claim is a more responsive, smart assistant when compared to Siri and Google Assistant. Named Bixby, this digital assistant is said to be able to handle more complex commands and even features a dedicated button on the side of the device to call up. Whether it's close to some of the amazing work Google did with their Assistant on the Pixel will be interesting to see.
As for specifications, here's the full rundown of what is known (and likely to stick):
Display: 5.8-inch or 6.2-inch QHD AMOLED display
Cameras: 12-megapixel f/1.7 rear camera, 8-megapixel f/1.7 front
Processor: Snapdragon 835 or Samsung Exynos (varies by market)
Storage: 64GB with microSD expansion
Memory: 4GB
Battery: 3000mAh (5.8-inch model) or 3500mAh (6.2-inch model)
Other: Headphone jack, USB Type-C, water resistance
Samsung is aiming to launch the S8 on April 21st according to the report – just a month after revealing it. Just don't expect anything on the S8 at the upcoming Mobile World Congress in Barcelona.
Last Updated: January 27, 2017