How to Rip Music from Spotify to MP3 (3 Methods) 
More and more users are likely to find a way to rip music from Spotify to MP3, in order to get rid of the streaming restrictions and store Spotify downloads offline as long as they wish, even without renewing Spotify subscription someday.
Therefore, this post will mainly focus on offering you several 100% working ways to rip Spotify protection and convert Spotify to MP3 on all devices. Now, scroll down and dive into reading!
How to Rip Spotify Music to MP3 Losslessly
If you are an audiophile and have high demands for music audio quality, try a professional tool. TuneFab Spotify Music Converter is an expert in dealing with Spotify DRM protection ripping. It performs advanced functions to bypass encryption and decode the streaming resources to convert them to regular audio files of popular formats like MP3.
When the program directly embeds the official Spotify music player, it ensures great stability and a high success rate in processing Spotify music conversion, as you only need to drag and drop the songs to download, replacing the traditional copy-and-paste method (which needs to synchronize with Spotify app in advance, easily leading to conversion failure). TuneFab Spotify Music Converter supports grabbing all sorts of music content, including Spotify songs, playlists, albums, and podcast episodes even without a Spotify Premium account needed. Meanwhile, it will retain full music quality and ensure lossless playback offline for you.
TuneFab Spotify Music Converter is also embedded with smart hardware acceleration techniques, ensuring the most efficient speed at 35X faster to batch Spotify playlists download. To download a 3-minute-long Spotify song, it will only take several seconds (at 1/35 of the duration), greatly facilitating the music download efficiency!
Now, also walk through the manipulation guide below and master how simple it would be to rip Spotify to MP3 with TuneFab Spotify Music Converter on a desktop:
Step 1. Log in TuneFab Spotify Music Player
Complete the program installation on the desktop first. Subsequently, run TuneFab Spotify Music Converter and click on the Open the Spotify web player button on the startup screen. When you enter the embedded Spotify music player, please complete the login using your Spotify credentials.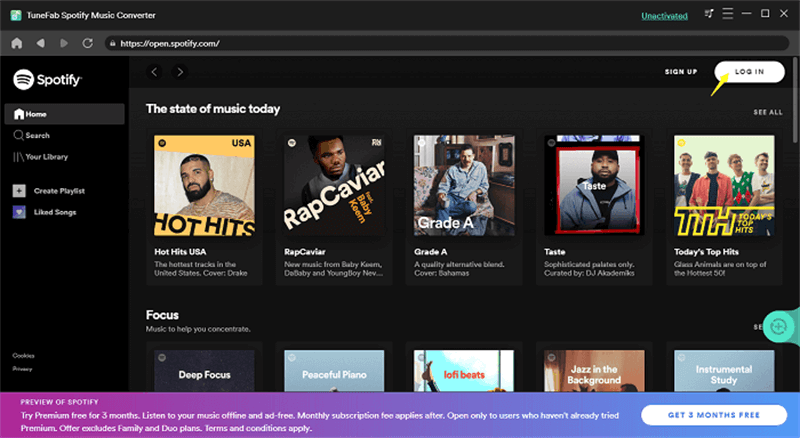 Step 2. Add Spotify Songs
Next, please use the search function provided in the music player to browse your favorite Spotify tracks or playlists, and even podcasts wishing to rip as local MP3 files. Simply drag and drop them to the Add button, and the program will initiate the resolving process and add them to the music converting list.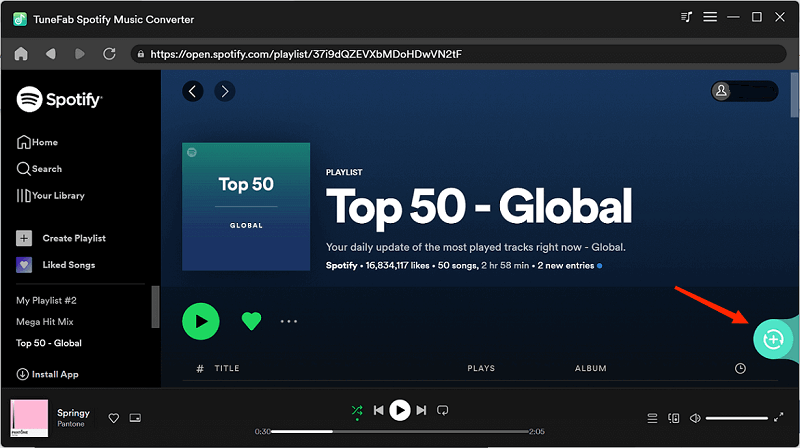 Step 3. Configure Parameters to Rip Spotify 
Once you add all Spotify songs or podcasts you wish to rip off the platform, please turn to Menu >> Preferences to further customize the output settings. You can directly select MP3 as the output format. In addition, both SampleRate and Bitrate can be adjusted to ensure decent music quality (see Adobe) to export Spotify downloads in your preferences.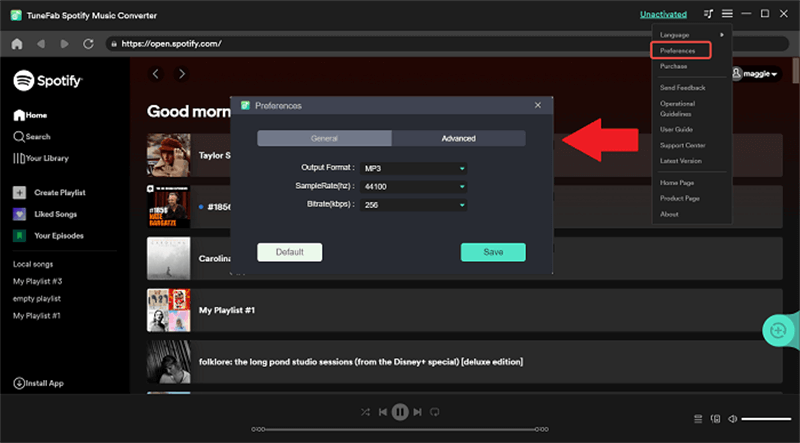 Step 4. Rip Music from Spotify to MP3
Eventually, please click on the Convert All button to process Spotify music ripping. It only takes a short while to complete the DRM removal. Once complete, you can get the DRM-free ripped MP3 files under the Finished module by clicking on the View Output File button.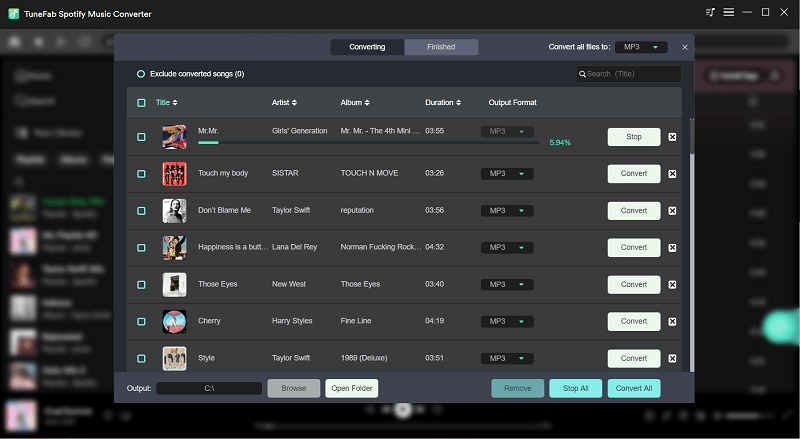 How to Rip Music from Spotify Online
TuneFab Spotify Music Converter requires software installation, if you prefer ripping music directly with your browser, try another Spotify ripper – Spotify Downloader. It is a web-based service, that only requires a web browser to access. Simply by pasting the Spotify song URL into its downloading bar, the online tool will initiate the conversion and bring a download button to help you save the track offline. More importantly, it is completely free to use! Next, please also walk through the procedures to rip music from Spotify to MP3 using Spotify Downloader online:
Step 1. First, get Spotify Downloader ready in the web browser. Then you can go to Spotify and prepare the link of the Spotify song or playlist you wish to rip as MP3 (shows, podcasts and artist pages are not supported to be phrased using this tool).
Step 2. Subsequently, paste the link of Spotify content to the downloading bar provided on Spotify Downloader. By clicking on the Submit button, the URL resolving process will begin.
Step 3. Once complete, Spotify Downloader will prepare the converted file for you to download offline. For a single Spotify track, you can directly download it as an MP3 file. But for a Spotify playlist, the downloader will compress them into a Zip file to let you download at once.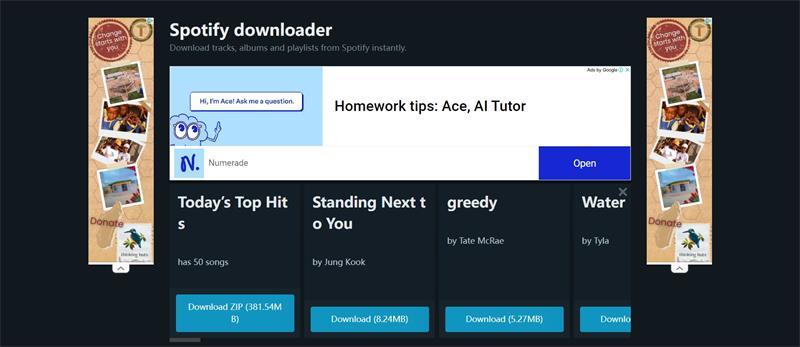 However, please pay attention that the music download is not 100% successful. When Spotify Downloader fails to fetch data, the conversion will fail and you can't complete Spotify ripping to MP3. For a stabler converter without ripping failures, TuneFab Spotify Music Converter is a better option.
How to Rip Spotify Music Using a Recorder
Despite using some Spotify rippers to rip Spotify music to MP3, recording is also a nice idea to save Spotify tracks as MP3 audio clips. Audacity offers entirely free recording functions, allowing you to capture Spotify sound through a computer system, and save the recorded tracks as local MP3 files. In addition, Audacity is equipped with a built-in editing toolkit, allowing you to further customize the recording Spotify tracks in your preferences.
The following guide will also lead you to rip music from Spotify to MP3 with the help of Audacity for free:
Step 1. First, get Audacity and VB-Audio Virtual Cable installed on your computer.
Step 2. Turn to Windows Sound Settings >> Playback Device to select CABLE Input (VB-Audio Virtual Cable) as the source to output the sound.

Step 3. In Audacity, go to Edit >> Preferenced >> Devices to customize CABLE Input (VB-Audio Virtual Cable) as the recording device.
Step 4. Now, play the Spotify track you wish to rip as MP3. Meanwhile, proceed with the recording by tapping the Record button in Audacity.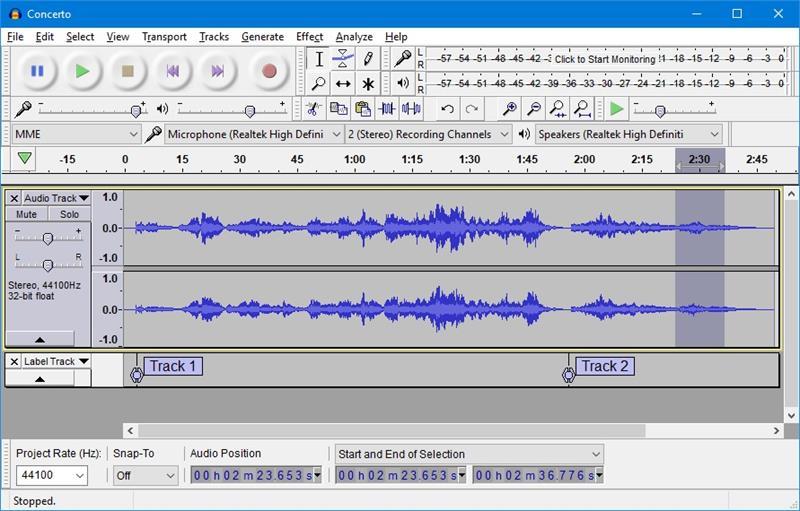 Step 5. Once the playback ends, stop the recording and export it as MP3 file on your computer.
Final Words
Overall, when online Spotify rippers perform less stably, and the recording method can be too time-wasting, selecting TuneFab Spotify Music Converter can be the most efficient and reliable way to rip music from Spotify to MP3 in lossless quality (read about this). Now, try the program for free with its provided free trial plan!
Last Updated: November 21, 2023