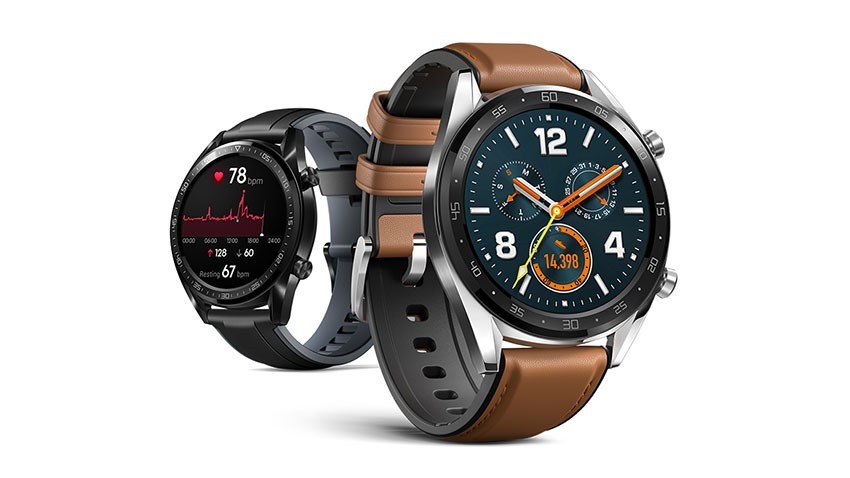 Huawei didn't just reveal its new line of Mate 20 phones last night. The Chinese company also opted to show off its new wearables, including a new Smartwatch and fitness tracker. That watch is the Huawei Watch GT – and though it looks like a Smartwtach, it's not really. It's something more akin to a semi-smart watch because it's ditched the customisable OS. Instead of running on Google's Wear OS, Huawei opted to implements its own trimmed down operating system.
The result is a device that's more fitness tracker than smartwatch, but that's a good thing because it's mean that the GT can get up to 30 days of use without needing a charge. The GT features a 1.39-inch 454×254 AMOLED high-resolution display with a diamond-like carbon coating to make it scratch resistant. The watch itself is made of steel, with the bezel made of glass and ceramic.
Running on Huawei's own LiteOS, the GT is extremely power efficient, with two processors running for different tasks. A very low-powered one runs everyday tasks and the watch itself, while it switches into a higher gear for more stressful computation. One thing that sets the GT apart is that it has continuous, per-second heart-rate monitoring, which not even the Apple Watch 4 can claim. Even with this feature on, Huawei claims that users can get two weeks of battery life with 90 minutes of exercise a week, and sleep tracking. With just heart rate tracking and notifications on, users can get up to a month of use. If, for whatever reason, you want the screen and GPS on constantly, you'll get 22 hours of use. It'll also feature training programs to help increase fitness. In truth, it sounds like a much nicer version of the watch I currently use (and still love); Xiaomi's Amazfit Pace.
What you don't get though is the ability to install apps, which really makes the Apple Watch 4 the only viable "smart" watch to earn that label. Personally, I'm okay with that – and I'd much rather have a device that doesn't need to be charged every other day. The HUAWEI WATCH GT Sport edition will retail for €199, while the HUAWEI WATCH Classic edition will sell for €249. We don't know if they'll be available in South Africa yet, but we'll find out at Huawei's event next week.
Last Updated: October 17, 2018