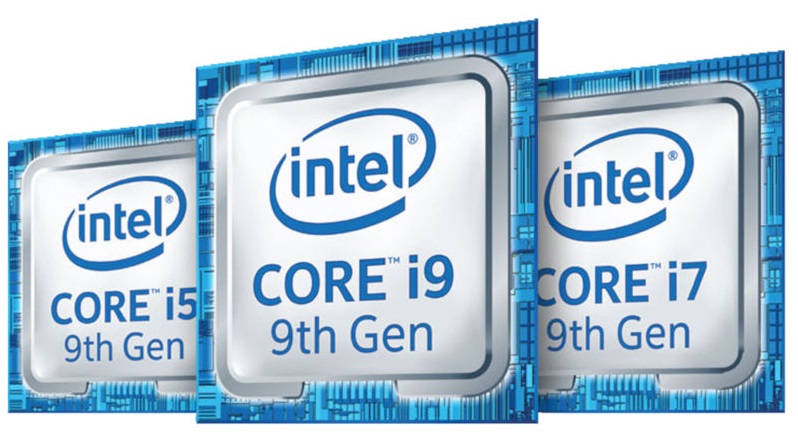 There was a time when the only thing that mattered in CPU development was speed. You wanted your chip to push the boundaries of GHz (or MHz when I was in school) and that was the only metric that mattered. Since then, however, companies realised that it was becoming increasingly difficult and more dangerous to push for these ridiculous clock speeds on computers and instead found ways of increasing performance by improving the onboard cache memory on a CPU or more importantly, add more cores for concurrent processing.
Still, there is something sexy about things going faster and that is what Intel has planned for its new 9th Generation processors with a new H-series that will have the ability to clock up a turbo speed of 5GHz. A speed which is ridiculously quick and once thought unattainable due to the heat generated and power required to make it happen. The focus of these new H series chipsets is ultimately gaming and sees them available across Core i5, i7, and i9 versions, but drawing power of 45W as opposed to the regular 15W of their current chipsets.
The star of the new chips though is clearly the Core i9-9980HK, which can clock at a remarkable rate of 5GHz. It's also unlocked, which means that it can be overclocked for even more speed. Like prior Core i9 chips, the 9980HK has eight cores and 16 threads and comes with 16MB of cache. In addition, the new chips support Intel's latest Wi-Fi 6 networking cards, which can hit speeds of 2.4 Gbps.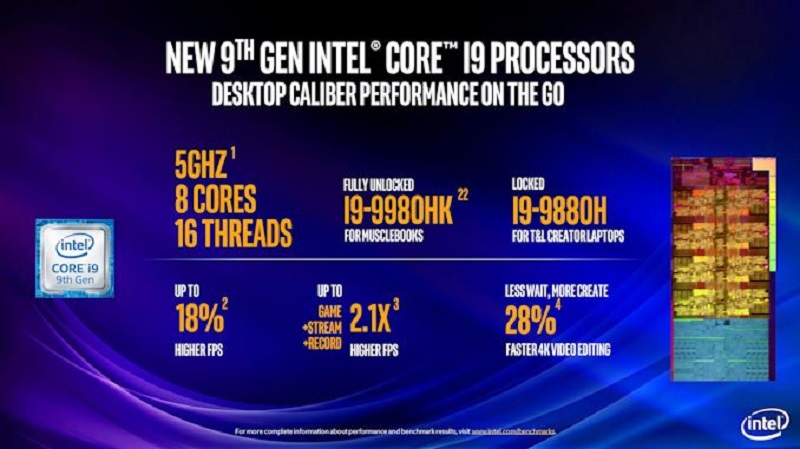 If none of these numbers make any sense to you, just think of these chips as being a Bugatti Veyron that turns your 3-year old top-end gen chip into more of a Citi Golf. Intel claims (via The Verge) that the new processors will provide up to "54 percent faster 4K video editing and a 56 percent improvement in gameplay compared to a three-year-old computer". And remember, this is a laptop processor, with Intel also expanding its range of desktop processors across the board which will see massive performance improvements combined with a range of cheaper processors that still provide decent performance.
The new chips are available in machines from Acer, Asus, Dell, HP, Razer, Lenovo, and MSI starting today. Intel doesn't go on to reveal a price for these bad boys, but no doubt, this kind of performance won't come cheap and if you do want a laptop or machine with this latest processing power, you're going to likely need to sell a few of your organs in the interim or wait a few years before the pricing gets to normal people affordability levels.
Last Updated: April 24, 2019