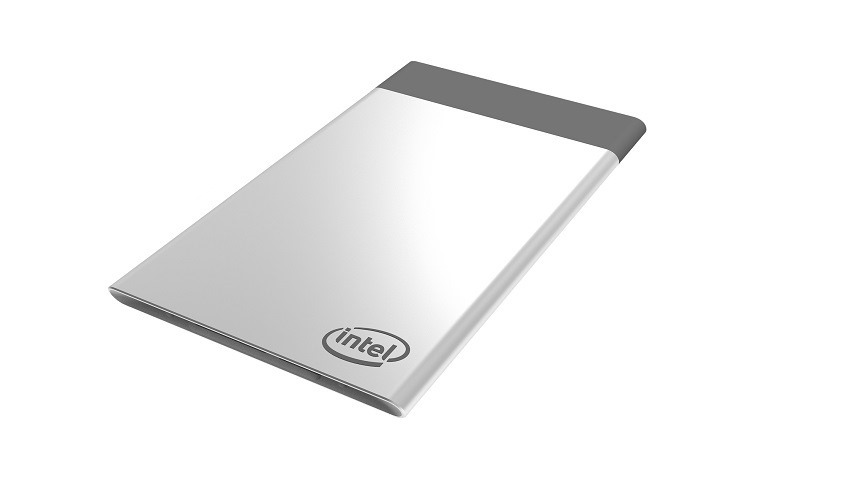 Technology is advancing at a blistering pace, and as a result, it's pretty easy for your shiny new tech of today to look a little less impressive tomorrow. Advances in processing and computing make devices obsolete pretty quickly, which is a problem when everything is being injected with some smart functionality. You wouldn't want to replace your all-in-one PC two years after purchase, nor would you want to get a new fridge because its brain just isn't ticking the way it used to. Intel's Compute Card is attempting to solve those problems.
Shown off again at Computex, the Intel Compute Card is essentially what the name implies. Intel has managed to squeeze a fully functioning PC into the space that a credit card sized power bank usually occupies, with the device interfacing over USB-C to slot into a number of devices. Intel showed off laptop shells, smart appliances, and large all-in-one monitor setups that simply required the card to operate. Slide it in, and you're good to go with a fully functioning, Windows-powered device, albeit with some slight drawbacks.
Given the size, Intel's Compute Cards aren't meant to set your world on fire when it comes to performance. But for the uses Intel is envisioning – Chromebooks, smart TVs and slower all-in-ones – they more than fit the bill. They start with anything from Celeron or Pentium processors with 4GB of RAM and 64GB of storage and scale up to m5 and m5 processors with 128GB of storages. Intel expects the cards to cost anywhere between $140 and $450 depending on your specifications, which is a lot lower than you might expect from an electronic marvel of this size.
Still, it needs adoption, and that's where Intel might face the biggest hurdles. Manufacturers like Dell, Asus, MSI and more will need to get onboard with this new standard, but the idea of it all is promising. Intel expects each card to last as long as 10 years, but if all it takes is simply popping out the old one and replacing it, it's an enticing offer for nearly every type of consumer.
Last Updated: June 2, 2017