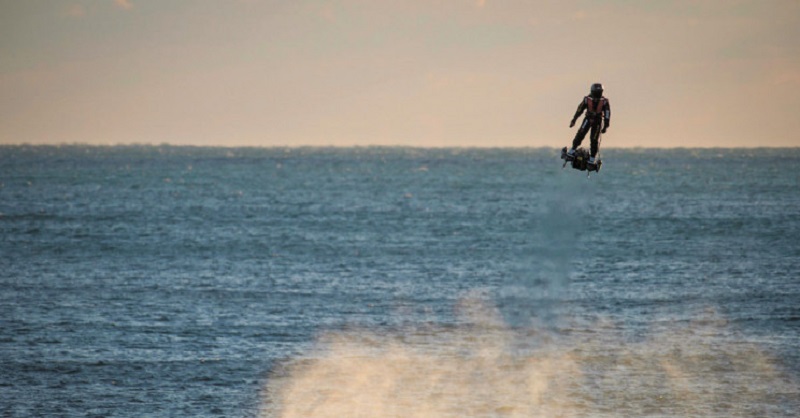 One of life's biggest disappointments for me is that one of my childhood dreams of flying a hoverboard (thanks Back to the Future part II!) has not become a reality. And while I was expecting us to have mastered the technology by now, it is comforting to know that we are at least making some progress with the technology.
So much so that over this past weekend a French inventor, Franky Zapata was successfully able to cross the English Channel on his own jet-powered hoverboard able the Flyboard Air a board powered by four turbojet engines that allow a rider to fly through the air untethered, using a computer to keep it stabilized. Zapata departed from Sangatte, France and arrived in Dover, England 22 minutes later, reaching speeds of up to 170 kilometres per hour during the near 36-kilometre trip. This was the second attempt after failing to cross the English Channel in late July.
It's an important milestone for the development of hover-craft style devices as it shows that the technology has the potential for both short-distance and long-distance transportation, though according to The Guardian, this trip wasn't a continuous one as Zapata only carried a 10-minute supply of fuel on his back and had to make a stop half-way to refuel and continue.
Zapata Is proving to be one of the foremost inventors in this field ever since he invented the FlyBoard back in 2011. The first FlyBoard was a water-powered device which led to the later creation of the Air which he used on this journey. Since then the inventor has broken many records in this space and continues to look for ways of commercialising this technology, which has so far shown the greatest investment from the defence industry.
While military investment is inevitable, all I want is to see this technology minimised to the size of skateboard so I can finally live my dream of riding (and subsequently falling off) a hoverboard.
Last Updated: August 5, 2019