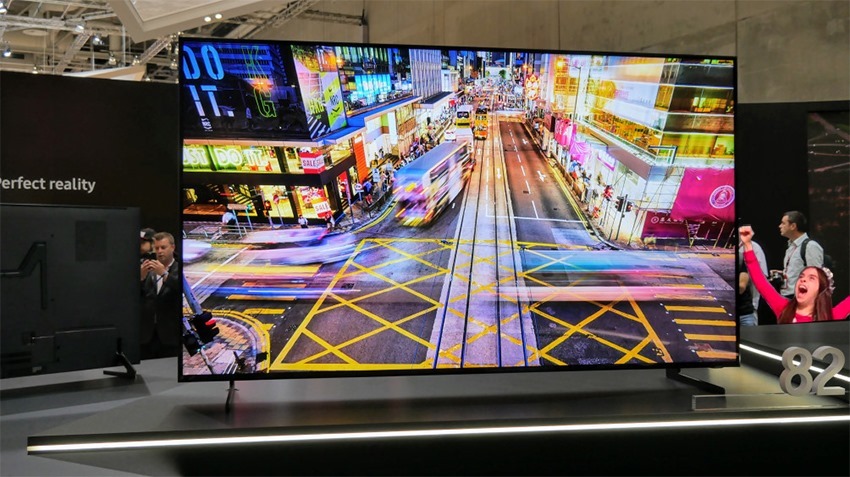 I think it's quite safe to say that society as a whole hasn't quite yet embraced 4K. Most consumers are still happy enough with good old 1080p content, not quite willing to shell out the big bucks just yet to play games and watch media in delicious super high resolution. TV manufacturers, however, are already starting to push even higher resolutions – with both LG and Samsung trying to temp customers over to 8K.
They can't however, seem to agree on what exactly constitutes 8K. As a standard, it's about more than just the base resolution of 7680×4320 – which both Korean firms are adhering to. Instead, LG says that one of big feature that makes 8K important is contrast modulation, and by their measure, Samsung has no right even calling their tech 8K.
"Simply counting pixels fails to capture other important elements of modern display quality, including the resolution the viewer actually sees. Resolution is often confused with horizontal pixel count such 3840 pixels (4K) and 7680 pixels (8K). What's certain is that a poorly designed display will have lower display quality (i.e. image or text blurriness) even with a high pixel count if adjacent pixels are not clearly distinguishable from one another," LG said in an announcement that was quite obviously directly taking jabs at Samsung.
According to the International Committee for Display Metrology (ICDM), CM values should be 50% or higher, and Samsung's 8K display's don't quite reach that.
Samsung did its own tests, and found their displays had picture quality than LG's OLED and NanoCell TVs, which have a CM in the 90 percent range.
"With the appearance of displays with new technologies —especially 8K—CM no longer represents the overall picture quality," says Yong Seok-woo, vice president at Samsung's visual display business. "Brightness, color volume, and other optical factors and processing technologies should be considered."
LG meanwhile, says that sets that don't strictly adhere to the standard are "subpar"
"As the competition within the TV industry intensifies, in order to lead the 8K market, we believe it is important to not just expand the number of models but offer something that meets global standards," said Nam Ho-jun, senior vice president at LG's Home Entertainment Research and Development Laboratory. "Otherwise, it will be the consumers who are put at risk by being misled to purchase subpar products thinking they are the best available."
Anyway, you may want to hold out on buying an 8K set (if you can afford one) until people settle on a standard. Funnily, I think industry pushing for new tech so soon means that fewer people are likely to jump into 4K, making the whole thing a bit of an own goal.
Last Updated: September 18, 2019