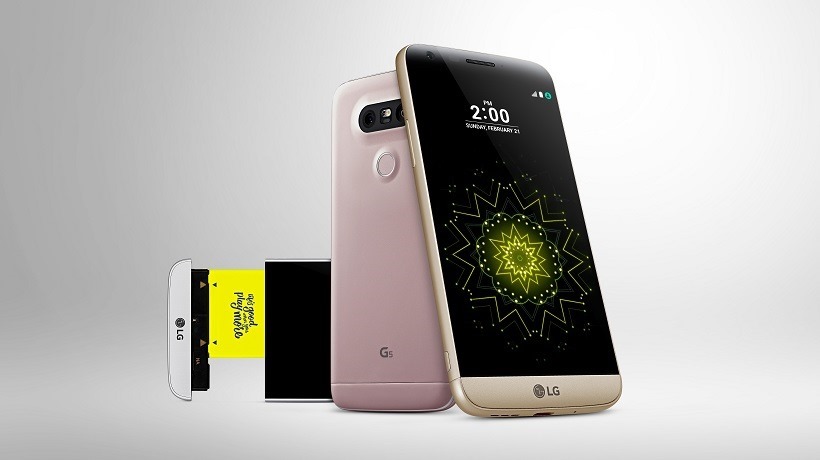 Modularity isn't such a big thing in the smartphone market yet, with a handful of third-party innovators taking a crack at a piece that just as easily (intentionally!) comes apart as it does fit in your pocket. The future promises smartphones that allow you to rip them apart and build them up again using parts that suit your uses, like a better camera, bigger battery or better screen. The LG G5 might not go to those lengths, but it's making a start with some of the most exciting features on a smartphone yet.
Before any of that though, there's the phone itself. LG has been making great smartphones for years now, and the G5 is a little bit of a departure from the two previous styles before it. Gone is the curved screen and body, replaced now with a more standard straight cut made entirely from aluminium. It's a style reminiscent of the Nexus 6P, but with some LG staples. It retains the 2560×1440 IPS display of the G4 on a 5.3' screen, along with the rear fingerprint scanner button that seems a little more naturally placed to unlock your phone.
The camera also comes in two flavours. for more traditional shots you can rely on the 16-megapixel rear camera which comes with all the fast shutter, improved low light performance bells and whistles you'd expect. Nestled next to it is a wider, 135-degree lens that scales down to 8-megapixel but gives you a lot more room to work with. It's great for group shots and stunning views, and the choice between the two adds to the accessibility of the G5 as a whole.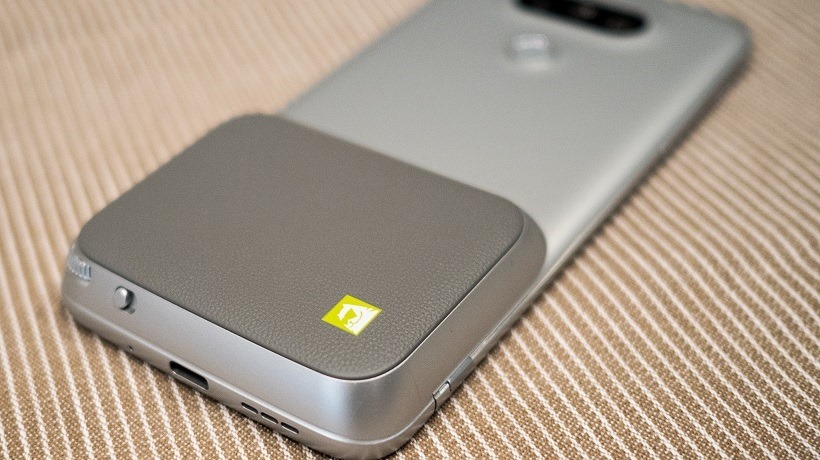 When it comes to raw numbers though, LG were rather coy. The G5 comes equipped with the latest Snapdragon 820 chipset, paired with 4GB of RAM. It's got 32GB of on-board storage with expansion options via MicroSD slots, USB-C support, a 2800 mAh battery and 900 nits of brightness. In this department it's fairly standard for a new smartphone release, but it gets a lot weirder when you really start messing with the phone.
The G5 is designed to be modular, and the first wave of accessories that LG is offering allow it to be just that. Take for example the LG Cam Plus. Rip open the bottom of the phone (which houses the battery) and you'll be able to slot in a new accessory, which adds a camera grip and additional battery power to the G5. The grip itself then has dedicated camera buttons for taking a photo, activating the flash and zooming with a dial. The textured back then makes it easier to hold the phone steadily with two hands, making the G5 a dream for avid photographers on the go.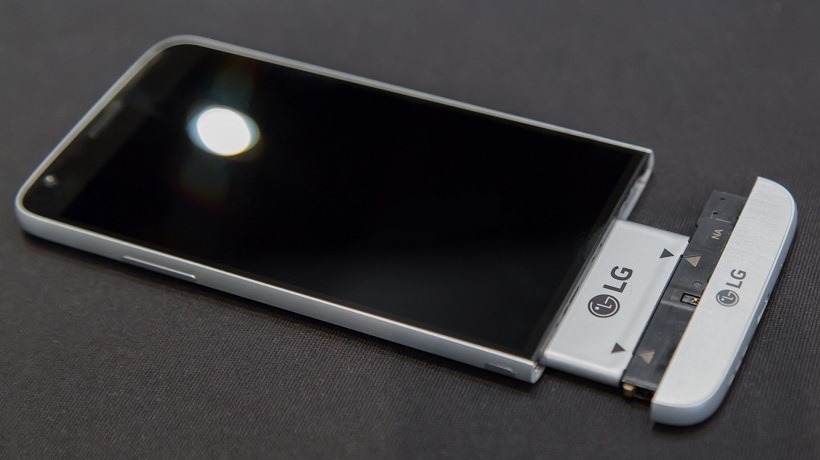 Don't like taking photos but enjoy your music? Well then the Bang and Olufsen backed LG Hi-Fi Plus attachment is where you need to look. Plug this in and the G5 instantly gets an improved 32-bit DAC and amplifier accessible via a new Auxiliary port, which will transform your favourite music into something a little more soothing for audiophile ears. These attachments are easy to use and replace, which makes them so compelling to buy into – even if LG wasn't ready to talk about how much they cost.
Outside of modular pieces, the G5 will also support new accessories like LGs 360-degree camera, and equally head turning 360-degree VR glasses (which actually look rather sleek and sexy). They're all toys for the G5, but it's clear to see what LG is trying to do. The G5 is simply the cornerstone of a wider market reach, with the modularity and customisation really opening the doors to content creators and people constantly on the move. It is, really, the most interesting Android device we've seen in years.
Last Updated: February 22, 2016