Recently my router was the unexpected recipient of a massive bolt of lightning and as such is nothing more than a Christmas decoration, and in an uncanny twist of fate I received a Press Release from Linksys that same day advertising their brand new Max Stream AC2600 MU-MIMO Gigabit Router which was apparently designed for the cord cutter market where everyone in the house is streaming some sort of video for most of the day.
Which is great since that is exactly what my house is like: I'm currently streaming Hulu while writing this and the wife is busy on Amazon Prime while the two kids are on separate YouTube streams. So I reached out to the local PR agency and requested a review unit, which promptly arrived.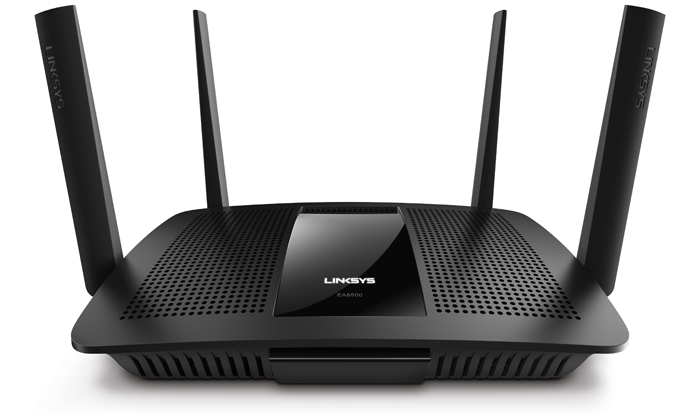 The router looks like an megalithic beast with its four antennas and sleek black design, I originally had it on my desk but it was taking up far too much real estate at 25cm x 19.5cm x 5cm, so I moved it up to the top of my bookshelf and solved that problem.
It's packed with processing power; featuring specs that would make your old PC jealous. This beastly router is powered by a 1.4GHz dual-core processor, sports of 128MB Flash storage and features 512MB of DDR3 RAM memory. It probably can play Crysis. It's got four Gigabit LAN ports, one Gigabit WAN port, one USB 3.0 port and one USB2.0/eSATA combo port that you can use for blazing fast NAS access.
Setup was predictably straight forward; I plugged in the ethernet cable from my fixed wireless internet provider and went through the setup process of giving my connection a name and assigning a password and that was it. My new Godzilla network was up and running on both the 2.4Ghz and 5Ghz spectrums  – and then I had to connect the seemingly innumerable devices around my house on to the network without any issues.
And when I say many devices I'm not kidding. My wife runs her own company from home and we are a typical millennial family; just take a look at the current network connections according to the Linksys Network Map.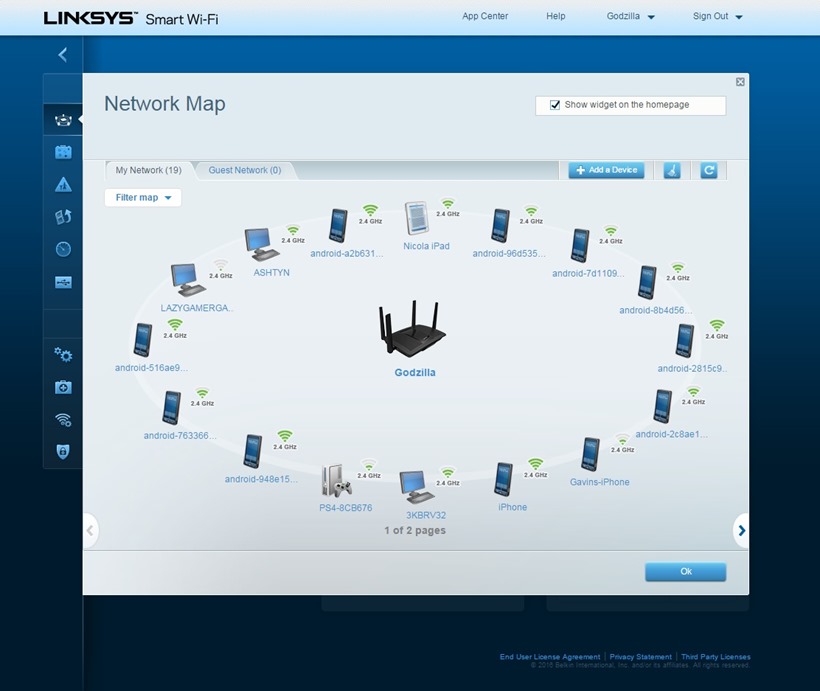 Oh and that's just page 1.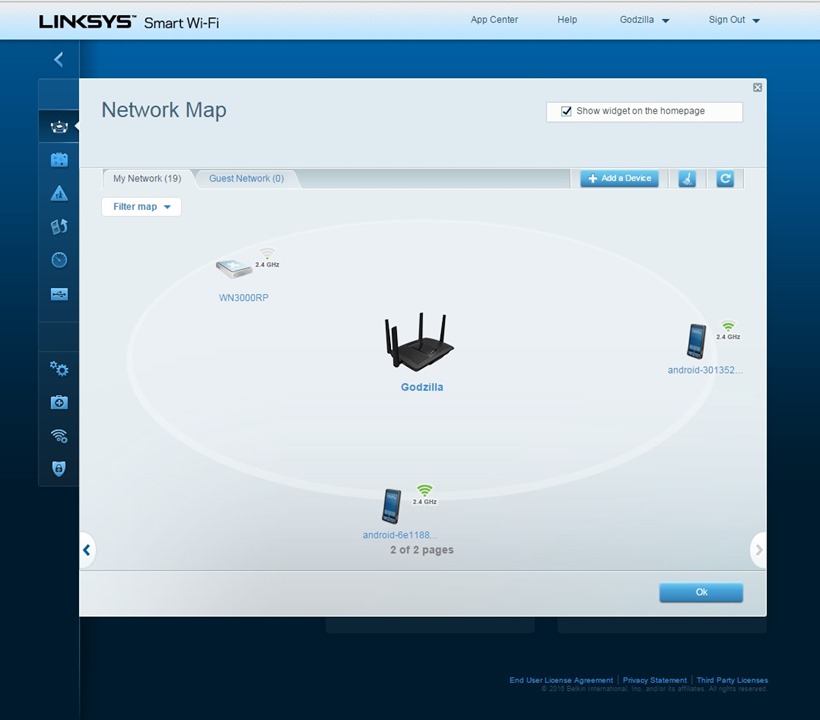 So as you can see I've had no problem connecting Android, iOS, gaming consoles, Mac computers, streaming devices and obviously the standard Windows machines. So that's that, the router works and everyone has connectivity.. 10/10 right?
Ah but that's not how it works, routers nowadays have advanced so much further than when the Internet age had only just started. The biggest things for me personally are speed, reliability and added value.
Speed
Speed was absolutely no issue with this router as copying files and streaming in network was never an issue, with lightning fast connections and no drops or slowdowns noticed. Streaming from external sources like Hulu etc was obviously different as I was then limited by the external connection.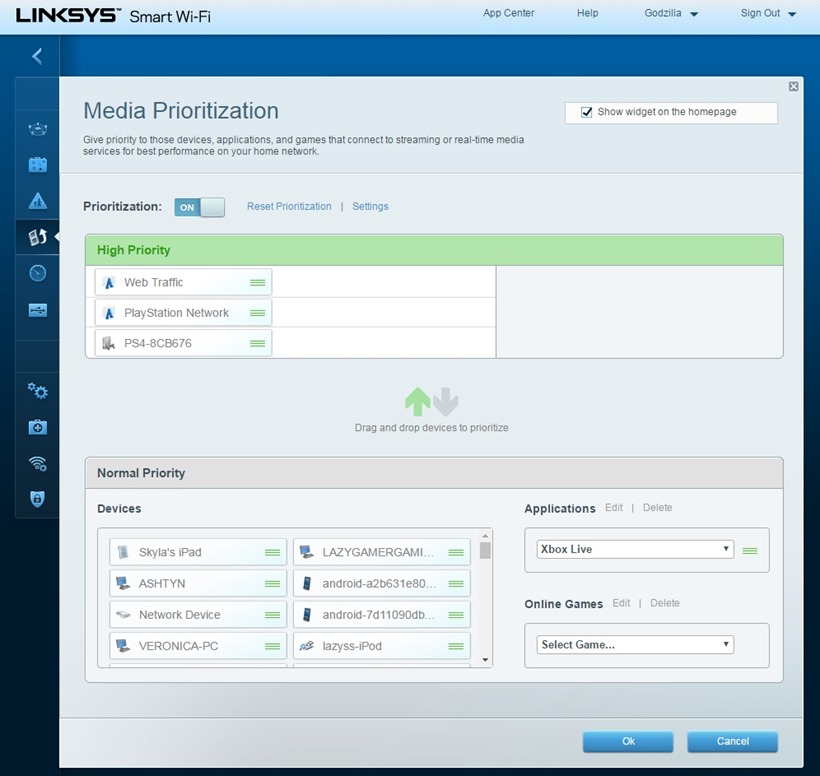 I did use the built-in Media Prioritization functionality of the router, but I have to admit I couldn't find any real difference with that turned on or off – and in reality it's just a sort of automated port forwarding. However, the streaming has worked as flawlessly as can be expected so no problems there.
There is a small issue in that WiFi performance on the 2.4Ghz spectrum is merely middling, so it's a hard router to recommend if you're only using older devices. Performance on 5GHz is exceptional though, so if you do have newer devices and plan on utilising 5Ghz, then it's worth considering. There is a slight issue worth noting; there's no deep customisation available for the protocols you can set the network to operate on. Yes, you can enable or disable 2.4Ghz and 5Hz or run both of them, but you can only set the network to work in Auto, N-only, A-only or A/N – with no option of AC only.
Reliability
Reliability is a big issue as well with the need to reboot routers on a regular basis being a real thorn in the side of tech people the world over. And unfortunately the new Linksys isn't entirely devoid of that requirement. I've had the router running for around two months now and on three occasions my wifi connection has dropped to below 1mb and I've had to reboot the router to get full speed again.
Three times in two months isn't that bad, but it is frustrating that this issue still exists and it would be so much nicer to be able to fix the issue without having to reboot. So we move on to those Added Features
Added Features
When looking for routers there are a few things that I feel are necessary these days, them being the ability to create a guest network for clients to use and parental controls to block certain sites and monitor what the children are able to do.
However Linksys has gone further than I had imagined with the addition of an iOS and Android app, enabling full remote administration, better parental controls and external drive connectivity for file storage and local streaming.
The two bits that I found myself using often were the iOS application to check and manage the connection and the advanced parental controls which I've used to aid my kids in going to bed on time.. as you can see you can filter internet access by Device –> Day –> Time.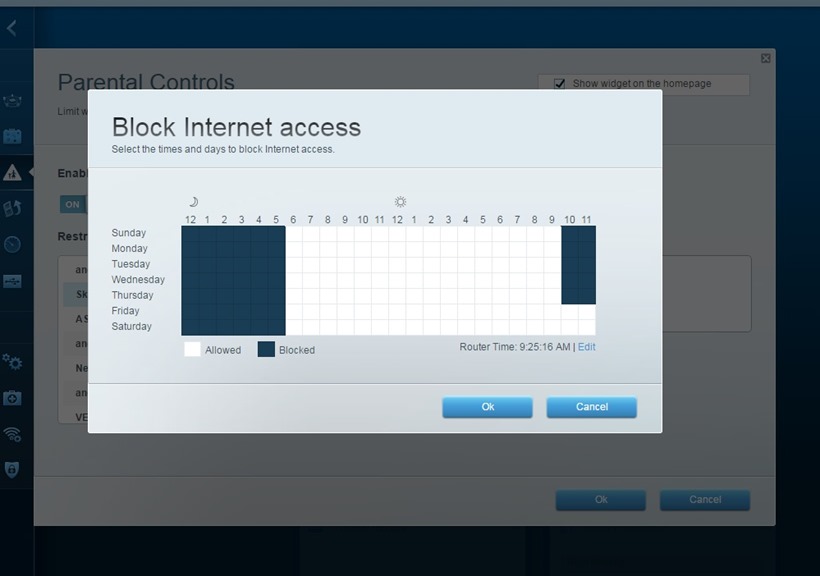 What I did feel was missing though with a router designed for streaming was the ability to limit the amount of bandwidth certain terminals could consume. If you check that network map further up you will see a bunch of Android tablets which are being used for work and don't need more than a 1mb connection at anytime. However yesterday when I was updating 12 of them with the latest version of Android they brought my connection to a total standstill as they sucked all the bandwidth available out of my link.
The router supports that fancy new MU-MIMO (multiple user, multiple input, multiple output) standard that's set to revolutionise how WiFi works, making it more efficient – but the catch is that both the router and the devices need to support it. It's great future proofing, sure, but very nearly useless right now.
Last Updated: May 23, 2016
Linksys Max-Stream AC2600 MU-MIMO Router

The router performed admirably and I have no real issues with anything that the router was required to do but at the same time for a router priced at a premium there wasn't anything that really impressed me about the Linksys AC2600. It's a solid workhorse and one you wouldn't be disappointed in having in your office/home.