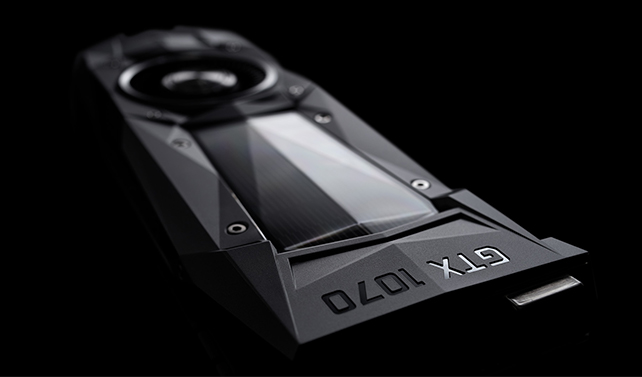 You might have been tempted to pick up one of the many GTX 980 Ti deals that online stores are trying to push out—but I bid that you wait to drop your hard earned cash on to something a little more faster but a lot cheaper; the GTX 1070.
Just saw some prelim pricing on the 1070 FE. R8999 so far. Guess im not getting a 980ti 😉

— Not_A_Nazi_Marco (@Pansyfaust) June 7, 2016
Yesterday I found out through some chance the pricing on the $449 ASUS GTX 1070 FE card, and it came in at R8999. I can't exactly link to the source as I fear the price is still under NDA (and even if I wanted to, the evidence is deleted). I would not call it the most reliable source, but after some basic fact checking and using Headology, I'm confident that the price is more or less accurate.
And this makes me so incredibly happy.
Why you ask? Well, if you've not noticed, many online stores are having incredible deals on their 980Ti's in an effort to make shelf space for the new breed of sultry silicon. The pricing has even ruffled the second-hand market, where cards that once went for over R13 000 a few months ago can now be snatched up for as little as R7500 second hand—truly jaw-dropping.
Bear in mind that the GTX 1070 FE priced at ~R9000 is not too far out of line with past predictions we've made, but with the strengthening Rand thanks to the credit downgrade reprieve, it might mean we can expect both the GTX 1070 FE and the custom cards between $379-$449 to  most likely get cheaper as as supply meets demand. Even with most of the pricing disparity and extra costs involved with bringing GPUs to South Africa, for something that handily bests the previous generation's flagship, that is mightily impressive amount of value if you have the cash to spare. It boggles my mind to say it since I usually advocate upgrading at least after two GPU generations, but going from a Maxwell based GTX 970 to a Pascal based GTX 1070 makes a lot of sense.
The GTX 1070 FE will be available in South Africa on the 10th of June 2016, with non FE cards making their showcase towards the end of June and early July 2016.
Edit- After being in contact with someone in the industry, I must add that the pricing of R8999 I witnessed is an "estimated" ballpark and cannot be seen as final or accurate retail pricing.
Last Updated: June 8, 2016