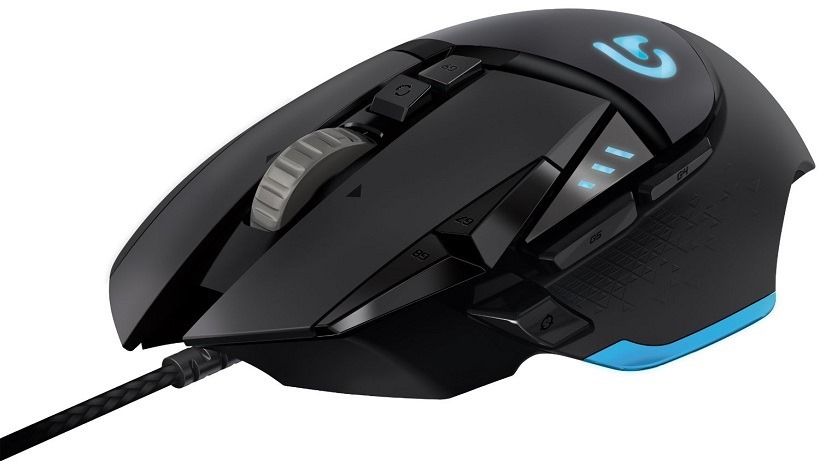 Back in my high school days, I realised that I really enjoyed PC gaming, particularly the competitive side of it. I played a plethora of multiplayer titles at several LANs, and later, online. It later became obvious however, that I needed something more than my no-name brand mouse to take my skills to the next level.
Based on a friend's recommendation, I saved up some cash and threw it at a blue optical MX510. That mouse served me for around 8 years, and it still works today. The only reason I didn't keep using it was because, well I had to keep with the times. Laser was, and still is all the rage. I moved on to the more modern G500, and a few years later, to the mouse I'm using now, the G500s.
Seeing a pattern here? Yeah, I'm quite the fan of Logitech mice, so imagine my excitement when their latest offering, the G502 Proteus Spectrum RGB tunable gaming mouse, ended up on my doorstep for review. Is it any good? You bet!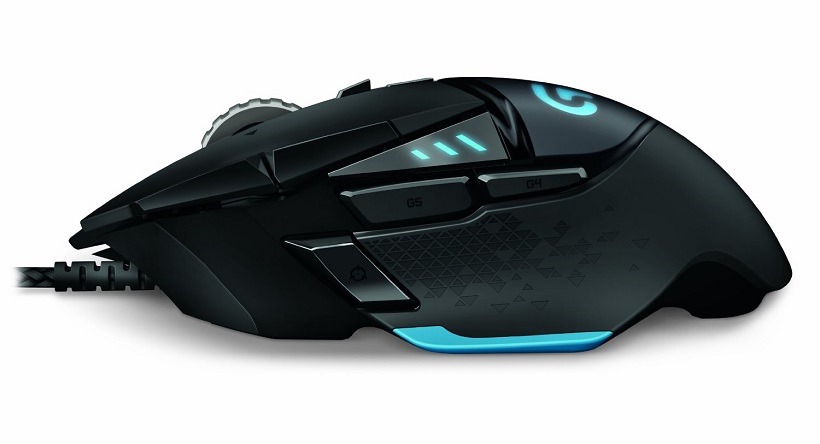 The box for the G502 is surprisingly skinny. This initially lead me to believe that the mouse itself was a lot more compact than what I'm used to. Unboxing it however, yielded a device that is almost the exact same size as my G500s; just the teeniest bit sleeker. Look, I know I'm a big Logitech fan, but I honestly don't think I'm being even remotely subjective in saying that the G502 is a gorgeous looking mouse. Its design is simple, yet elegant. That sleek black finish, with a hint of customisable LED lights, really makes for an attractive piece of hardware that doesn't look like it's over the top, or trying too hard.
The scroll on the device has a satisfying, sure click to it. This will make weapon selection for example, as precise as one could ever hope for it to be.  Otherwise, if you're inclined to live a little… dangeously, there's a little button just below the wheel, which when pressed, will allow it to spin with reckless abandon. The G502 spin is so smooth and fast, that I managed to beat Darryn's 100 meter scroll record of 00:54.04 seconds on my  very first attempt, with a time of 00:51:32.
Packed into the G502's slim frame are a whopping 11 buttons, all of which are customisable. They should be easily accessible to every single user, no matter how small or large their hands are. The buttons are also placed smartly (for the most part – more on that in a second). My thumb for example sat on the allocated rubberised grip with ease, and had more than enough room to rest without fear of accidentally pushing something whenever I moved the mouse about.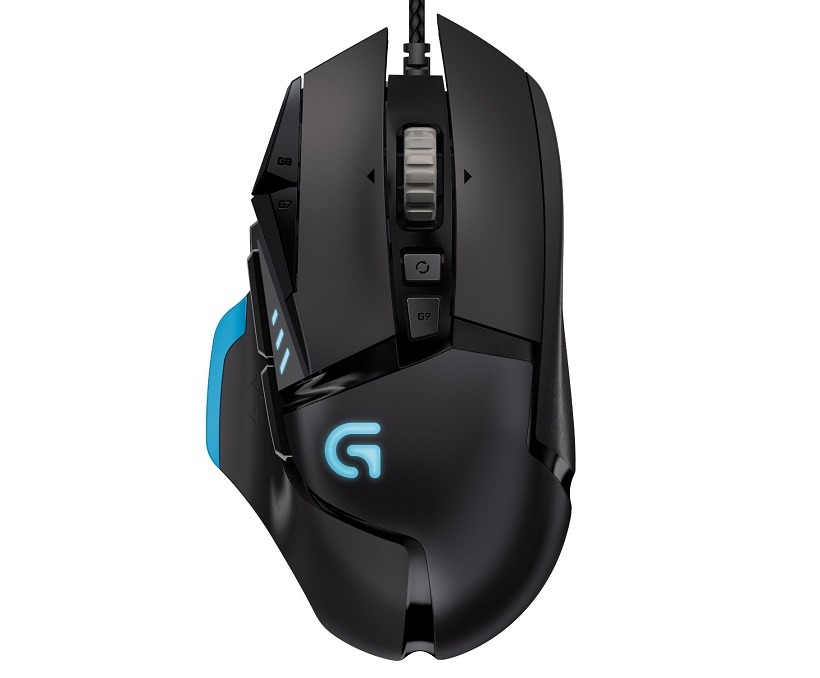 Despite its rad design, there is room for improvement on the G502. Without even realising it, my finger often sidled over, and pushed the G6 button. As you can see in the image above, it's a button that rests just to the top left of the left click. By default, G6 ups the DPI sensitivity. As a result of me accidentally clicking it multiple times, there were many occasions where my little cursor flew about a little too quickly for my liking. Many times, I had to stop whatever I was doing to rectify the situation.
Granted, doing so isn't a huge missions (all I had to do was push G5 really) but this small annoyance can really be a bigger issue in-game. I pushed the G6 button often during ordinary PC use. Can you imagine how many times it got clicked during frantic gaming? There was nothing worse than wondering why my aim in a fast paced game like Overwatch was completely off, only to realise that it's due to that pesky G6, and not because I completely sucked (that may be true… BUT STILL).
That really is me nitpicking though. A less clumsy gamer will likely find little to no issue with that very same button. I'm just more used to my G500s I guess, which has the DPI buttons in a similar position to that of the G502. They're just a lot smaller, and placed a little lower and out of the way. I much prefer that personally.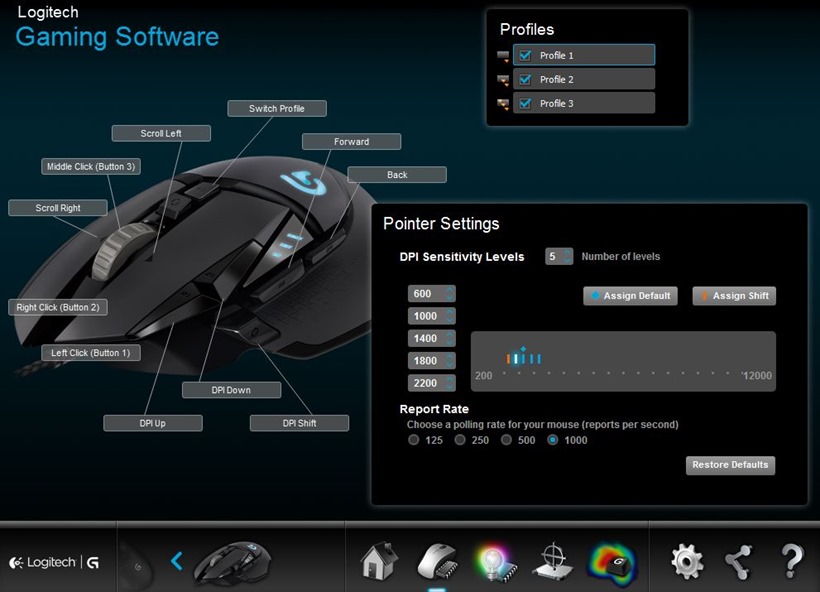 Performance wise, there is very little I can criticise about the G502. The biggest hurdle I have with any mouse in general, is the initial setup phase. It usually takes a while to get used to a new device. Getting it to act like the device it's replacing can sometimes be a herculean task. Seeing as I've had a bunch of Logitech devices over the years though, getting used to the G502 took almost no time at all. After dabbling with the excellent Logitech Gaming Software for a few minutes, I was good to go, and everything felt as it should.
I'm not one for setting up different macros and profiles, but the options are there for those who do. What's nice is that these settings can be saved directly to the mouse, meaning it never has to be setup again once plugged into a different PC.
In terms of actual movement and the like, the G502 does a stellar job too. By default, it's a pretty heavy mouse, which some may not like. The weight distribution and net value can be adjusted quite a bit, thanks to the included weights at least. Once I fiddled around with several different potential layouts, I found what I really liked, and moving the mouse about proved to be a breezy experience – despite its "heavy" default weight.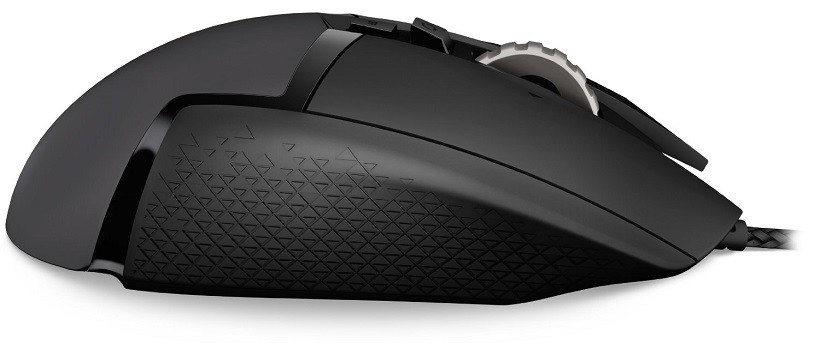 Dimensions and Specifications
Dimension: 132(L) x 75(W) x 40(H) mm
Weight adjusting: 4pcs x 4.5g
Weight (mouse + cable): 168g
Weight (mouse only): 121g
Additional optional weights: 5 x 3.6g
Resolution: 200 – 12,000 dpi
Max. acceleration: >40G
Max. speed: >300 ips
USB report rate: 10000Hz (1ms)
Microprocessor: 32-bit
Buttons: 11 programmable, including DPI-shift
LED: 16.8 million colours
RRP: R1299-1499
Overall, the G502 Proteus Spectrum is a really great mouse. The only thing I can pick on really, other than my one bit of subjective criticism above, is its recommended retail price.Gaming mice are expensive, no doubt about it, and I know our exchange rate isn't doing us any favours, but with a recommended retail price of R1299 and up, I find the G502 a little on the pricey side.
Though, truth be told, If I had the money, and had to choose, I'd gladly choose it over the Diamondback for example. Razer's mouse costs about the same, but isn't quite in the same league in my opinion.
Yeah, I love the Logitech G502 Proteus Spectrum Gaming Mouse. I'm going to cry when the delivery company comes to pick it up. They're going to have to pry it from my kung-fu grip for sure.
Last Updated: February 23, 2016
Logitech G502 Proteus Spectrum Gaming Mouse

A fantastic gaming mouse, marred only perhaps by its steep asking price. The G502 is packed with features, and will make those who can afford it, very, very happy.