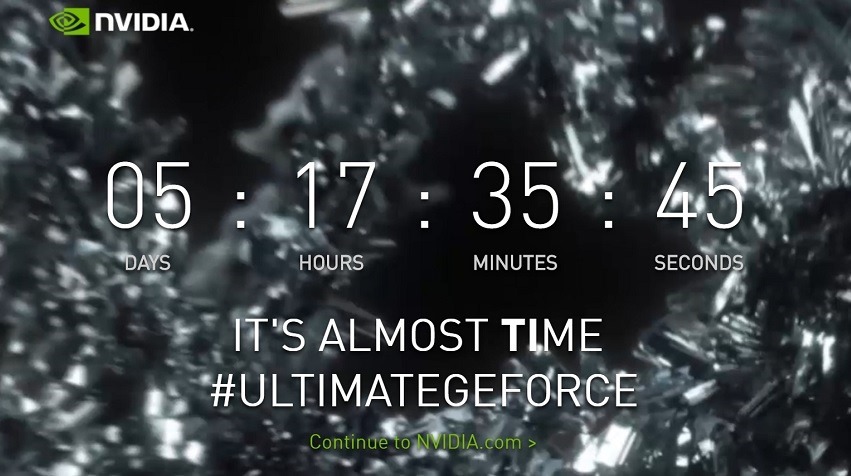 Around this time last year, everything was about Nvidia and their new gaming focused Pascal cards launching in May. Nvidia was on the brink of a new dawn for PC gaming, much like AMD and their new Ryzen CPUs are doing for Intel and their uncontested dominance. Pascal was a shake up, and Nvidia aren't content on letting AMD steal the spotlight for too long. Which is why it looks certain now that a GTX 1080Ti reveal is happening next week at the Game Developers Conference.
Rumours have swirled for a while now regarding a possible reveal of the Ti version of Nvidia's flagship GPU at GDC, but yesterday all but confirmed it. Nvidia launched their own countdown for a reveal, which featured the "Ti" in "Time" in bold to stand out. If that isn't enough of an obvious hint, Videocardz report that the video playing in the background features the name "GTX1080Ti_Countdown_Hero" in the script, which tells you all you really need to know.
Up until now only speculation has accompanied reports of the GTX 1080Ti, making actual specifications a little difficult to nail down. There's no doubt that this card is going to be faster, but whether its built on a newer Pascal chipset shoots to the top of discussion whenever its brought up. The hopeful idea of the card also using High_Bandwidth Memory also circulate, with the original GTX 1080 only using a faster variant of GDDR5 memory, simply known as GDDR5X.
Whichever way Nvidia goes, we'll have less than a week to wait to see exactly how the GTX 1080Ti will shape out, with the countdown ending on February 28th. It's likely that the company will start ramping up interest in their new Volta architecture soon after, as the GTX 1080Ti looks to go uncontested at the very top of the GPU enthusiast arms race.
Last Updated: February 24, 2017