After much speculation and guesswork, we can officially put down our tea leaves, sober up on a dose of reality, and get down to real numbers, pricing and specs….and pre-orders?
Wait, what?
I thought pre-order culture was fenced off by game publishers, not hardware manufacturers! Regardless, if you're not willing to wait for reviews before buying  AMD's officially launched Ryzen chips, the pricing is great, the specs are impressive, and the benchmarks and demos showing their comparison to Intel's chips are cause to get the bubbly out. Pre-orders opened on the 22 February 2017, and full release is on the 2nd March 2017—with reviews hopefully dropping before release date so at least some people pre-ordering can make an informed decision. If you must pre-order, peruse the CPUs and motherboards that RebelTech have.
Besides the iffy "milking the hype" pre-order, for many enthusiasts or those looking for a change to Team Red, it seems Ryzen is offering exceptional bang for buck (and bang per core) performance compared to Intel. AMD are proudly announcing that not only are they competitive with Intel, they actually beat their 40% IPC improvement over excavator goal they set all those moons ago.
And it shows.
AMD's pricing and specifications are more or less in line with the rumours and leaks covered in our Ryzen feature a couple of weeks ago. Right now, though, the baseline specifications, clockspeeds and core-counts are now solid fact—and backed up with some very tasty performance tests and pricing. You will notice how very wrong I was regarding Ryzen CPU pricing, and they are actually impressively competitive to their Intel equivalents. Except for motherboards, for some reason the only local boards on offer are ASUS, and their boards are priced far north of what they should be. For instance, the ASUS Crosshair VI Hero is R5300 locally and $255 in America…notice the price of the R7 1700 below and its local price.
I'd like to know what planet ASUS are on and what the THC content is in the atmosphere there.
| | | | | | | | | |
| --- | --- | --- | --- | --- | --- | --- | --- | --- |
| CPU | Core/Thread | L3 | TDP | Base | Turbo | XFR | $ | Local Pricing |
| Ryzen R7 1800X | 8/16 | 16MB | 95W | 3.6GHz | 4.00GHz | 4.1GHz | $499 | R8,199 |
| i7 6900K | 8/16 | 20MB | 140W | 3.2GHz | 3.7GHz | N/A | $1000 | R18 280 |
| Ryzen R7 1700X | 8/16 | 16MB | 95W | 3.4GHz | 3.8GHz | 3.9GHz | $399 | R6,299 |
| 6800K | 6/12 | 15MB | 140W | 3.4GHz | 3.6GHz | N/A | $425 | R7626 |
| Ryzen R7 1700 | 8/16 | 16MB | 65W | 3.0GHz | 3.7GHz | N/A | $329 | R5,199 |
| 7700K | 4/8 | 8MB | 91W | 4.2GHz | 4.5GHz | N/A | $349 | R5873 |
AMD have come out the stables exceptionally aggressively, with prices well below their immediate Intel counterparts. From top to bottom, all except the 10 core Intel flagship, AMD has an answer to every chip Intel has at the high end. Whether they were offering the same core chips at half the price of their Intel equivalent, or simply more cores at a lower price, AMD has pretty much smashed the ball into Intel's court.
Now that's all good and well, but having more cores means nothing from the company that brought us an "8-core" Bulldozer CPU that was outdone in single threaded performance by a dual core Intel i3 CPU in gaming. However, AMD has been more than willing to present demos and Cinebench scores showing performance that's at best faster, and at worst, the same than Intel. This went a step further at the launch event, in which AMD had set up  multiple PCs set up with Ryzen and Intel PCs showcasing what they've done before, the difference being the media could actually do the demos and gaming tests themselves.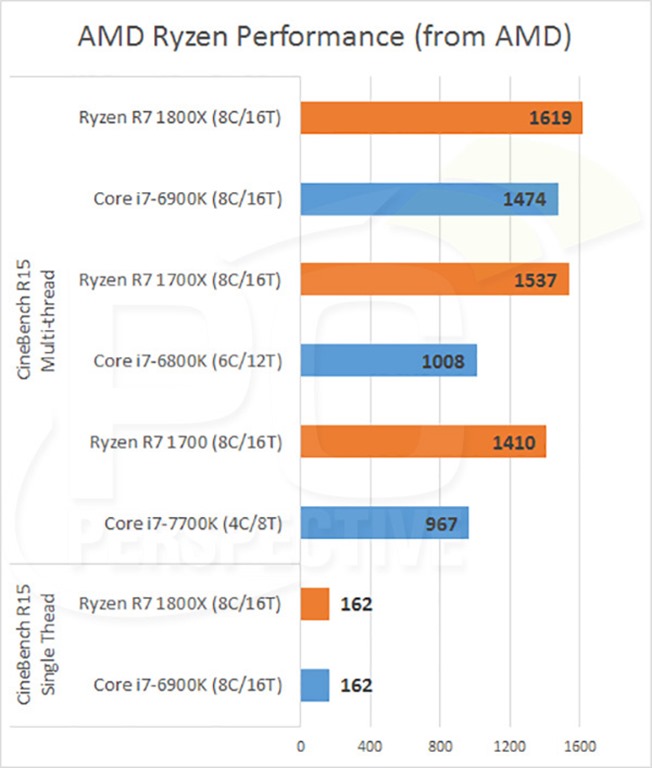 Using graphs from PCPerformance, you can see that AMD are more than capable of keeping up with the best that Intel has to offer. The R7 1800X is half the price of the 6900K, but is 9% faster in Cinebench. The 1700X is 34% faster than the 6800K, while the 1700 in 31% faster than the 7700K. It's all just faster, with even the R7 1700 (which is priced to trade blows with the 7700K) pushing around a 6800K, which is priced $100 more.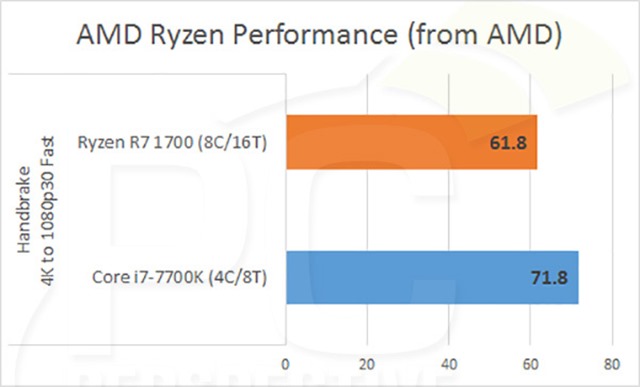 A LinusTechTips video showed an Intel system with a 6800K and a Ryzen 1700 playing Battlefield 1 at 4K with Titan XPs SLI—and in this instance the AMD machine was a few FPS faster. The system with the less expensive chip was faster than that system with the more expensive chip—it really comes down to that simple metric.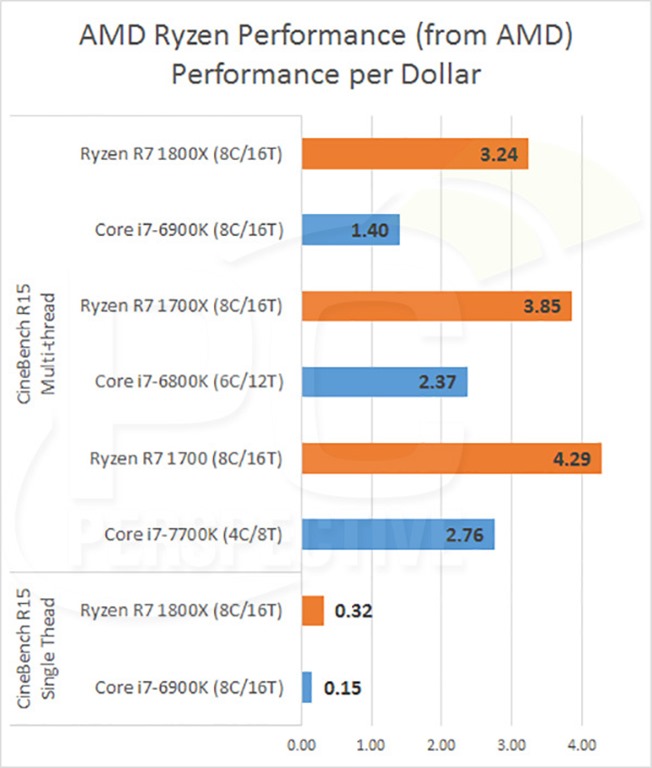 There we have it, something Official and fact based information about Ryzen from AMD. AMD are clearly pleased with their products, and the amount of confidence they have clearly shows in the degree of information, and the line-up, boards and system builders they have lined up to take up the Ryzen mantle.
Last Updated: February 23, 2017