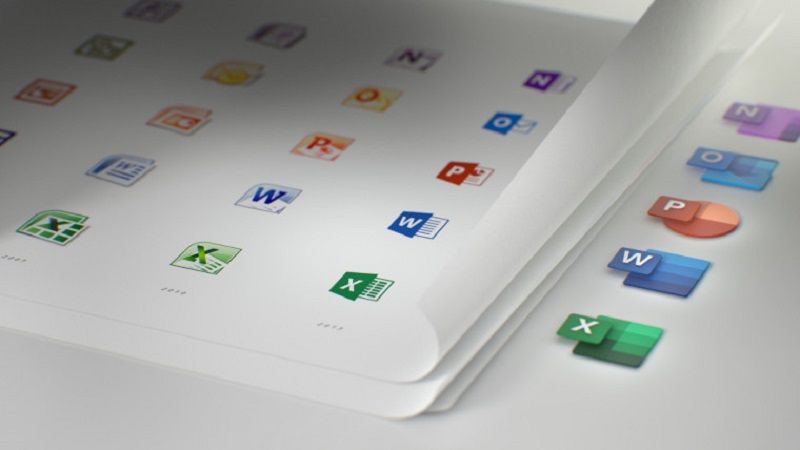 What's in an icon? Quite a lot considering that these days we interact with the apps on all of our devices by simply identifying the icon and no longer needing to read it. Which is why we see so many companies keep their app icons look the same year after year, to ensure it remains instantly recognisable to their customers — something which makes Microsoft new announcement of a complete redesign of their icons for the popular Microsoft office applications so interesting.
Though the changes might appear subtle at first, they do form part of a significant change in design that Microsoft is using for its latest version of these applications. More specifically trying to adopt simplicity in the way they operate. Something which is apparent in these new designs as the likes of Word and Excel essentially have their document and spreadsheet backgrounds replaced with a simple colour palette.  The icon for Skype is also changed with its current speech bubble shape falling away and OneDrive is just a cloud shape without a letter attached to it.
How these redesigned icons will reflect on the updated apps remains to be seen as we have yet to see Microsoft plans for their ambitious redesigns, but at the very least, they are quite visually appealing. Microsoft has been working hard over the past few years to bring Office to a broader number of platforms like iOS and Android, with a single core code base that allows them to make changes across each of these platforms. And while Windows support has dwindled over the years, Office continues to be as popular as ever as no other competitor has been able to blend the balance of simplicity and power as well as Microsoft has here.
Was a redesign of their icons necessary? Probably not, but with Microsoft wanting people to know that their new updates will be significantly different, I guess it makes sense to show this difference from the very icons themselves.
Last Updated: November 30, 2018