Probably the most neglected part of your gaming setup is your audio system. We all know how important audio is but when we go to the shops to get our headsets we instantly clam up like Scrooge McDuck and cut costs. I can't point fingers as I've done the same over and over and each time I end up with buyer's regret as the headset works, but just isn't very good.
The old adage of you get what you pay for has always stood but the problem is that quality headsets cost a lot of money and they either look like idiotic Christmas bobbles attached to your ears or are some fashionable brand where you are ending up paying more for the brand than the quality of the audio it produces.
Step forward the new brand in the country, Mionix.
Mionix insist they put design and comfort at the forefront of their products and after loving their Castor mouse I was quite happy to get my hands on their top-of-the-range headset the Mionix Nash 20.
Physical Specifications
But as usual everything isn't perfect and for a gaming headset that costs R1699 I was a little disappointed to find that it didn't come with an adaptor to combine the audio and microphone output into a single input for use on consoles, so I grabbed one from Takealot and haven't had a problem since.
So let's get onto the good shall we.
The cups, with 22mm memory foam,  on the Nash 20 are easily the most comfortable I've ever experienced. As I do a lot of work from home. I have developed this weird habit of having Netflix or Hulu playing all day while I work. So for me sitting with headphones on for 6-8 hours straight isn't that odd and the Nash 20 are the first ones I've ever had that didn't become uncomfortable after hours of use.
The headband is nicely padded with 18mm of memory foam and with a 6mm uni-directional flip down microphone that is very sturdy and flips into the perfect position. The headset is physically completed with a 2 meter braided cable and gold-plated connectors.
The one weird oddity is the volume wheel is based behind the left cup which takes some getting used to but once you do it does actually make sense and is easy to use.
Audio
Obviously when we are talking about headphones the most important part is the audio and while these aren't surround sound headphones they are definitely more than capable of pushing out the sound you want to hear.
The official specs for those who understand all these things
Impedance : 32? +- 15% at 20 kHz
Sound Pressure Level: 103db
Frequency Response: 20Hz – 20 kHz
Resonance Frequency: ? 100Hz
Input Power: Nominal 40mW – Max 80mW
THD: Less than 2% at 1kHz
Less than 5% at 300Hz to 3kHz
Microphone Frequency: 50Hz – 16kHz
Mic Signal to Noise Ration: 58dB
But to be honest none of that means much to me. However what does mean a lot to me is that when I played a variety of online games I could hear my teammates perfectly over the game audio and my teammates could hear me perfectly, which is a first.
Previously I've always struggled to get people to hear me while in the midst of the action but the Mionix did a great job of dampening the game audio and catching what I had to say. When using the headsets on the iPad or directly into the monitor to watch TV or listen to music the quality of the audio was impeccable and for the first time I understood what audiophiles complain about when they say built in speakers on devices are awful.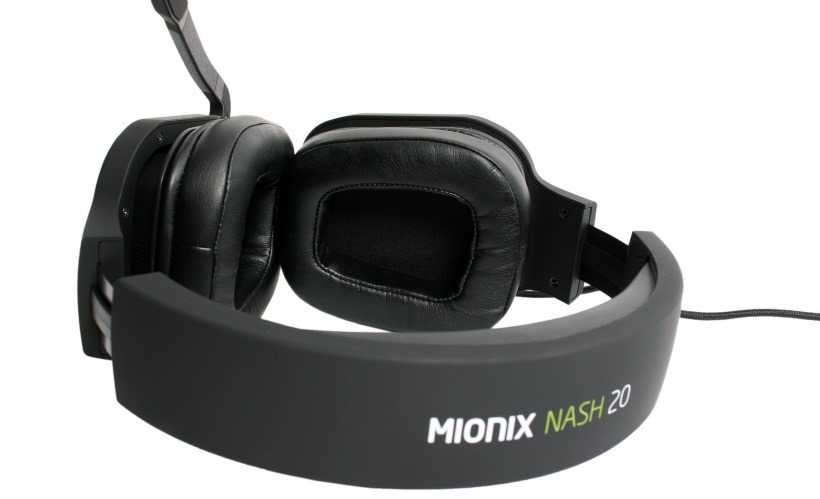 Overall Feelings
In the end this headset isn't a dedicated gaming headset and as such doesn't have any of the tricks that other brands may offer. But at the same time it ticks all the boxes that the vast majority of gamers who use their headsets for more than one purpose would want.
They are comfortable, very sleek looking and work impeccably – and now take pride of place on my head, enveloping my ears.
I don't see myself changing my primary headset any time soon. Granted they are not cheap but after you've paid nearly R10 000 for your gaming setup you would be remiss to cheap out on the audio, especially if you are into multiplayer.
Last Updated: October 13, 2015
Mionix Nash 20 Headset

You get what you pay for and while the Mionix Nash 20 are expensive at R1699 locally you will not be disappointed with the audio or build quality of the headset. They have quickly become my primary headset of choice and it's going to take some doing to knock them down. My only complaint is that it isn't a surround sound headset.