We review a lot of notebooks, and every time we post a stellar review, the PC gaming crowd comes out and tells us how their desktop is far superior – better performance, easier upgrades and cheaper. I find that questionable considering that every time I chat to PC gamers about how much they spent to upgrade their rig, it sounds like they are spending about as much as a gaming notebook would cost anyway. But I don't argue, because the desktop is greater than notebook argument isn't really a debate. Until now. MSI made the bold claim that this generation of 10-series notebooks could out-perform a desktop PC. So let's see how great it really is.
Lady in red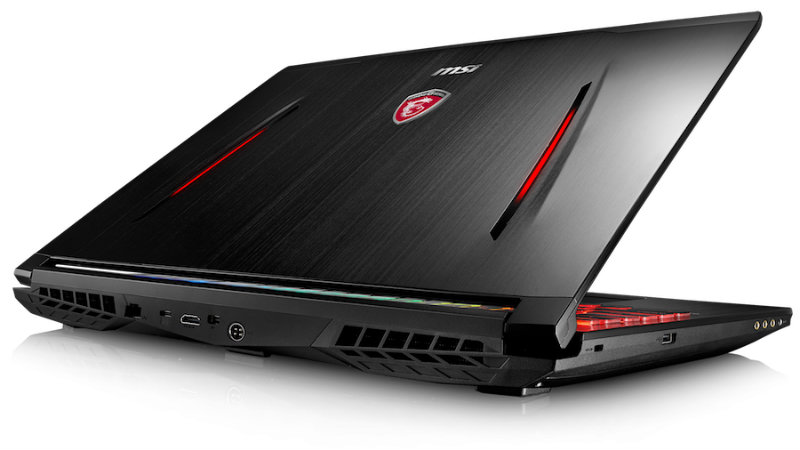 I adore the look of MSI's gaming notebooks. They usually come in one of two forms – the hefty, almost intimidating look of their high performance machines and the sleeker look of their more multi-function notebooks. This one is definitely more on the intimidating end of the spectrum, with plenty of vents and grills that make it look like the machine should be growling at you. That said, it still looks pretty sleek, especially with the sloping on top. Plus, of course, the brand's standard red and black approach is both classy and edgy.
The 1080p IPS screen is an absolute delight. I particularly enjoyed the various settings available to fine tune your coloring and saturation; you can opt for 100% sRBG as default, or change things up for a bolder gaming look, movies setting and even a battery friendly office setting if you're using the device for something other than playing games.
Partnering with SteelSeries as usual, the keyboard is understated and high quality. It's chicklet low-profile and features full color customization. Depending on the game you are playing, you can even set it to flash as indications – telling you when you're about to respawn – all thanks to SteelSeries Engine 3 which comes pre-installed on the GT62VR 6RE.
What surprised me the most was how portable this notebook was. Usually, gaming notebooks weigh so much that you really wouldn't consider using them anywhere other than your usual desk or work table. This one, however, is surprisingly light, weighing only 2.9kgs. In fact, It seems like the power brick weighs more than the actual notebook. It's nice to see a gaming notebook that was actually designed for mobility; I was quite happily able to play games on the couch without even putting the notebook on my coffee table. In fact, I might almost be happy to refer to this portable computer as a laptop again.
Cool under pressure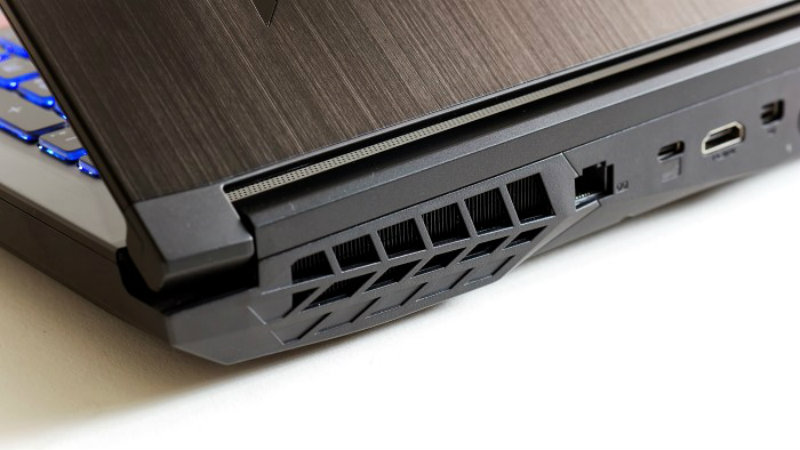 Of course, keeping a computer on your lap has been nigh on impossible for a while now, mainly because they get too damn hot. I've commented before in reviews that unless you have legs made out of asbestos, it simply isn't comfortable or advisable to use these devices anywhere other than a well-ventilated flat surface. Well, this one seems to break that stereotype.
Using some of what MSI learned in creating the Vortex, the GT62 has some unique cooling technology that keeps it from getting ridiculously hot. In fact, while I wouldn't exactly call it Arctic levels of chilled, the notebook manages to push a ton of power without breaking a sweat – or causing me to thanks to that heat. The GT62 idles at a GPU temperature of about 43 degrees Celsius, with a CPU temperature of only ten degrees hotter. Under pressure, the hottest temperature I saw it hit was 74 degrees Celsius, and that was without me putting the fans on high.
Yes, that's right, you can customize your fan speeds in the Dragon center. I made certain presets, for gaming or for office use. In gaming mode, the fans run way faster, thus keeping the GPU and CPU way cooler – even after hours of benchmarking and playing games, the machine was kept under 60 degrees Celsius. By the time the air and metal is cooled and reaches my legs underneath, it doesn't feel nearly as hot as other laptops or notebooks I've used.
Be advised, though, that obviously fans running on high speed do make noise. Quite a bit. However, they're nothing compared to desktop fans – I could still play games without a headset plugged in and hear everything just fine. It also didn't bother anyone else; I could take calls or chat without anyone asking about airplane engine sounds in the background.
Of course, adjusting your fan speed can change your experience slightly. Boosted fans eat up battery power. I know most people don't use their gaming notebooks as actual portable gaming devices, but if you do, you might want to stick to standard or battery saving cooling modes. I managed to squeeze about 3 hours of battery life out of the notebook when just doing normal browsing, etc. For gaming with high speed fans on? You're lucky if you get more than an hour.
A love in every port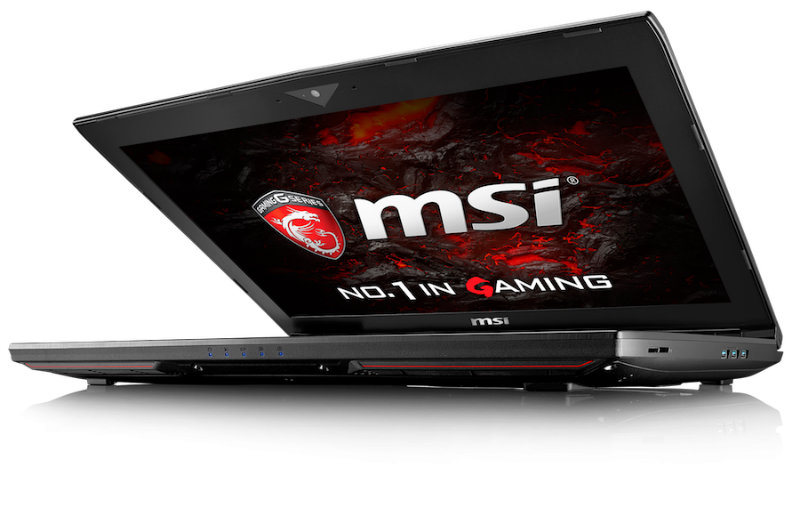 Ports matter. Whether you're using a desktop or a notebook, the reality is that none of us can make do with what comes built in. Instead, we add on a mouse, keyboard, headset and who knows what else. Plus, if you travel with your computer, those USB ports become charging stations for the rest of your devices. The MSI GT62VR6RE comes with the usual headphone and mic jacks, as well as an HDMI and mini-display port. More importantly, it has three USB 3.0 ports and one USB 3.1 Type C, so you can plug in a mouse, keyboard, headset and 4K monitor and still have a port to charge your phone if need be.
If you don't use all the ports for accessories, though, you can still get pretty decent performance from the built in trackpad. It's surprisingly responsive and almost even comfortable to use. Still, if you're planning on heavy gaming sessions and you aren't on the road, I think you'll be happier using other peripherals.
Stop talking about looks and tell us about the brains
Okay, so the notebook is attractive, light and has space to plug in whatever you need. But what about the actual guts of the machine? How does it run, how does it perform? If we're going to talk about replacing your desktop, which is a pretty ambitious claim, it doesn't matter how pretty the machine is if it can't outperform your gaming rig. Well strap in, because these numbers might just blow you away.
Before we look at the stuff that makes games look good, let's look at the storage where you can put the games. The GT62VR 6RE comes with a NVMe 256GB SSD as well as a 1TB HD. That means that you get great speeds without sacrificing storage capacity. Thanks to CrystalMark Benchmarking, I can show you some numbers about just how fast it can read and write. Obviously the SSD is the real speedster, although the platter-based HD is no slouch.
In the graphics department, let's look at some artificial tests. I ran Firestrike a few different ways – with or without V-sync on, and also with extra cooling settings or not. Here are the results I got, as compared to the results Marco got with his 1070 (for comparison, his specs are: Core i7 6700K @ 4.2GHZ, GTX 1070 running at reference speeds of 1505MHz base/1695MHz boost, 4x4GB G-Skill DDR4 @3200MHz). I was going to compare it to the GT72S that I reviewed last year, but it blew those numbers away so there really isn't any point. I do, however, find it interesting that despite the fact that these benchmarks should disregard V-sync, I actually got better results once I manually disabled it.

I also did the same with Time Spy.

Of course, it's not just about graphics and physics in benchmarking – some of you want to know about the CPU. So, here are the results of my integer and floating point tests to evaluate single-core and multi-core power.

As always, I also ran the Unigine Heaven Benchmark 4.0 to test the real limits of the machinery and got the following results which are ridiculously impressive.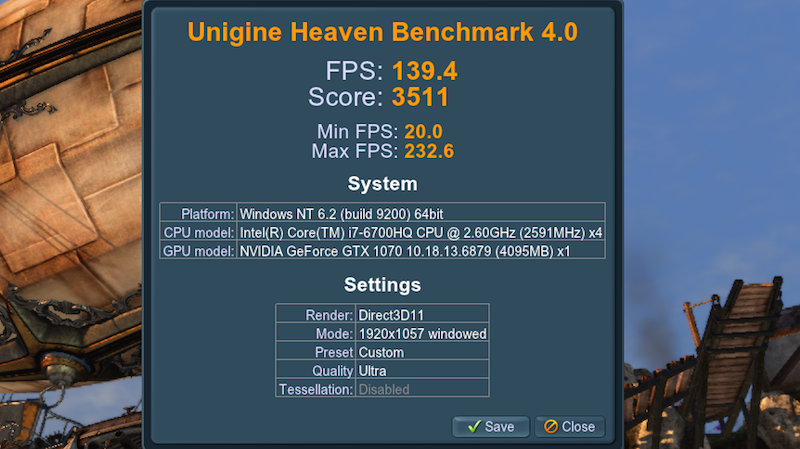 Here's that contrasted with the desktop 1070.
But enough about artificial benchmarks. We don't just run benchmarking software on our PCs all day, we use them to play games. So how did the notebook stand up to the rigors of playing games? Pretty well, I'd say. Rather than taking the usual shotgun approach of showing you how the machine performed on a variety of games, I chose to dig deep into two popular, recent titles: The Witcher 3 and Total War: Warhammer. Here're the results of my testing.

Okay, so what does it all mean? First of all, this machine should be considered top of the line if it can run The Witcher 3 on ultra (minus hairworks) with that kind of frame rate. That is better performance than the desktop version of the GTX 1070. Let that sink in for a moment; a notebook GTX 1070 managed better performance on The Witcher 3 than the desktop version. Now, obviously you can overclock your card and tweak results even more, but on pure base results, that is damn amazing.
Total War is a bit more nuanced. We can see the issues NVIDIA still seems to have with DX12 as both the Desktop and Notebook cards struggled to get better results. While tweaking the cooling settings did help the GT62VR6RE perform a bit better, it didn't give huge jumps in frames. That said, the notebook is running NVIDIA driver version 368.79 as compared to desktops which have already jumped to the 372.xx range. It's still useful for comparison, and while the notebook didn't do as well as the desktop on Total War: Warhammer, at least gamers can rest assured that they can manage 1080p gaming at a buttery smooth 60fps.
Specs
CPU Type: Intel 6th Generation Intel Skylake i7 Processor
CPU Speed: i7-6700HQ 2.6GHz 64-bit
Screen: 15.6″ FHD (1920 x 1080) Anti-Glare Display
Memory Size: 16GB DDR4 Memory
Hard Disk: 256GB Ultra-Fast SSD + 1TB Hard Drive
Graphics Card: Geforce GTX 1070 8GB GDDR5
Video Memory: 8GB
Audio Ports: 1 x Microphone jack; 1 x Headphone jack
USB: 3 x USB 3.0 + 1 x USB 3.1 Type-C
HDMI: 1 x HDMI
Video Port: Mini-DisplayPort
Audio: Sound by Dynaudio system
Speaker: Support 7.1 channel S/PDIF output
Dimensions: 390 x 266 x 39.8mm
Weight: 2.9KG
RRP: R45 500
Last Updated: September 2, 2016
MSI GT62 VR 6RE

Yes, this is finally a notebook that can perform as well as a desktop fresh out of the box and still offers plenty of customization to gamers who want to tweak their rig. While pricey, this is a high-end, light-weight device that packs a serious punch and lets you play games in bed. Just make sure you keep it plugged in.