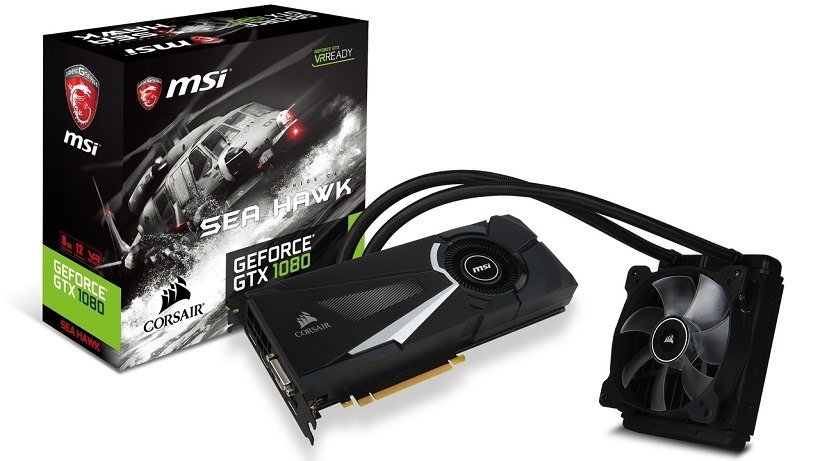 It's been just a few days sine Nvidia unleashed the GTX 1080 into the market, and it's been a busy few for many third-party manufacturers. While Nvidia pushes its Founder's Edition out before anyone else, companies like ASUS, Gigabyte and MSI have started throwing their hats into the ring for imminent launches. Many peddle the impressive types of cooling solutions you'd expect from non-reference designs, but MSI is taking things a step further.
Partnering up with Corsair, MSI is launching their own water-cooled version of the GTX 1080. The Sea Hawk edition slaps together the most powerful Pascal chip on the market right now and one of Corsair's famous water blocks (similar to those you can find on their incredible CPU cooling line) to create a graphics card for the true elite. The entire setup makes use of a single 120mm radiator, making it just as compact as it is efficient.
This should give you a little more overclocking headroom, especially when compared to the high temperature that keeps the Founder's Edition back. The card does ship with a slight overclock out of the box (the core clock sits at 1847 MHz), but otherwise implores you to dig deeper. There aren't any reviews yet (or any word of price), but the Sea Hawk stands proudly on top of the robust line-up MSI has.
Because, unlike most other competitors, they're really going the extra mile. The Sea Hawk is only one of six different MSI GTX 1080 designs, all of which are set to hit shelves extremely soon. The other eyebrow raising one has to be the GTX 1080 Gaming X 8G, which gives users up to 300W of power to play around with. Given that the standard GTX 1080 design only requires 180W, this gives you massive room to tweak to your heart's content, and it's all kept cool with MSI's well-rounded Twin Frozr VI cooling design.
MSI is only one of many third-parties truly capitalising on the GTX 1080, and you can expect to see a hell of a lot more invading retailers over the coming week.
Last Updated: May 30, 2016