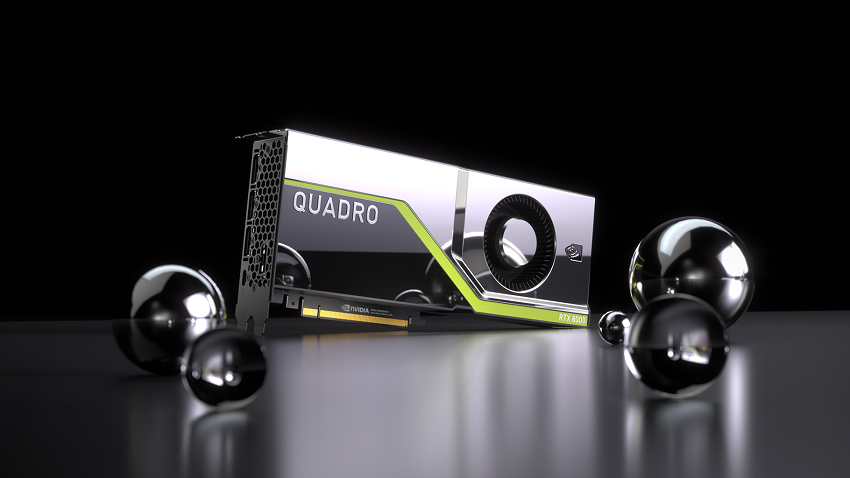 Nvidia has been touting Ray Tracing for months now, after the company started pushing hard into development tools for their users that could further leverage the expensive but gorgeous lighting rendering technique. Ray-Tracing is part of the reason why CGI in films looks so great, but requires massive render farms and a lot of time to pull off. The idea of real-time ray-tracing is still new, and partly possible because of Nvidia's dedication to build hardware to make it happen. And last night a big step was made in that direction, with Nvidia revealing their first Ray-Tracing focused GPU using their brand new Turing architecture.
The Quadro RTX isn't a gaming card. In fact it's one of the furthest things Nvidia makes from a consumer card at all, but it's a massively impressive piece of technology regardless. The cards will cost up to $10 000 at launch, and be primarily marketed to design studios, film studios and game developers seeking to increase their Ray-tracing productivity and achieve something closer to real-time rendering. The biggest RTX 800 does that with a massive 16 teraflops of performance, which is achieved with 4608 CUDA cores and 576 Tensor cores. The card will support up to 48GB of brand new GDDR6 memory for blistering fast transfer speeds too.
The Turing Architecture will support two versions of SLI support, for a lack of a better term. Nvidia is supporting the card with its own NVLink Interface that will let studios link up as many cards together as they like, but they also announced a new standard called VirtualLink. This lets multiple cards to interface together and deliver their processing power to a virtual reality headset through a single USB-C connection. The idea of directing films through VR has already been used in productions such as Ready Player One, so this further opens up the possibilities for real-time CGI direction.
This is all really exciting for the future of big-budget products, but it doesn't little for you who might be looking for a new GPU to pop into your desktop. With Gamescom happening next week Nvidia is expected to transfer talk over to their new gaming-focused consumer cards, which may feature their own takes on tackling Ray-Tracing. So there's not long to wait at all.
Last Updated: August 14, 2018