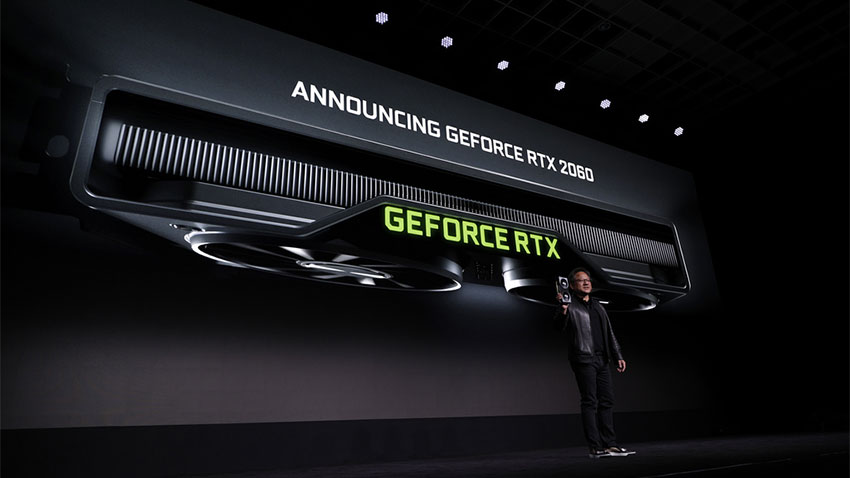 Last year, Nvidia revealed its next generation of GPU technology by way of its RTX series of cards. Unreasonably expensive, the new cards feature what's long been considered the "holy grail" of gaming: Real-time ray tracing. It allows for accurate, generated lighting that adds a dash of realism not seen before. And it really is magical. Once it was properly supported in Battlefield V, Nvidia's new technology proved to be most impressive. The other big feature that the new cards support is called DLSS (Deep Learning Super Sampling), which is an adaptive, AI-driven method for improving image quality.
That sort of wizardry comes at a price of course, so many have been waiting for the more budget-friendly RTX capable cards to start coming out. Today at CES 2019, Nvidia CEO Jensen Huang revealed the new RTX 2060.
Sporting 52 trillion tensor FLOPs, 6 GB of G6 memory and capable of pushing out 5 gigarays per second, the Nvidia 2060 is coming on January 15. It'll be the cheapest of Nvidia's new cards, pushing out performance comparable to the previous 1070ti. It'll cost $349, which is a little more expensive that xx60 cards are, but not bad considering it'll launch at a lower price than the 1070 when that much-loved card launched. We have no idea what they'll cost in South Africa just yet – though I'd optimistically expect it to be around the R6500 mark, which isn't at all bad for 1070ti-level performance.
What do you think? Is this your new upgrade?
Last Updated: January 7, 2019