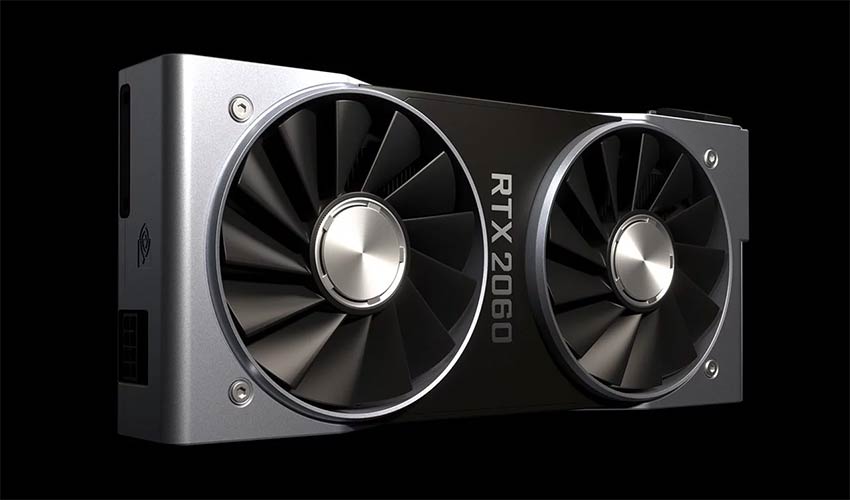 There's no disputing that Nvidia has made a miscalculation with their latest RTX line of graphics cards. Both the RTX 2080 Ti and RTX 2070 are phenomenal cards – pumping out more pixels than most games at 4K resolutions will need to retain silky smooth framerates and offering bleeding edge ray-tracing support that has yet to find mainstream adaptation in the mainstream. The problem with both was a matter of price. Without enough games to support Ray-Tracing, their extremely high premium was unwarranted. And it's led to Nvidia having to cut back on their profit margins too, sadly overshadowing the true champion in the line: The RTX 2060.
The RTX 2060 might seem reactionary, but it's clear that Nvidia always planned on releasing a cheaper, toned-down version of their RTX kings. It hits the bare minimum spec for ray-tracing support, which requires a staggering 5 billion rays to be shot out onto a scene every second. Using the same board as the RTX 2070, albeit with some nips and tucks here and there, the RTX 2060 bears impressive specifications for a much cheaper card overall. There's still an impressive 30 RT cores and 240 Tensor cores, along with 1920 CUDA Cores and a Boost Clock of 1680 MHz. Those are no figures to slouch at, although it would've maybe been nice to see higher memory configurations than just the 6GB GDDR6 on offer (even if its 336GB/s memory bandwidth is impressive).
Unlike the Gigabyte version of the RTX 2080Ti we reviewed, the Founder's Edition of the RTX 2060 offers a drastically different cooling solution. It's sleek and streamlined visually, with a cool silver casing hiding an elegant vapor chamber that sucks in air from the chassis and ejects it outside the back. The result is a much quieter operation, with the whisper-quiet fans never piercing my headphones during the most intense benchmarking sessions. The card does get a little warmer as a result, but never flew past the slightly dangerous 80-degree level. The Founder's Edition comes at a premium, but Nvidia has clearly done the work on the cooling alone to make it an alluring option.
The card itself is smaller too, shorter than both the RTX 2070 and RTX 2080Ti. But it does require nearly the same amount of power as the former. With a TDP that's only 15W less than the RTX 2070, the 165W required by the RTX 2060 seems abnormally high. That's especially so when compared to the cards its meant to be replacing, ringing in higher than both the GTX 1060 and GTX 1070 in that regard. It's not high enough to make you consider a brand-new power supply for your card, but it is worth taking into consideration for brand new builds.
It's unsurprising that the GTX 1060 and GTX 1070 would be so close too, considering that in terms of performance it's exactly what the RTX 2060 is targeting too. Benchmarks in our standard run of titles show the standard rasterization performance of the card easily bests the GTX 1060, and mostly stays ahead of the GTX 1070 in most regards too. It even comes close to the GTX 1070Ti in most tests, but never gets quite close enough to the GTX 1080 to consider it a worthy competitor. It does make for an interesting price vs. performance argument, especially when looking towards the future of games. But for now, here's how the RTX 2060 fared in Metro: Last Light, GTA V and The Witcher 3.
Oooh, Benchmarks!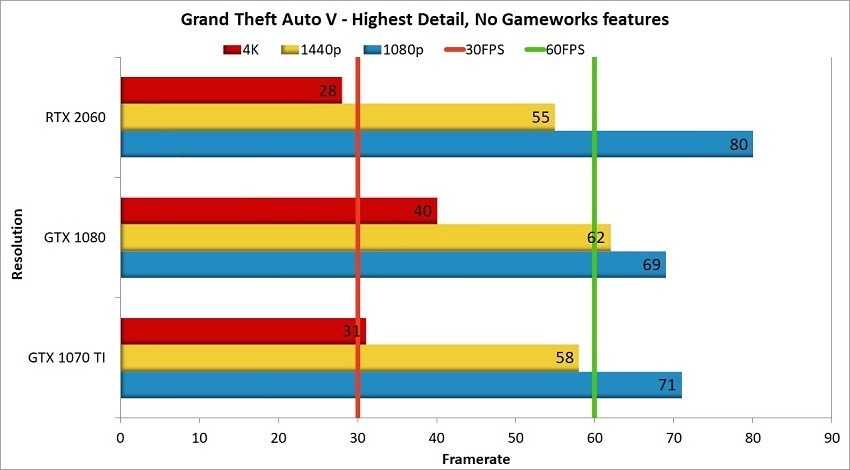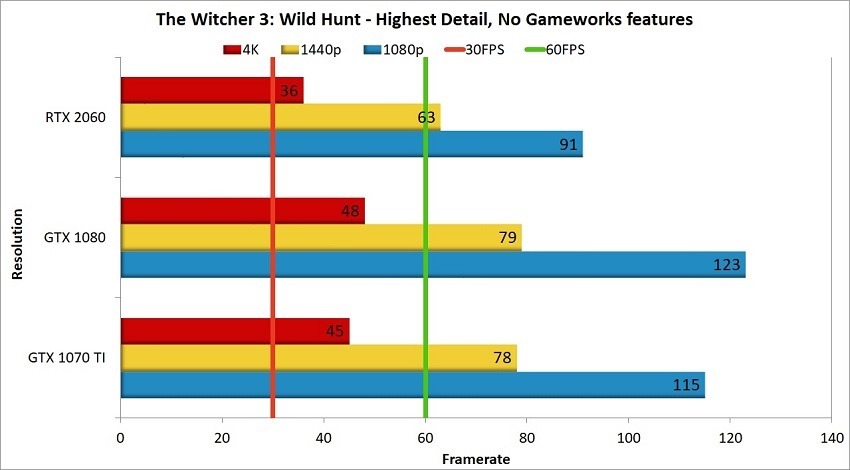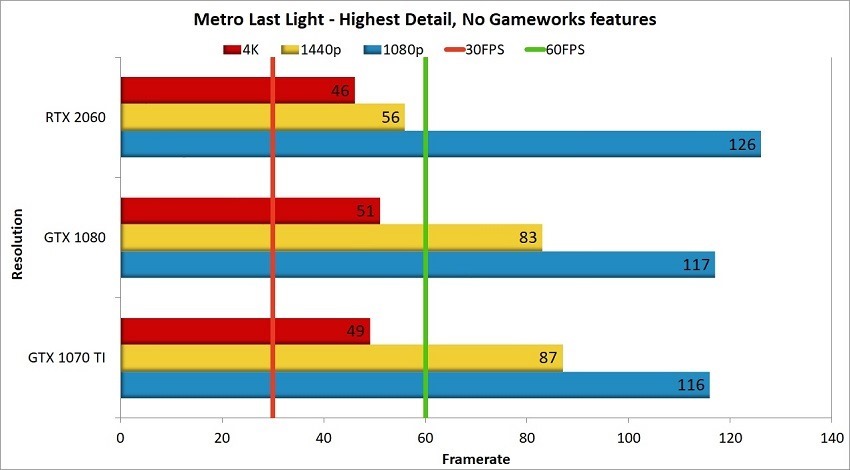 In Battlefield V, still one of the only RTX-enabled titles out there now, the RTX 2060 fared just as well. That's a trickier situation to test the RTX 2080Ti against though, given that Nvidia has made drastic changes to their drivers in conjunction with DICE making significant updates to the game itself to help improve ray-tracing performance. Battlefield V still looks stunning with the option enabled and runs well across the variety of quality options. You'll still have to notch things down from Ultra and maintain only 1080p for the smoothest, most consistent performance. But even at those settings, it's a remarkably different game visually.
3DMark Scores paint a similar picture to the comparisons above, but now also offer the added benefit of a ray-tracing specific stress test. This scene pushes the boundaries of what a ray-traced scene would be in a game right now, so it's still a worst-case scenario for this card to operate under. It will prove useful in tests to come, but for now it's an established benchmark that others in the RTX line can be pitted up against.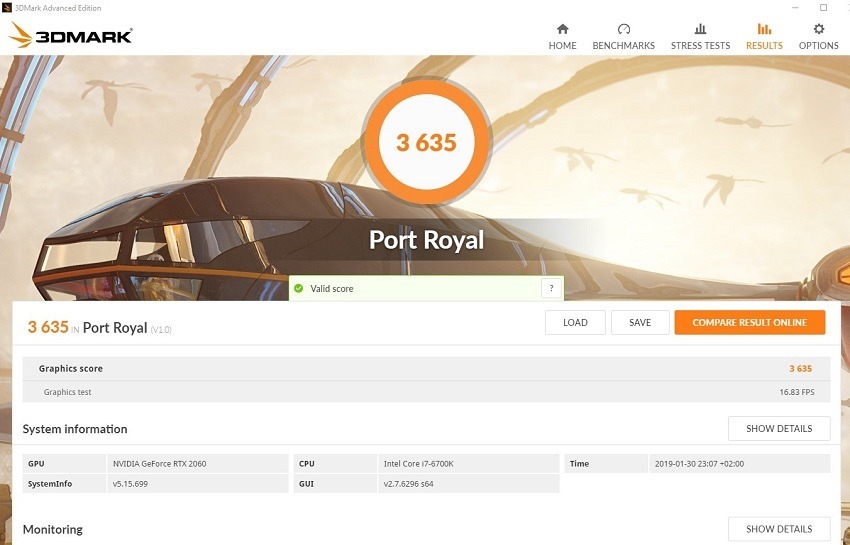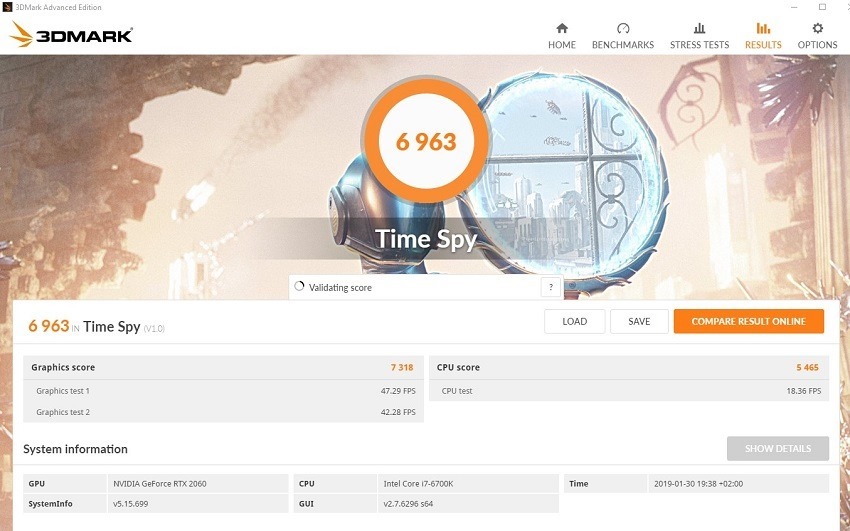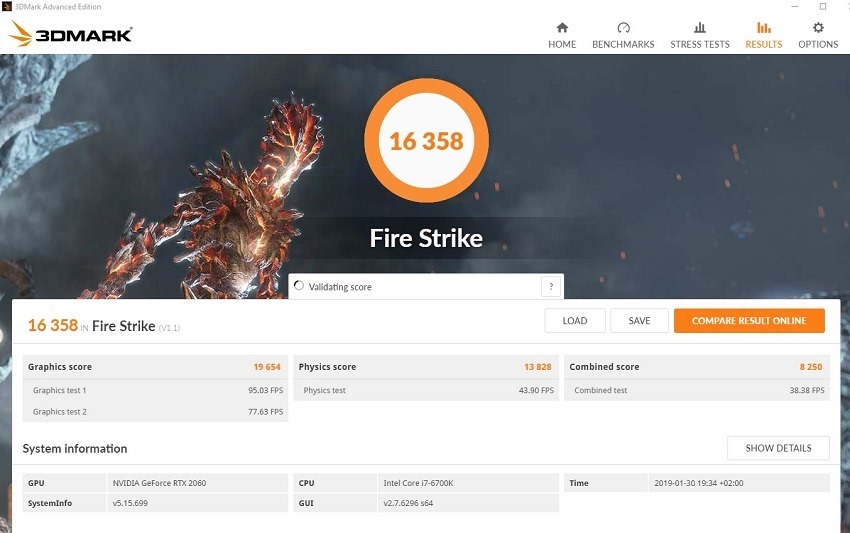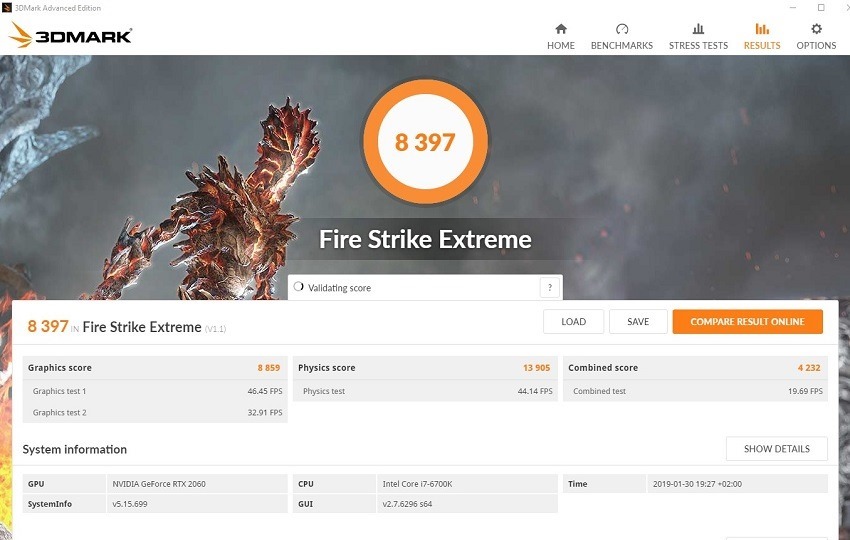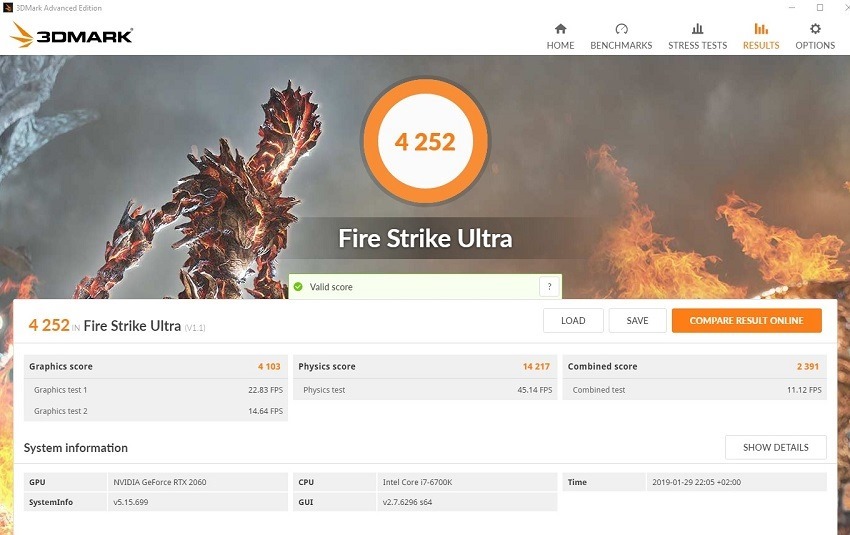 So, it's clear where the RTX 2060 lies – it offers performance well beyond a 1060, and nearly on par with a GTX 1070 Ti in many cases. Which makes its price the most important factor in this equation. The RTX 2060 retails for far less than its bigger brothers, ringing in at $400, or between R5,800 – R9,000 depending on which third-party manufacturer you choose. The RTX 2080 Ti, by comparison, can cost nearly four times more, which is part of its (and Nvidia's) current problems. By comparison, the GTX 1070 can still regularly be found for between R6,000 – R10,000, while its Ti variant rings in at a little more.
That makes the RTX 2060 an easy, easy choice. Not only does it perform as well (or better in some cases) than the Ti version of the 1070, it's also proofed for the foreseeable future with ray-tracing and, more importantly, DLSS support – both of which will find their way into more games going forward. Even if you aren't looking at that now, the price bracket that the RTX 2060 finds itself in makes it a better choice than both the previous Pascal cards, unless you find a deal that considerably undercuts its current launch price.
That is if you're aiming to play at 1080p. It's clear from the tests above that the reduced memory and 6GB limit shows its face when you start ramping up the resolution, even just to a 1440p level. It's not terrible by any stretch, but it's not as clear a winner in this case over the Pascal cards.
It's a better positioned card than either RTX 2070 or 2080 before it ever has been, and finally makes Pascal and its older architecture a trickier problem to move around. Its lacking overall memory does make higher resolutions a slight sticking point, even with the fast speeds. But the added benefit of exceptional 1080p performance combined with the future-proofing of ray-tracing and DLSS support makes it a much smarter choice in the here and now than the most popular Pascal cards on the market today. If Nvidia needed an RTX win, the 2060 is it.
Last Updated: February 1, 2019
RTX 2060 Founder's Edition

The RTX 2060 is the mainstream ray-tracing card that Nvidia has been holding out on since the series launched, offering great performance and future-proofing for a price that makes more sense in competition with Pascal. If you're looking to make an upgrade, this is the card to look at.